Marklin Treff 2009
Lots of great friends, trains and food -- it doesn't get any better!
A special thanks to my wife, Bonnie, and her son, Todd,
for their help with many of the neat photos they contributed!
Our trip started out in Munich, the heart of Bavaria.
Of course, you can't visit Bavaria without trying a sausage (or two):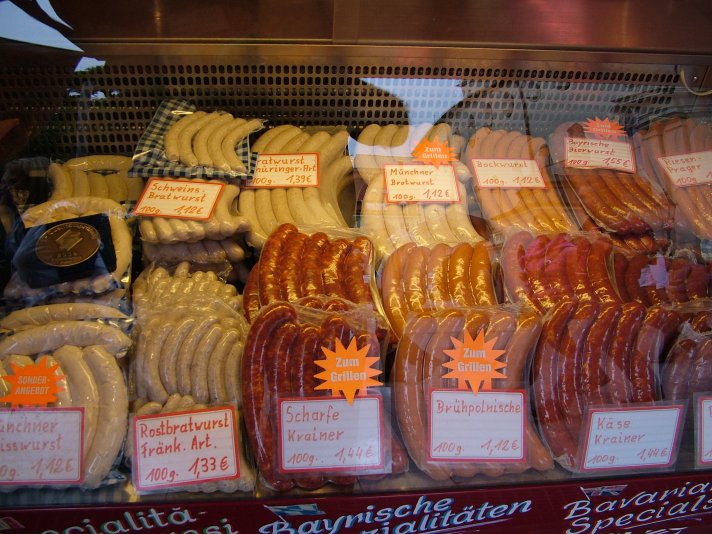 Of course, if you're willing to wait until dinner, you can go to a restaurant
and have them cook one of these for you and you can really enjoy yourself: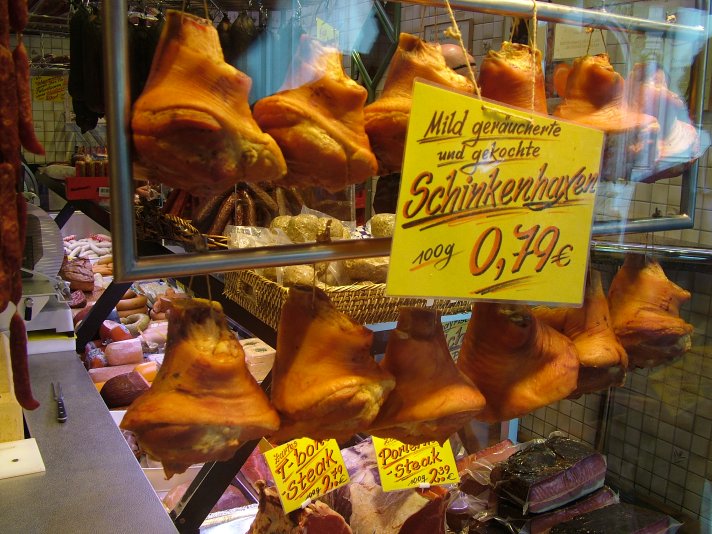 Our first day in Munich, we want to the Ostbahnhof (East train station)
There's a LOT of stuff going on there, and it's not too crowded, so you can
get some nice photos. Here's the OBB "Hercules" diesel locomotive on his
way to the Munich Hauptbahnhof (main train station):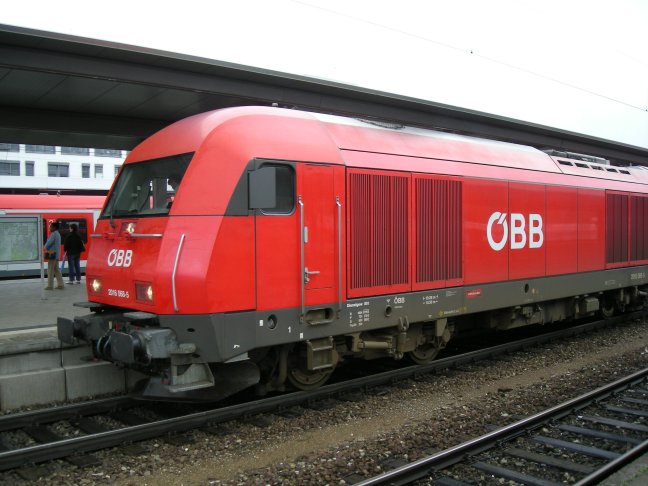 Next day, we're on our way to Salzburg for the day. It's a relatively short
trip -- about an hour and a half, and lots of fun. Here's the locomotive that
took us there: a brand new OBB "RailJet" Taurus locomotive:

At the Salzburg station, there's a lot going on for a relatively small town.
It's the first stop over the border (from Germany) so there is a lot of
interesting stuff to see, including this auto train that seems to go on forever: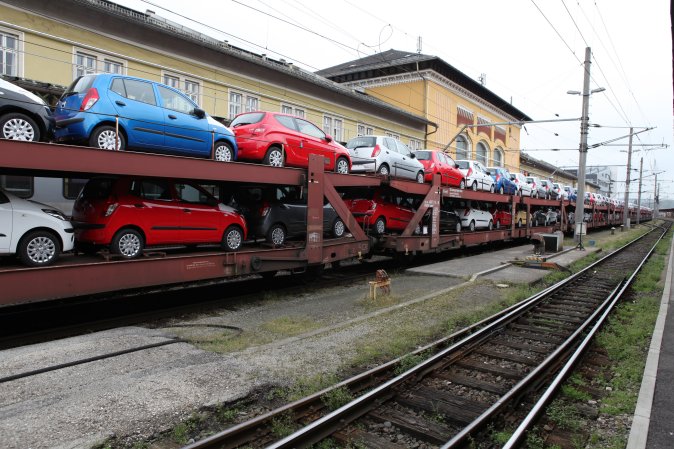 First stop are the palace gardens with their wonderful fountains and gardens: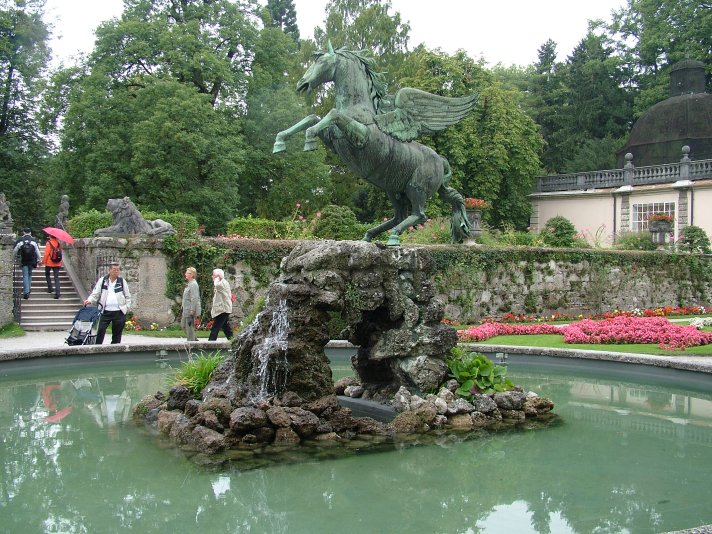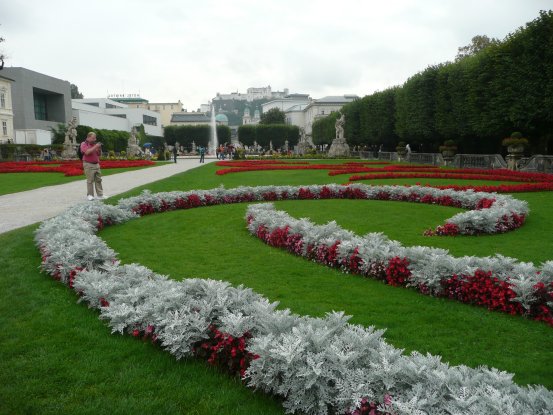 Here's a great look at the fortress on the hill, overlooking the river: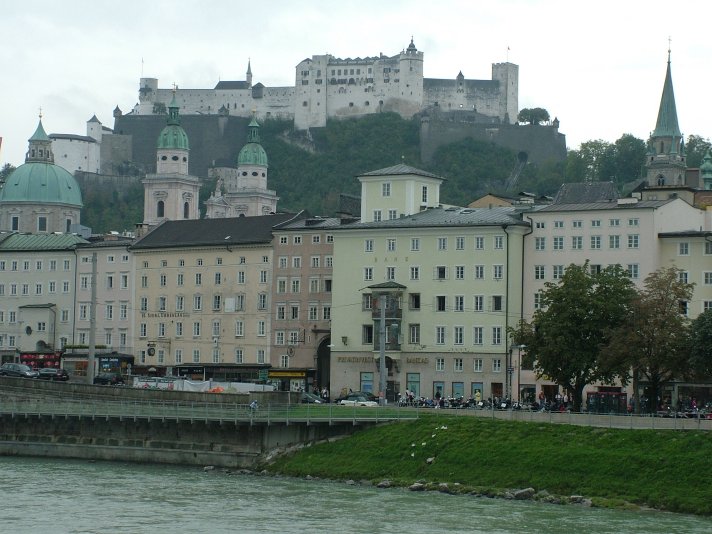 We took a bus ride to the outskirts of town to visit the Heilbrun summer palace.
Here's a photo of one of the many spectacular views of the many fountains: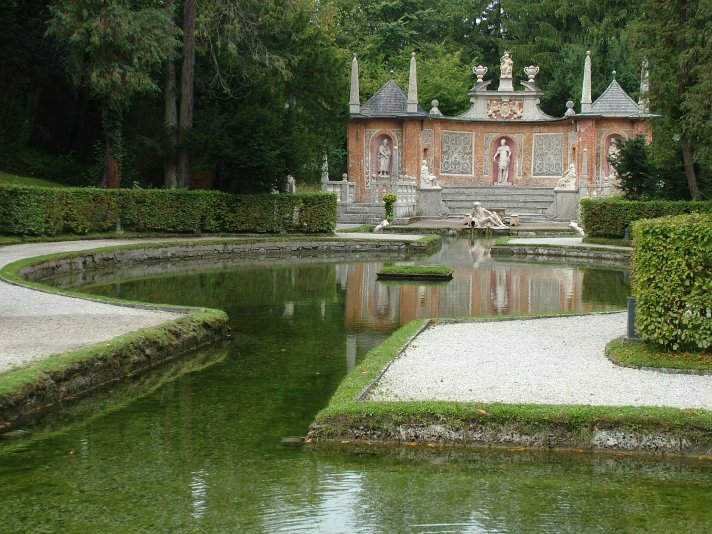 OK, you just can't go to Salzburg without having afternoon teat at the 5-star Sacher Hotel.
A piece of their famous Sacher torte is always in order: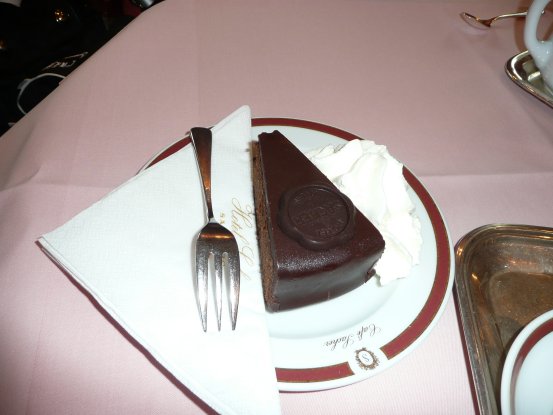 And, if you really want to spoil yourself, order the famous Salzburger Nockerl.
It's an Austrian specialty, sort of like a souffle that's baked in the oven: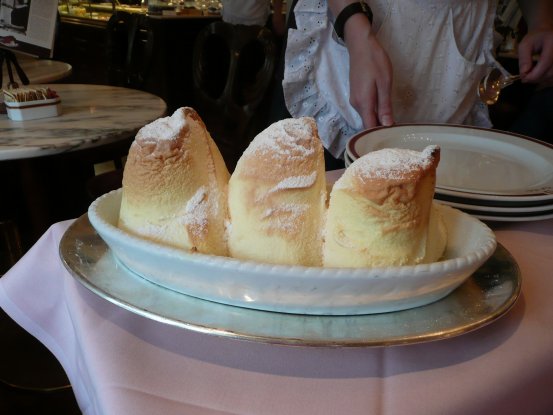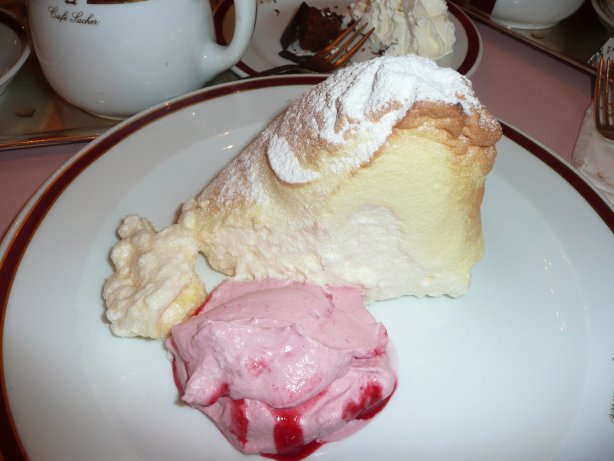 OK, enough about food. Back at the Salzburg train station, there's still
a lot of good train action going on before our return trip to Munich.

Here's an OBB Class 1163 Electric switcher: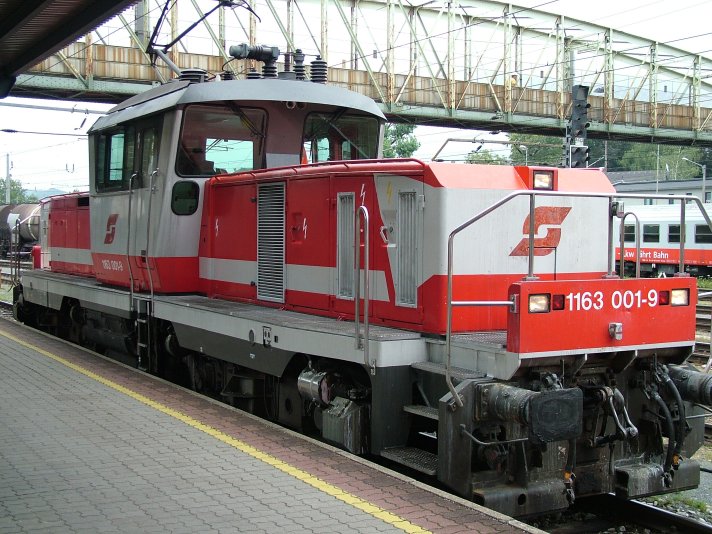 And the ubiquitous Taurus class 1116 Electric locomotive: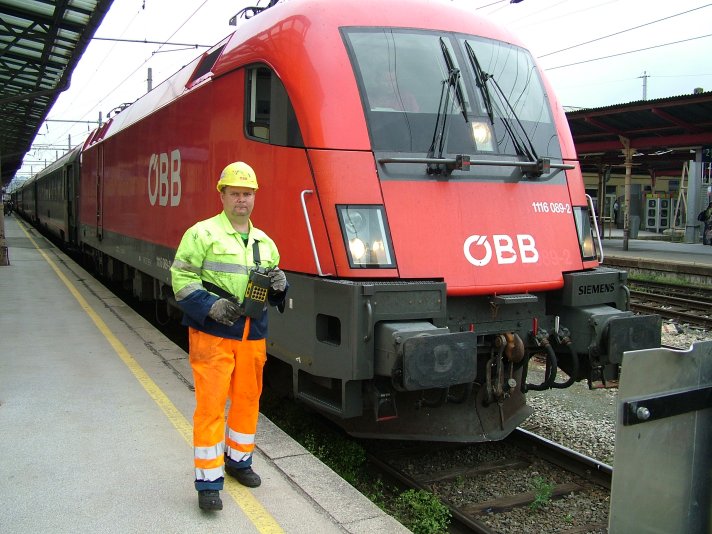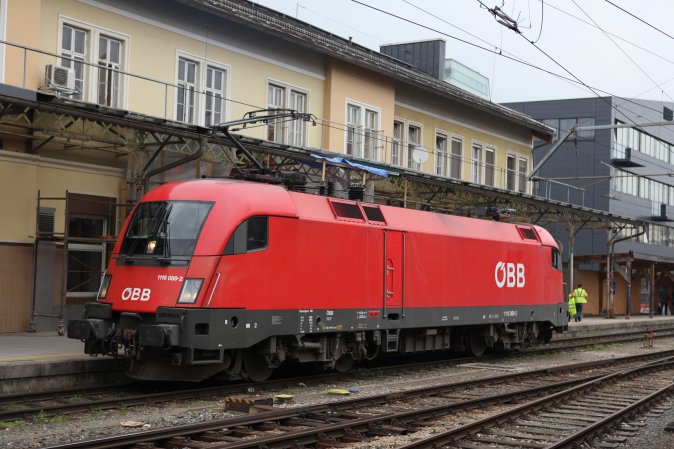 Here's an oldie, but a goodie. a classs 1142 Electric commuter locomotive: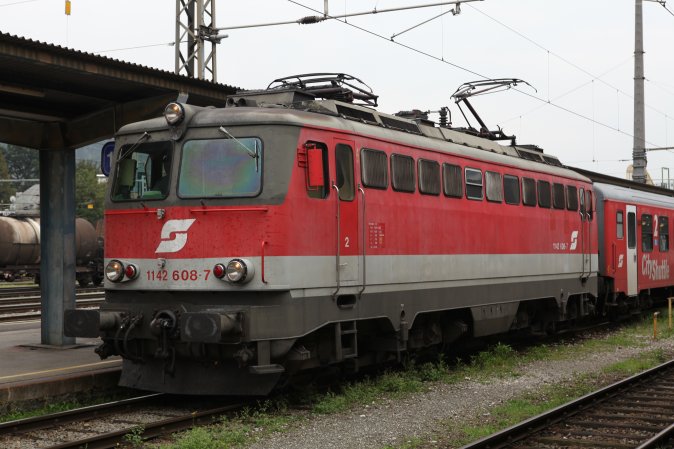 Now, here is something you will NOT see every day.
Look closely, it's a German flat car with 3 armoured personnel carriers: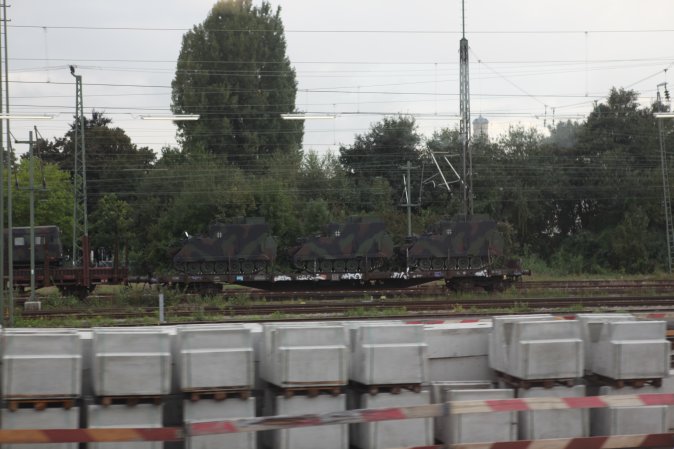 OK, it's on to Göppingen for the Treff
Here's my all-time favorite, a Class 38 in Prussian livery: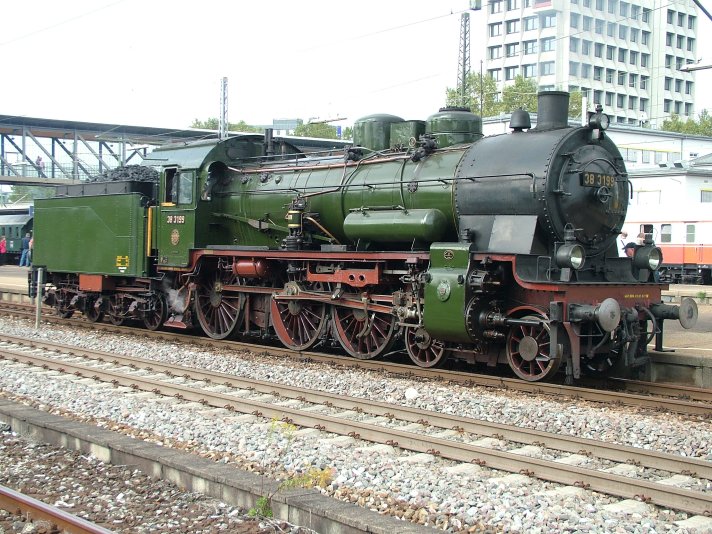 There were so many neat steam locomotives -- I didn't even get a chance
to photograph them all. Here's a beautiful Class 44 at the station: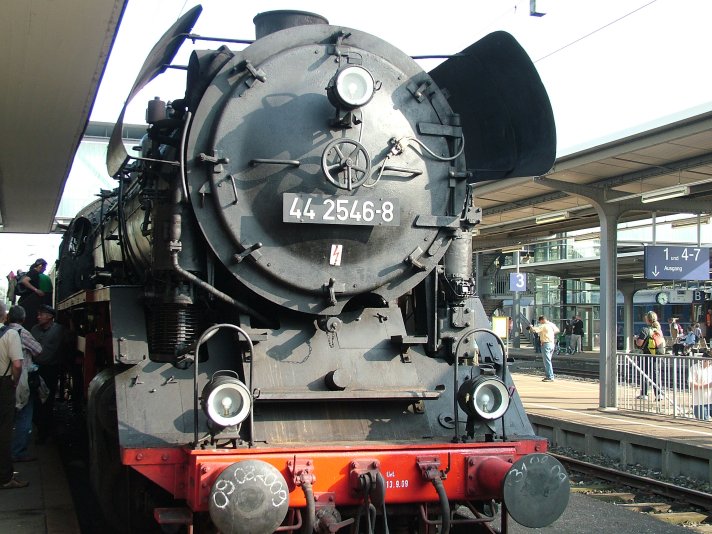 And another freight locomotive, the Class 41: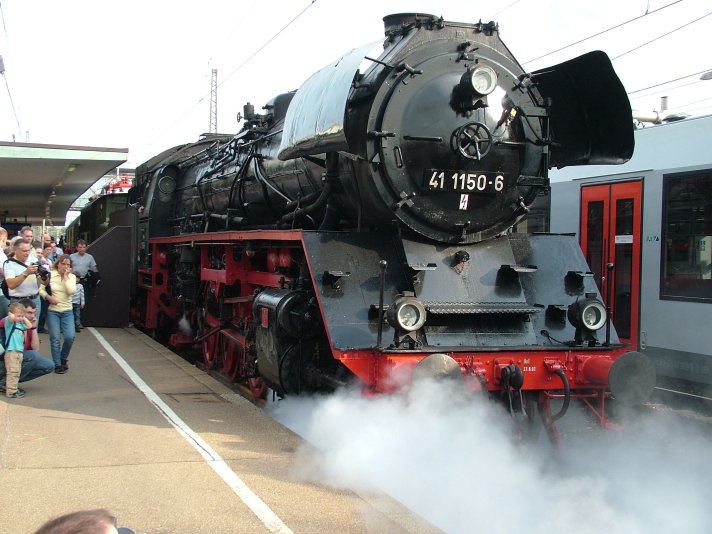 They were giving free rides on this immaculately maintained Class 23: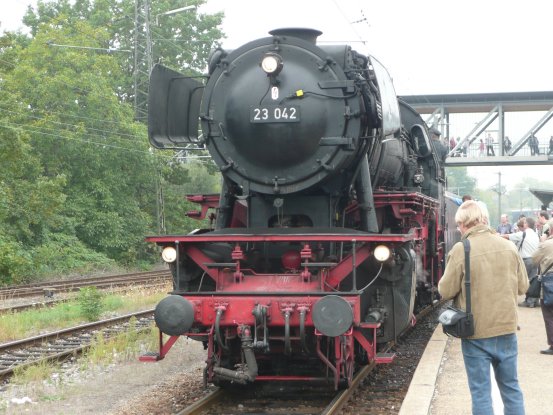 Here's a photo from the inside of the locomotive, looking back towards the coal tender: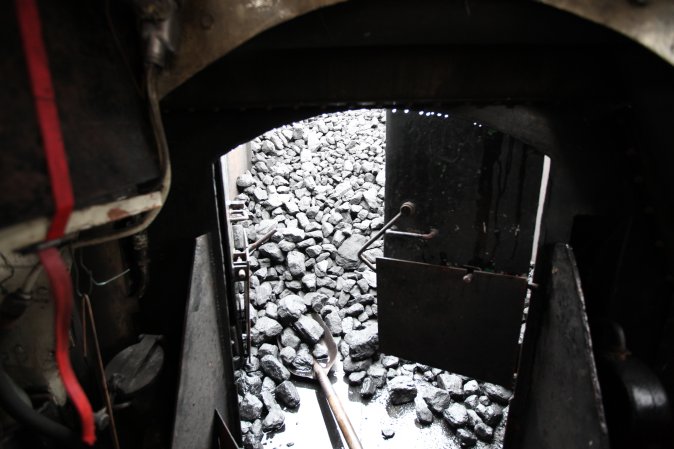 A beautifully restored Class 01 passenger locomotive was also in attendance: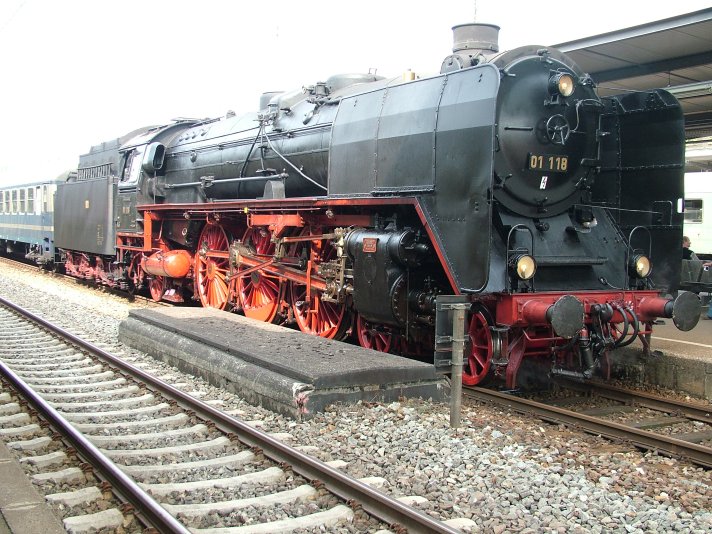 On to the electric locomotives, here is a gorgeous Class E94 "German crocodile":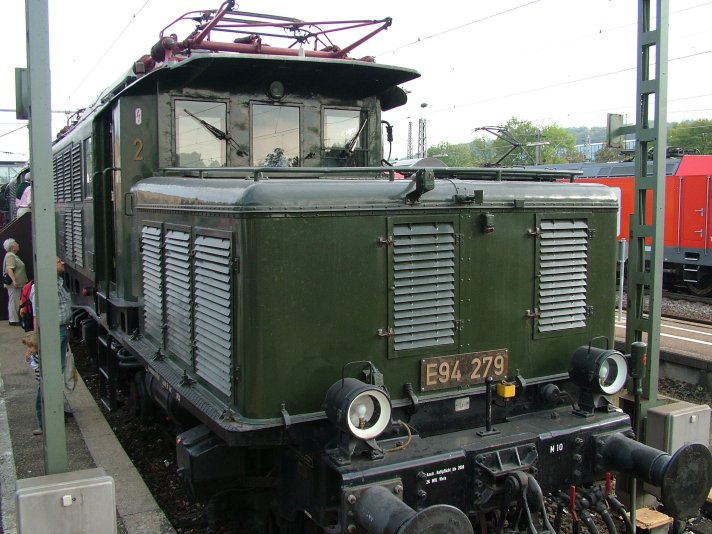 And a later version of the same type, the Class 194: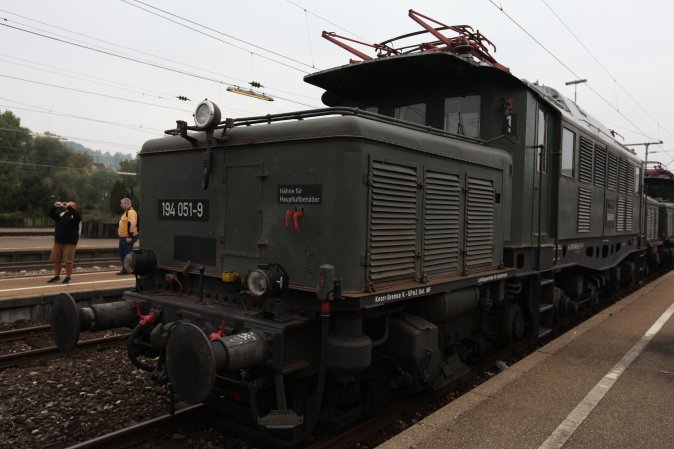 Here's a photo of the inside of the control cab. Believe it or not, the inside
of the newest ICE electric locomotives is a lot LESS complicated: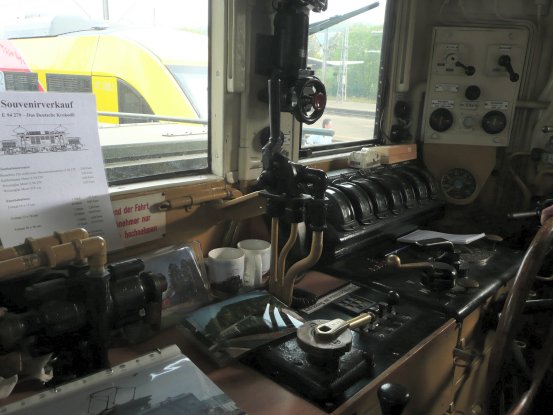 Time for the diesel locomotives. As always, the VT 795/995 classic red rail bus and
trailer were on hand to shuttle passengers from the station to the Leonhard Weiss venue: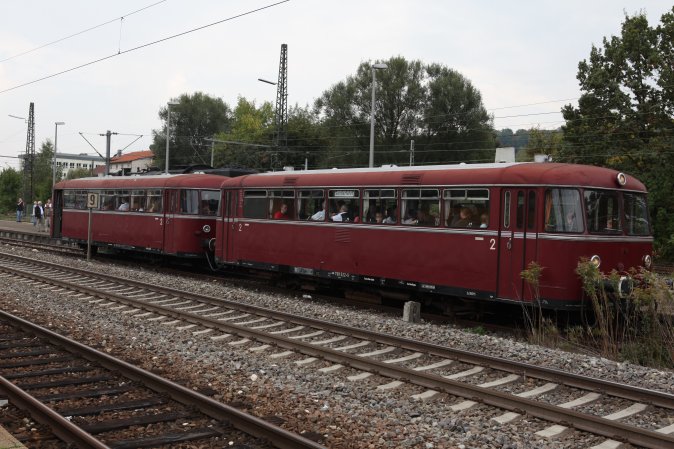 A look of the controls for the VT 795 rail bus: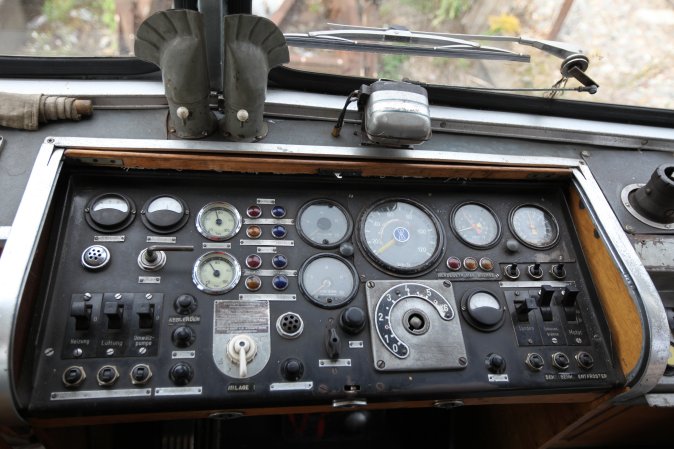 At the Leonhard Weiss factory, there was a Class 214 diesel
locomotive on hand, specially painted for the occasion: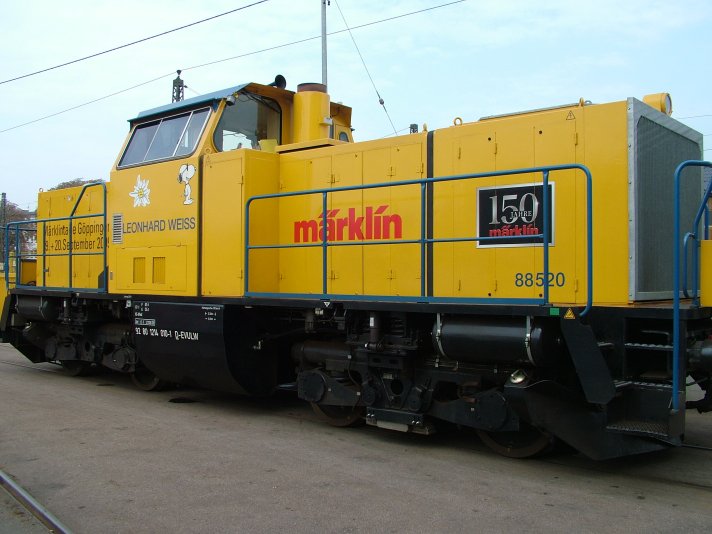 There were a number of interesting Marklin layouts in one of the buildings.
Here's a great-looking "Z" layout that caught everyone's attention: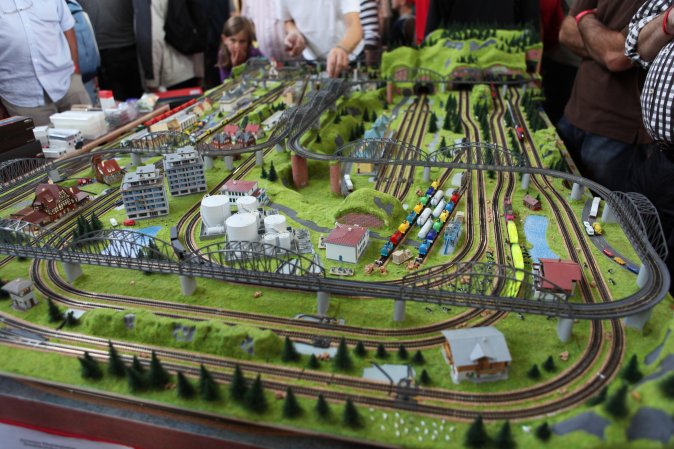 On our way back to Munich, we had to stop in Ulm to change trians.
Here's another Class 214 diesel, this time in its "normal" paint scheme: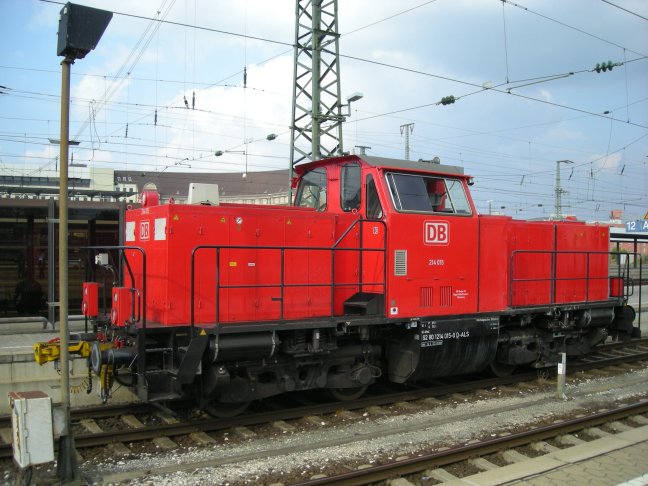 The next day we took a day-trip to Nürnberg. With the new high-speed lines now in place, the trip is only 1 hour!
In the market place, everyone was selling the famous Pfifferling (Chanterelle) mushrooms: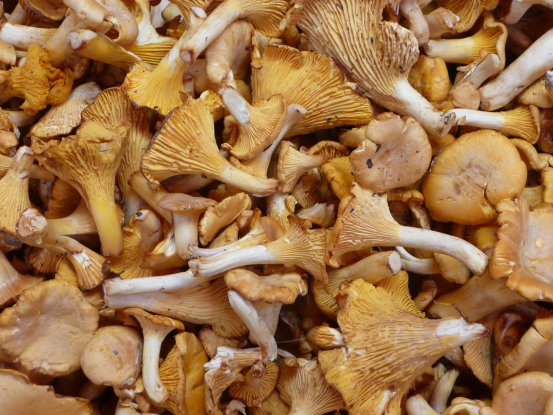 A nice photo of the castle, high on the hill in the Altstadt (old town) part of the formerlly walled city: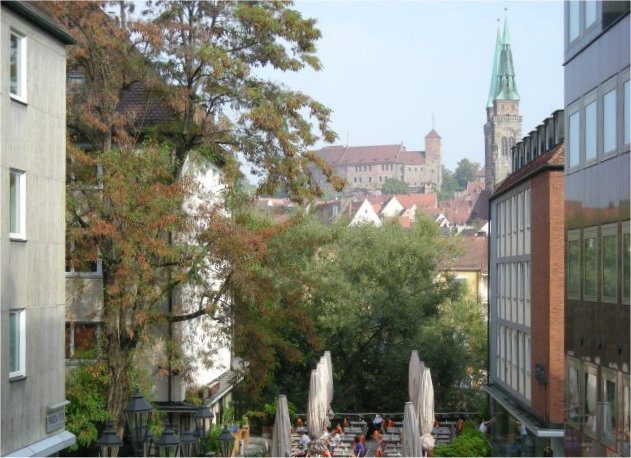 A Class 364 diesel locomotive makes its way to a shunting operation:
: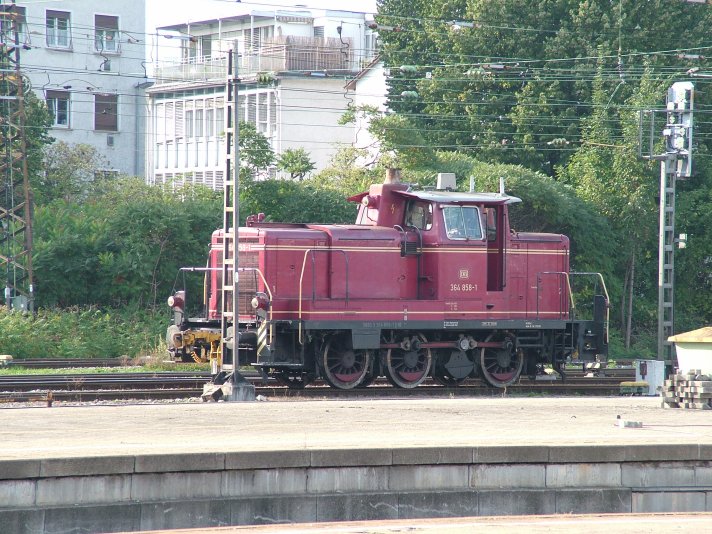 A few parting shots of our last meal in Munich. The roast duck was incredible: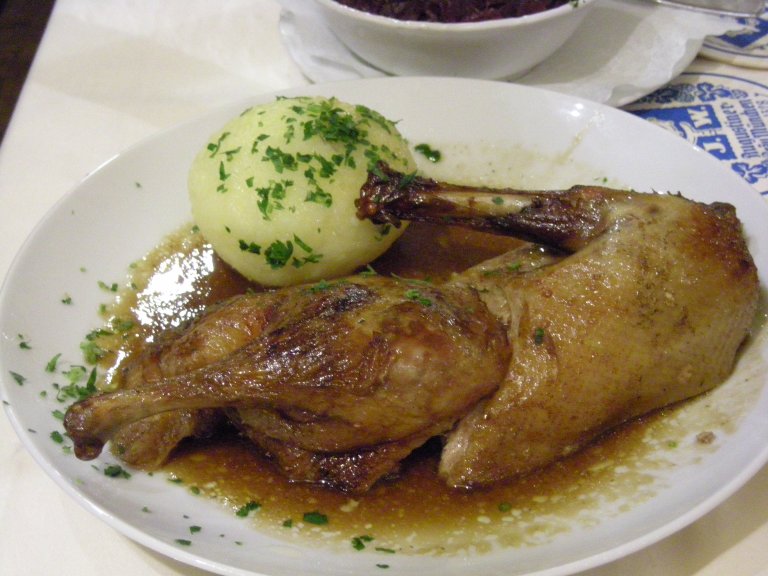 And, naturally, so was the roast pork in dark beer sauce: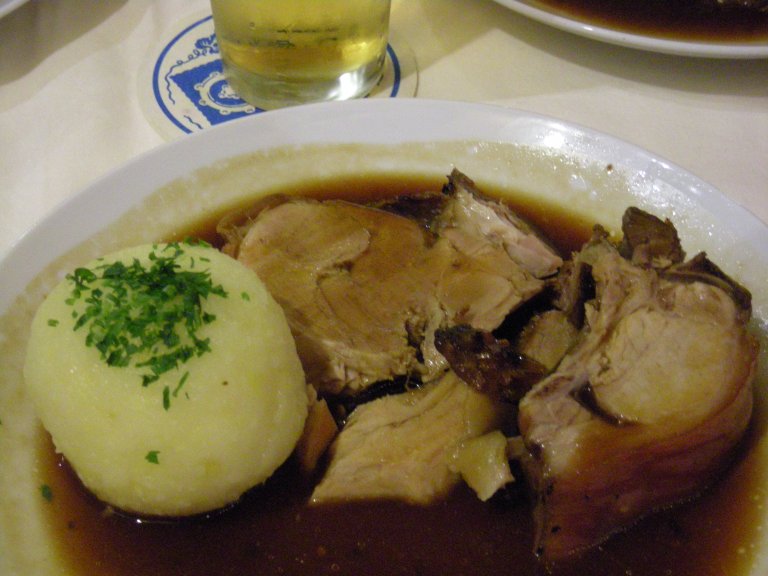 When you have great friends, they bring you the most incredible presents.
We were presented with some macaroons from a famous bakery in Paris: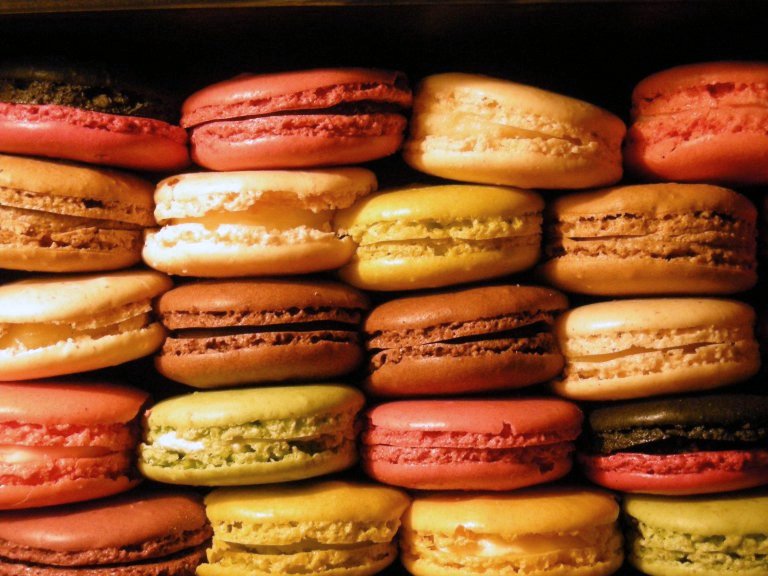 Just a few hours before our flight to come home, so we made one last trip to the
Munich Hauptbahnhof to grab a few more photos. Here's an ICE train headed
out for points unknown (to me that is). I'm sure it knows where it's going: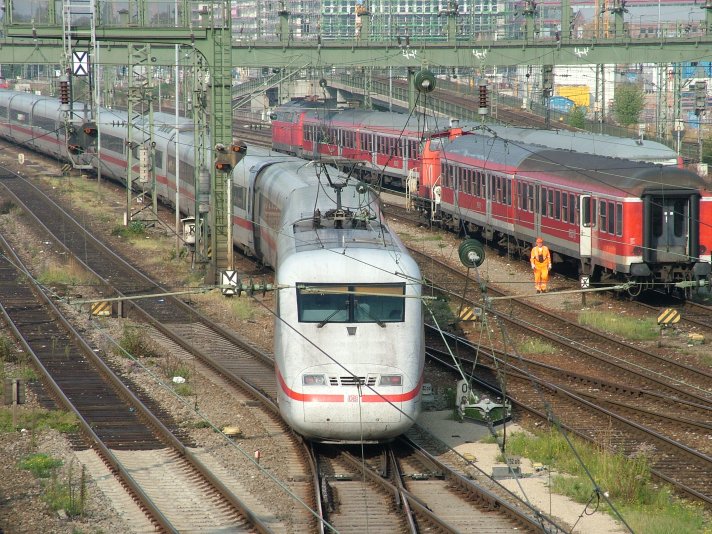 ---
|| Return to the Home Page ||