2011 Markiln Club "Treff" Days
Sure, there were lots of neat trains at the Treff (you'll see these later).
But first, we took a few days to do some sight-seeing, "Bavarian style"...

First stop, Munich and the Viktualenmarkt near the Marienplatz and Rothaus (City Hall)
Here's pole that tells a story of the city and its various trades and products.
Note the lower left one ... beer!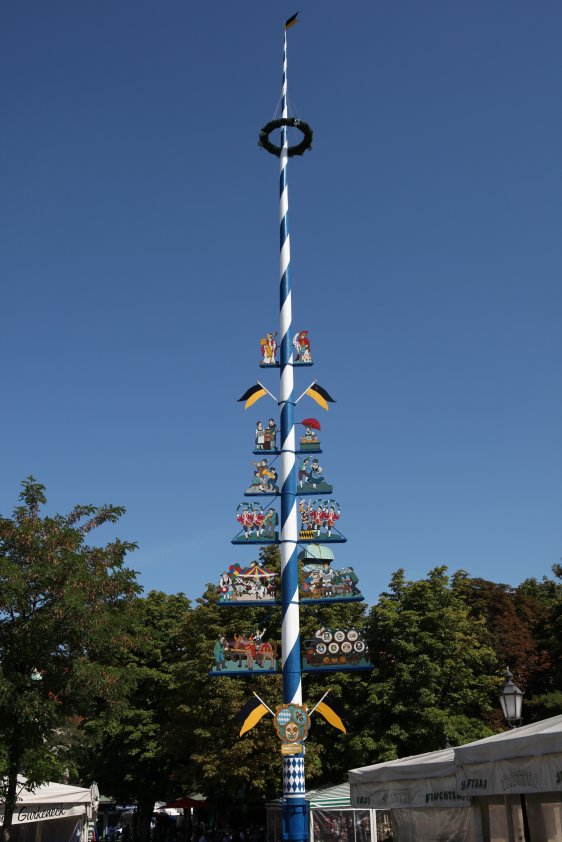 Here you see the major Bavarian breweries...
How many have you sampled ???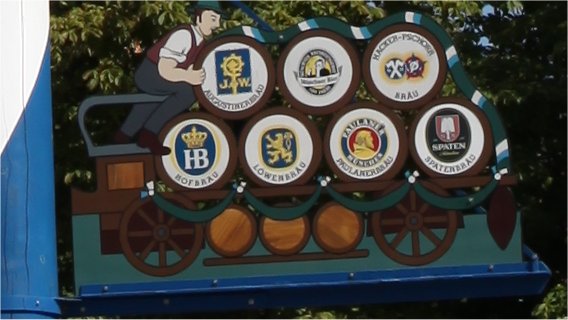 Lunch time already? I mean, we only landed a couple of hours ago!
Yes, time to re-fuel: sausages, potato salad and kraut -- yum :-)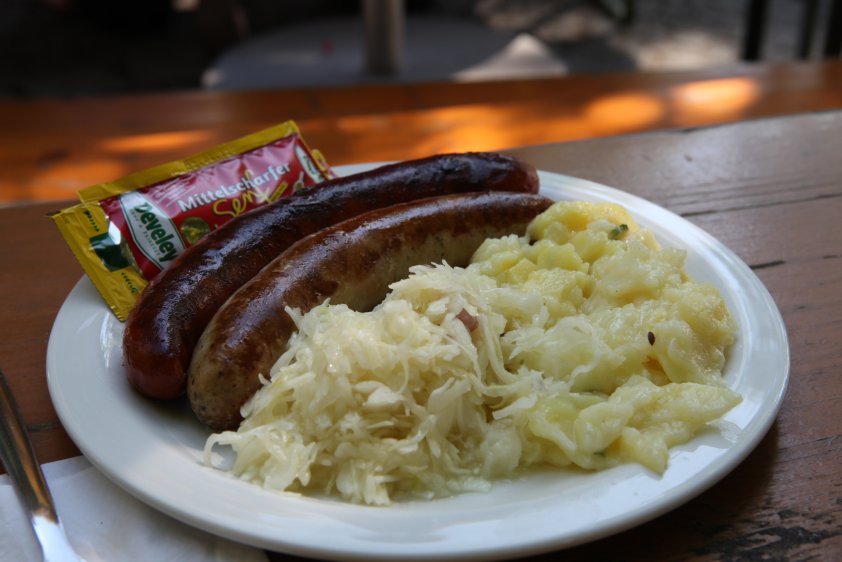 OK, time to saddle up! Here's the locomotive taking us south to Garmisch today,
we're going to the highest point in Germany.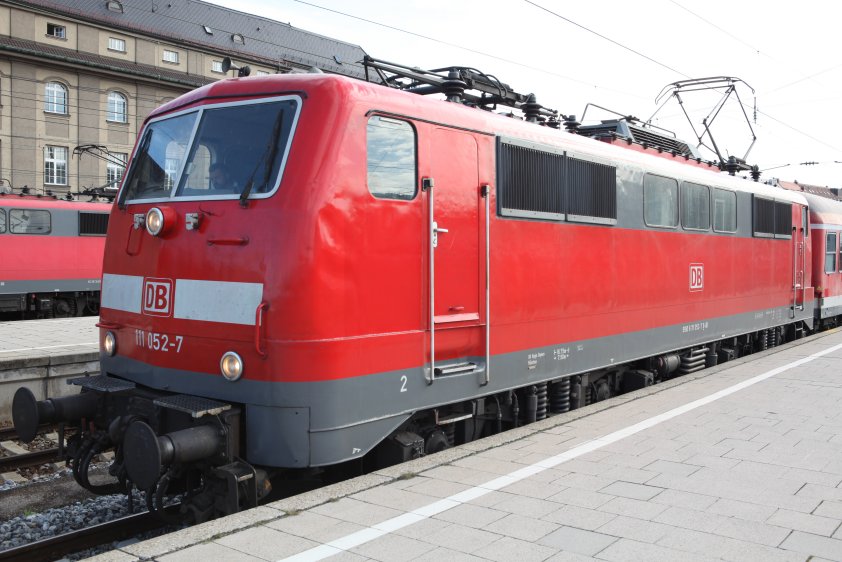 It really doesn't matter where you travel in Germany; just wait a few minutes,
stick your head out the window ... there's no telling what neat stuff will pass by!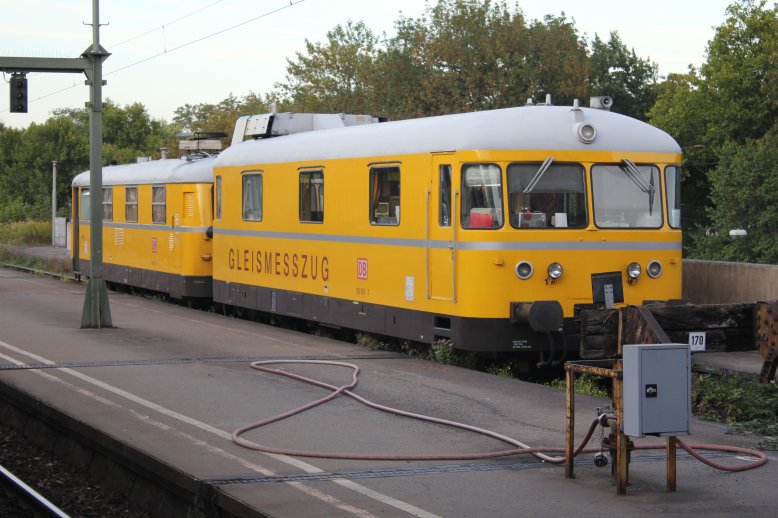 Off one train and onto another, but this is no ordinary train -- this is the Zugspitzbahn,
a cog railway (funicular) that takes us way up to the top of the mountain.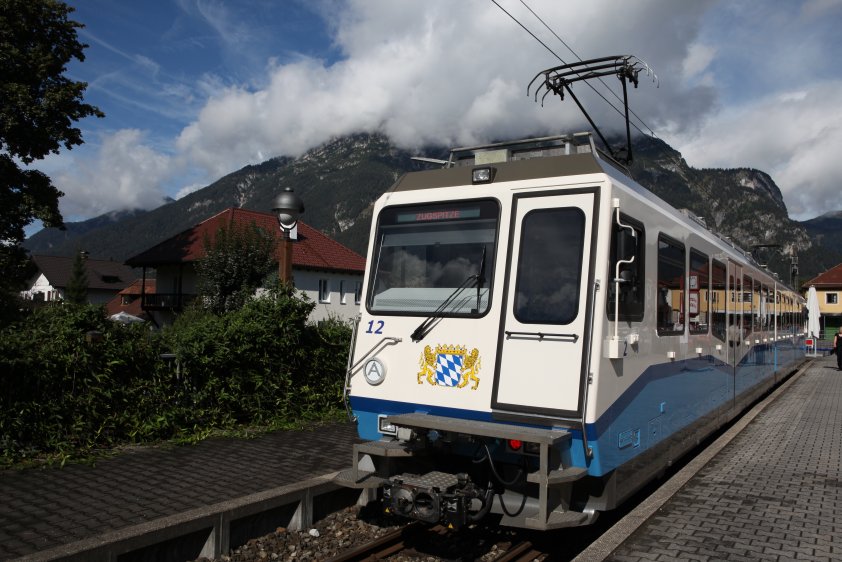 Half-way up the mountain there's a stop-off point to let off hikers and connect to the cable car ride.
Below is a photo of the maintenance shed and a little work locomotive.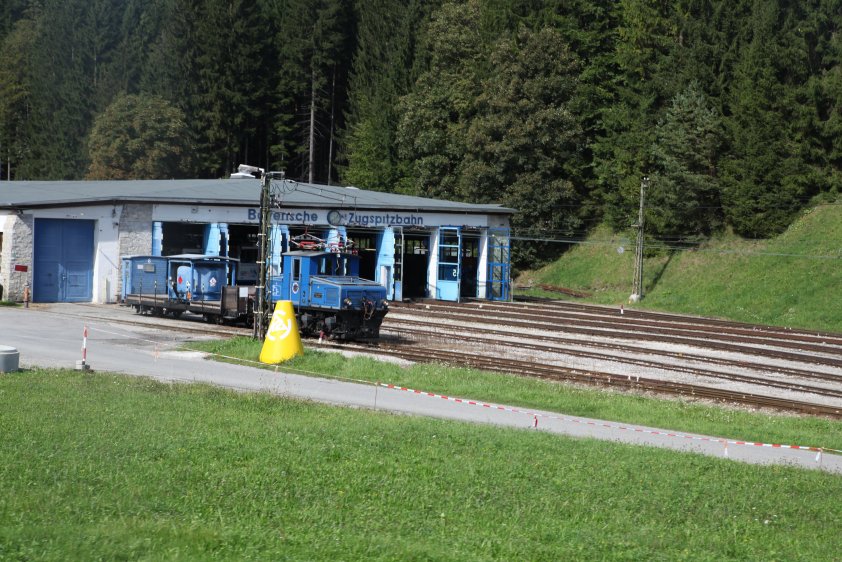 Photos really don't do this view justice. At the top, you're actually above the clouds.
In fact, on the day we went, we had sunlight for about 30 minutes and then the clouds
rolled in and completely engulfed us. In any event, it was a breathtaking experience.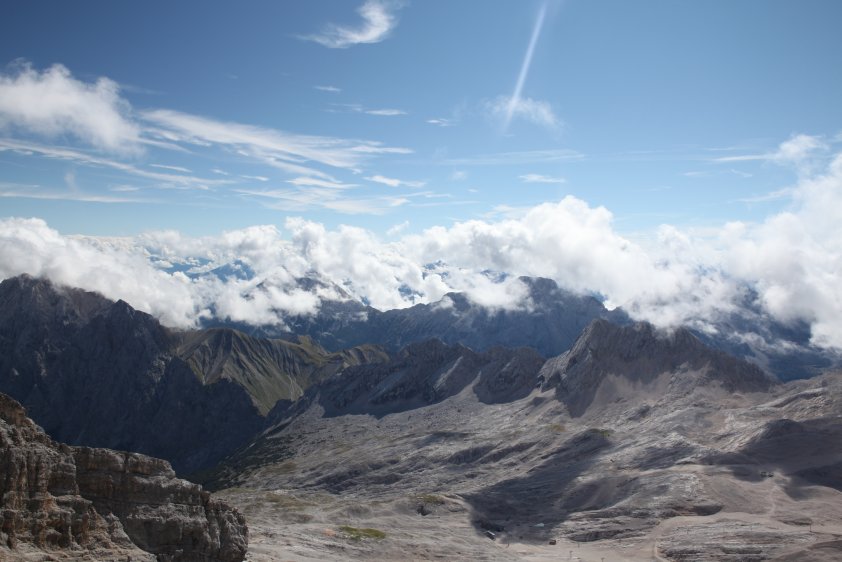 And below, on the right side extending to the top middle of the photo, is the famous Höllental Valley: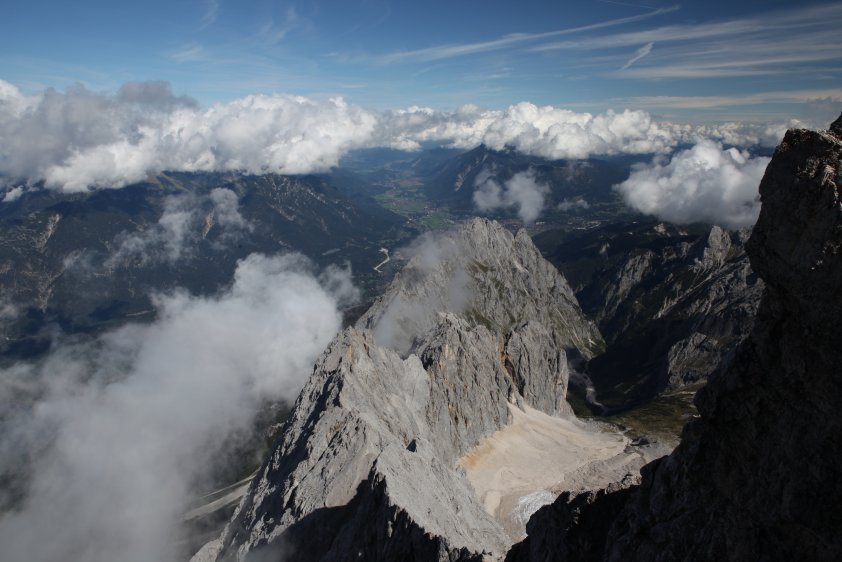 Here's a neat shot below. On the return trip we opted to take the cable car half-way back.
Here's the Zugspitzbahn just as it is about to go into the tunnel -- it won't emerge for
about 20 minutes until it reaches the top of the mountain!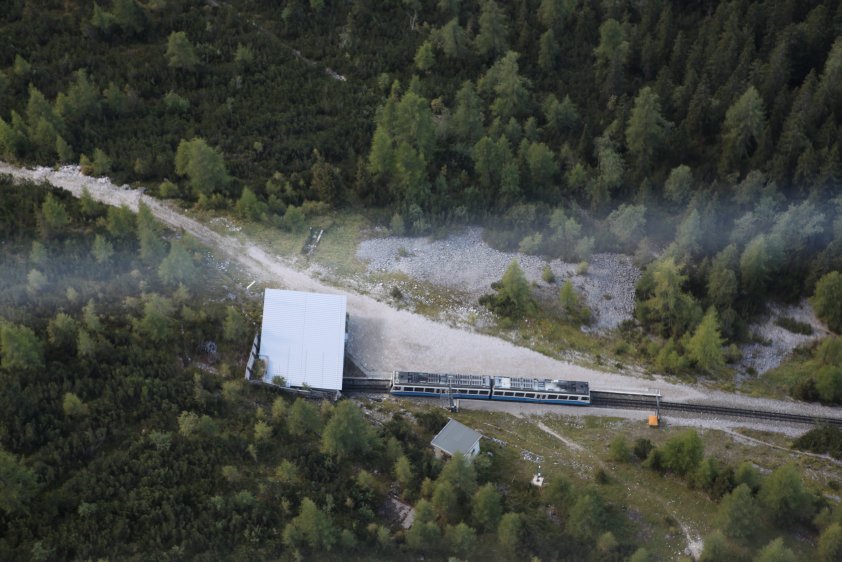 The cable car ride back down provides some spectacular views: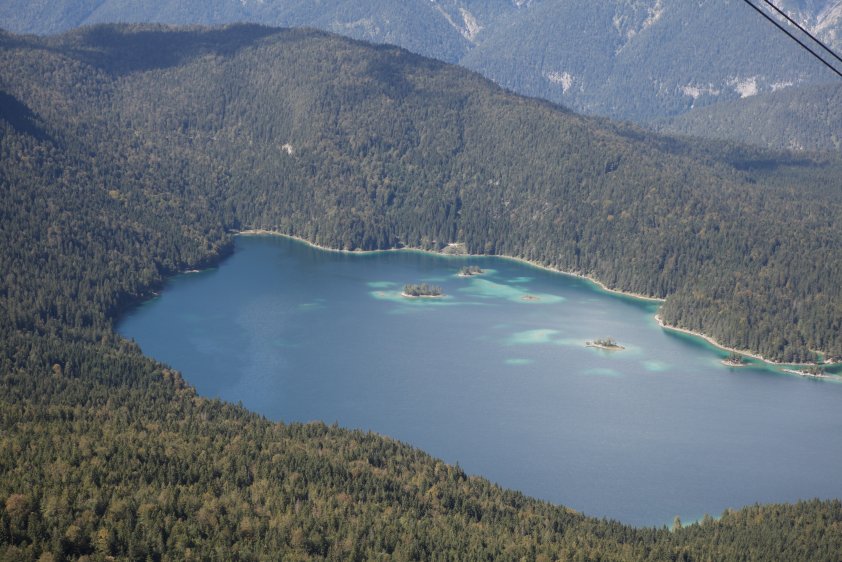 All kinds of neat trains to see on the return trip!

OK, after a long day climbing mountains and looking at trains, it's time to eat!
Below, we have pork medallions, cooked with rosemary, served with roasted vegetables
and rosti potatoes, all covered with a cream pfifferlinge mushroom sauce! Oh my!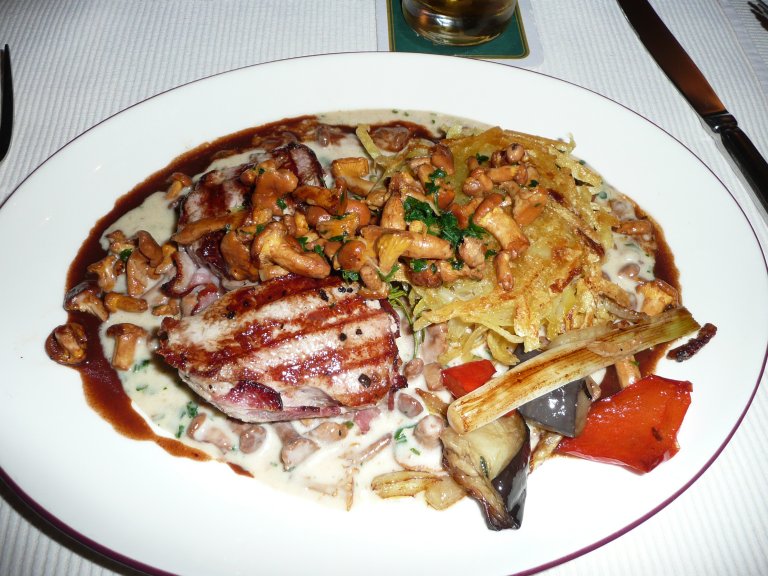 And here we have what is arguably the best wiener schnitzel I've ever had
(not to worry, there was cucumber and potato salad to accompany it).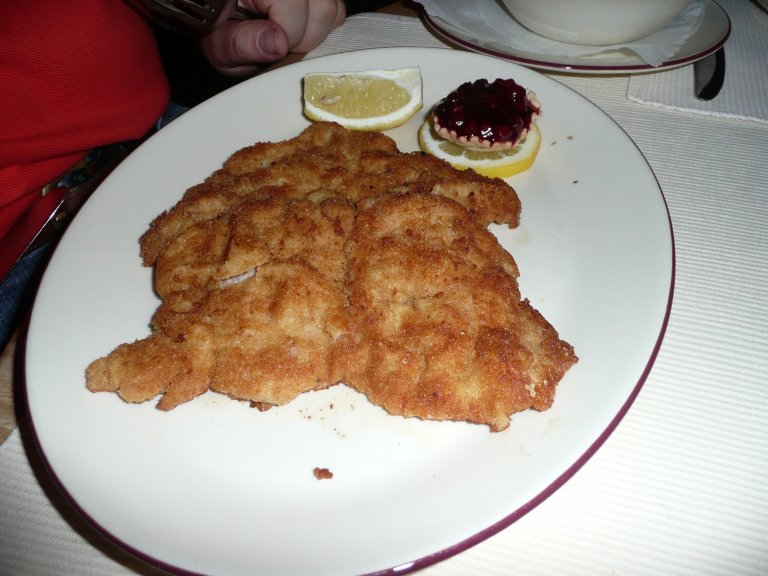 OK, today we're going to Salzburg, Austria, so here's a nice photo of an
Austrian Class 2016 "Hercules" locomotive -- just like the one Marklin made!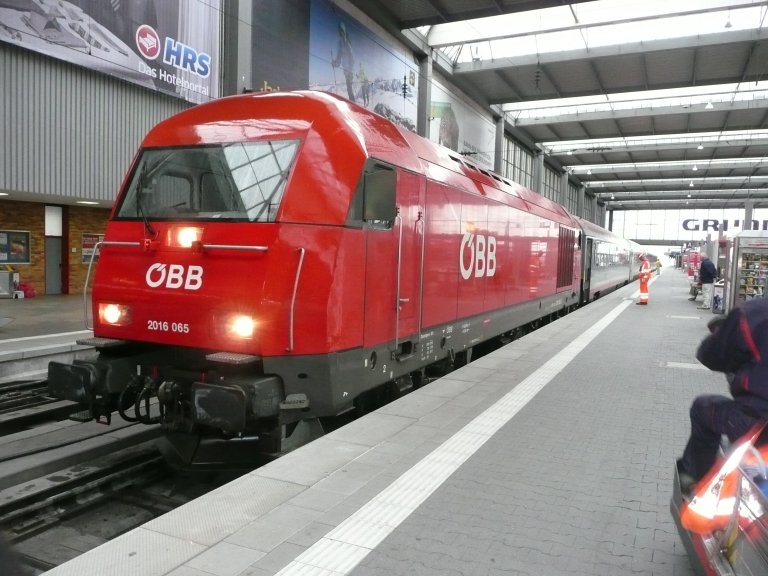 Salzburg is a really neat little town -- you can actually walk from the train station right to the center
of the old, scenic part of town. There are many narrow streets with plenty of shopping opportunities.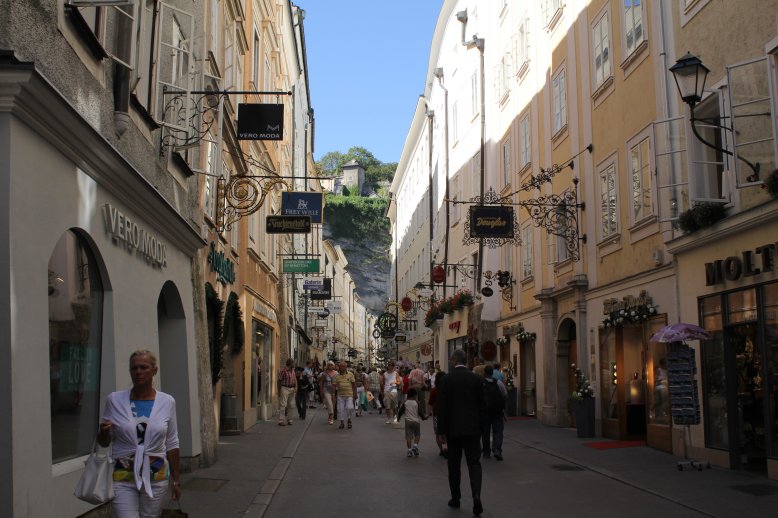 At old fortress at the top of the hill, you can take in a Mozart concert on just about any evening!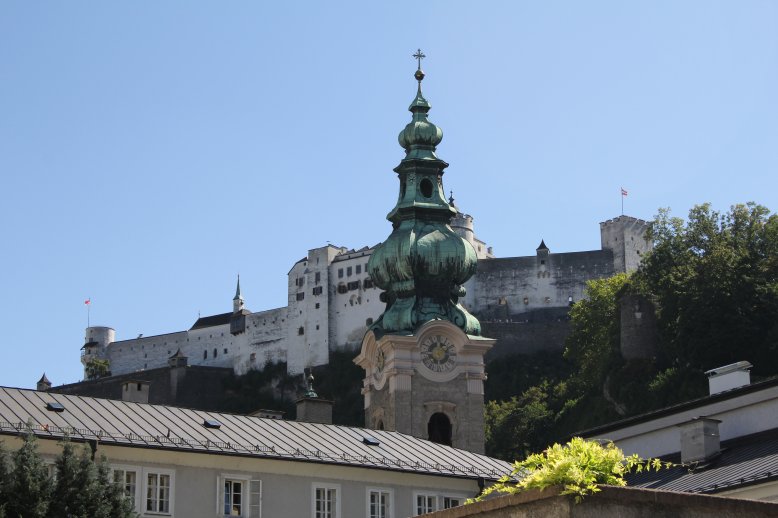 Whoops -- gotta do lunch, no? What better place to stop than Nordsee.
Think of it as a "fast food" seafood lover's delight -- only it's a lot better
food than any fast food place you'll find anywhere in the US!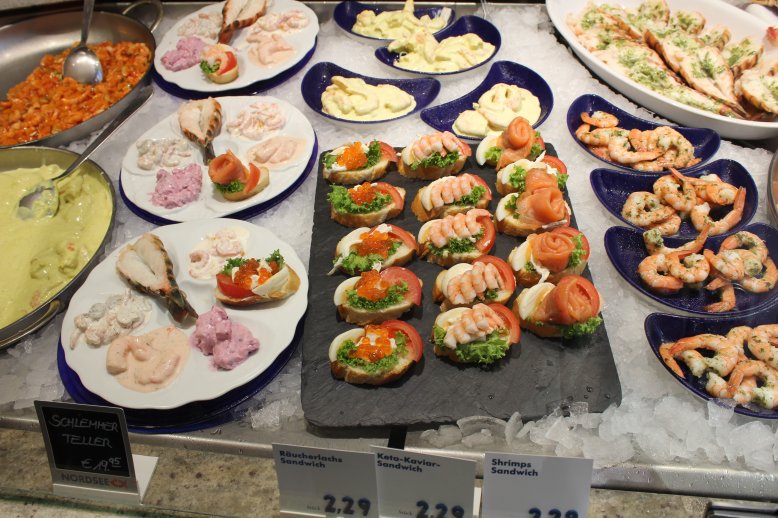 Back to the walking tour ... there are many beautiful churches, statues and fountains to see: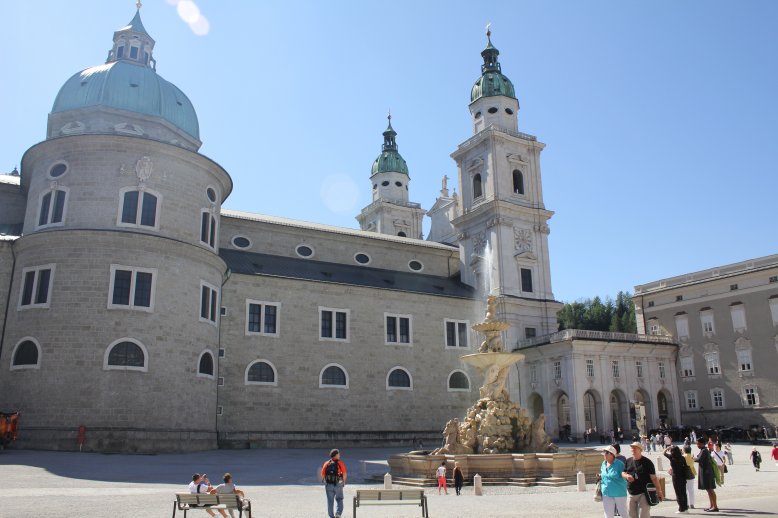 And here's famous Sacher Hotel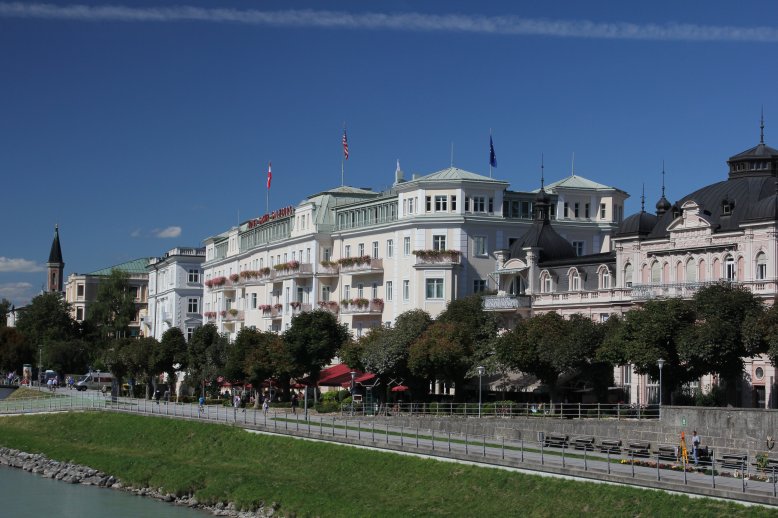 Where an afternoon's snack is sure to be memorable experience, such as the
world-famous Sacher torte: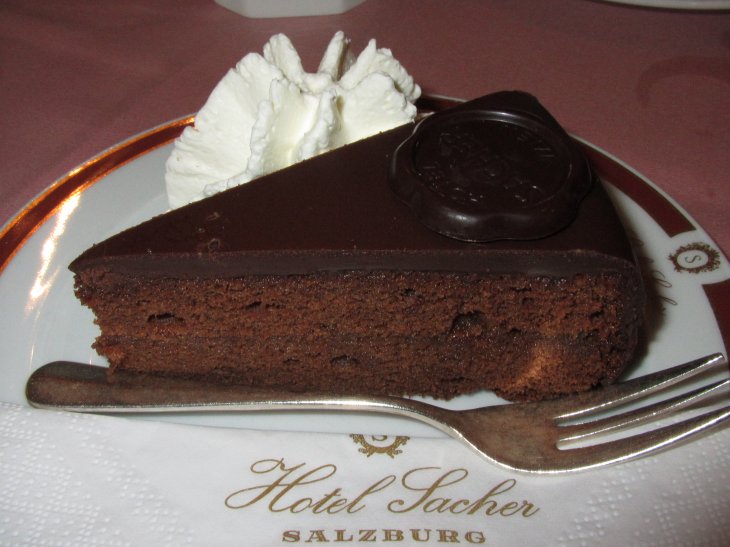 OK ,time to work off some of those luscious calories, so we'll walk back to the Bahnhof. On our way,
we'll pass by the lovely Mirabel gardens. Always beautiful, but in the summer, they are truly spectacular: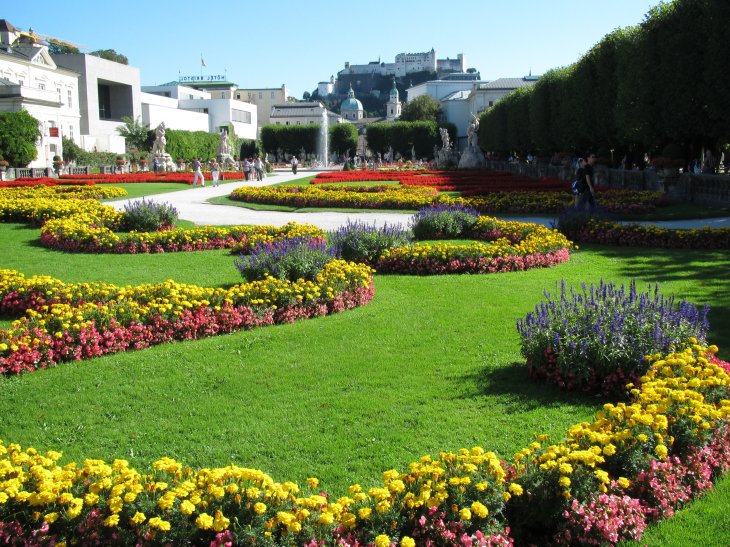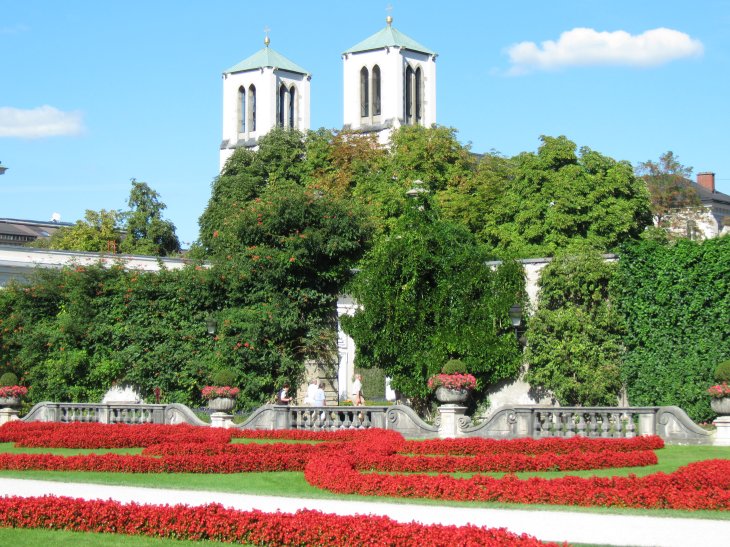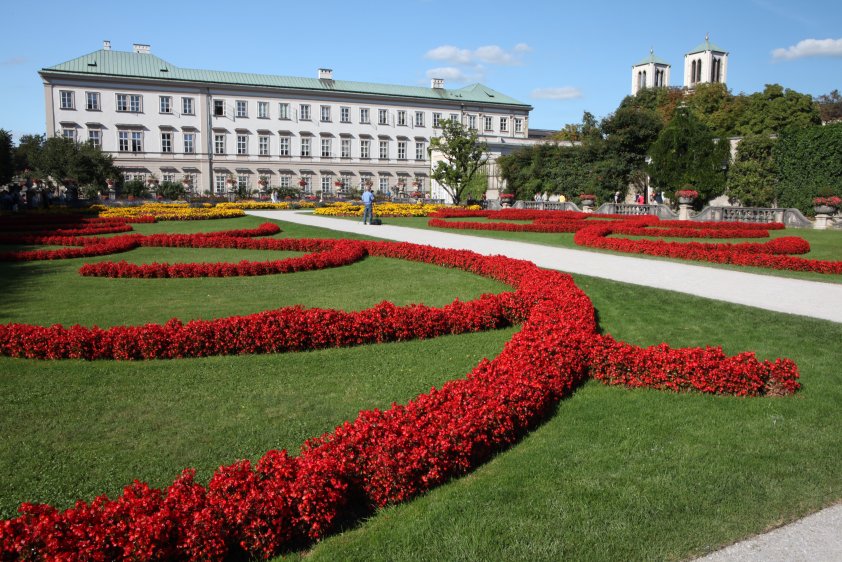 OK, back to Munich, where we spot a cool-looking OBB Taurus class locomotive
with advertising for train service to, of all places, Italy:r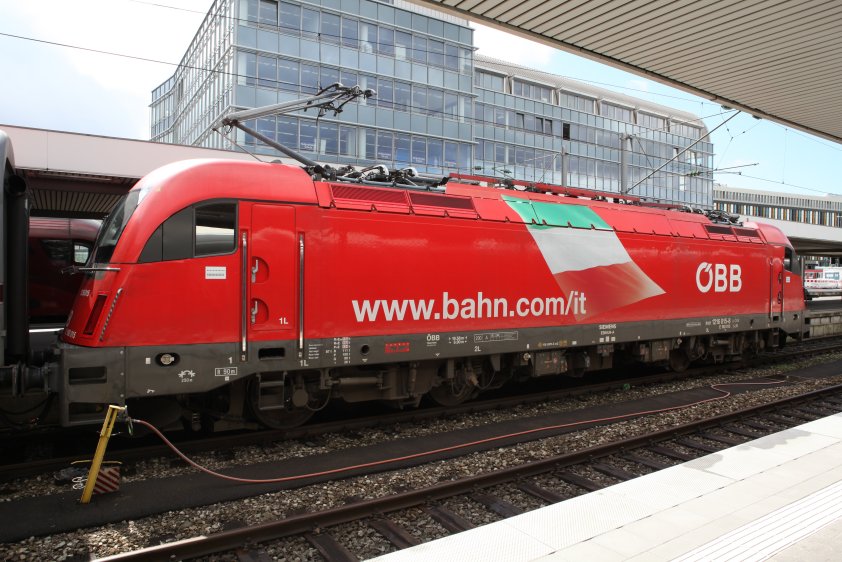 OK, another day, another town. Here's a beautiful view of Stuttgart just after the sun sets: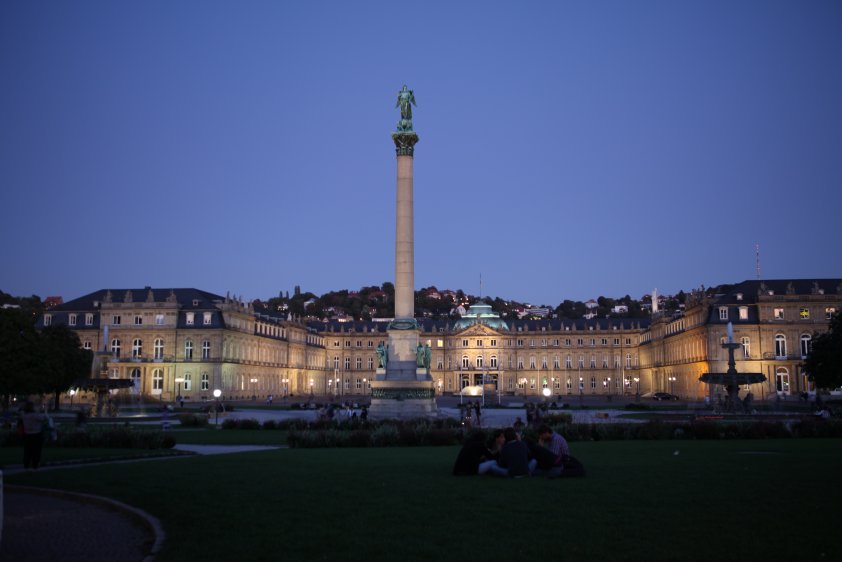 And, with the evening, comes (of course) dinner.
OK, tonight we're pulling out all the stops.
First course, what is arguably the best potato soup in Germany (and that's saying a lot):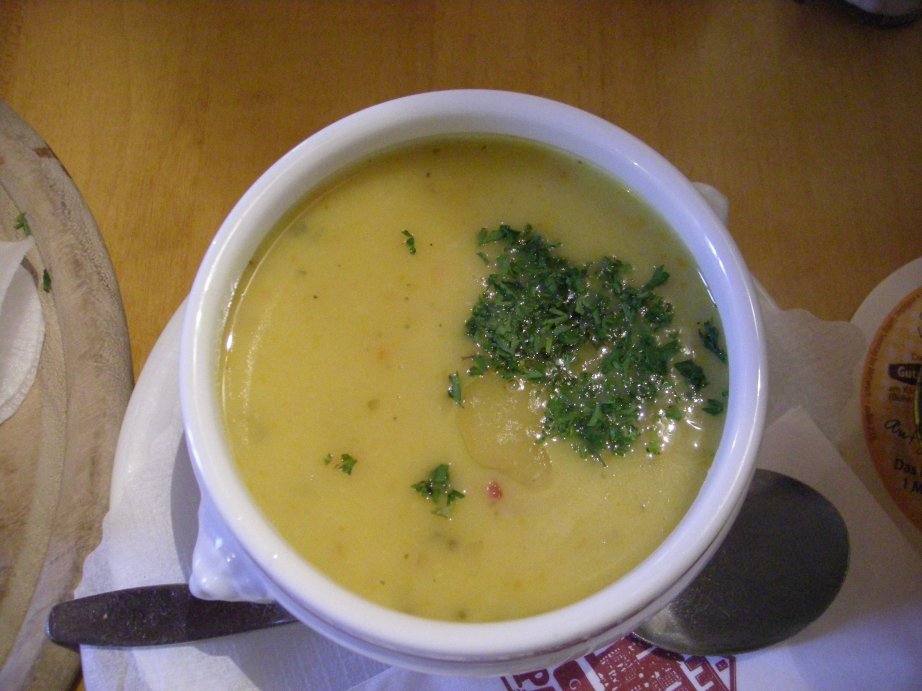 Now we'll share some Bavrian wurstsalat. Yes, it does taste as good as it looks: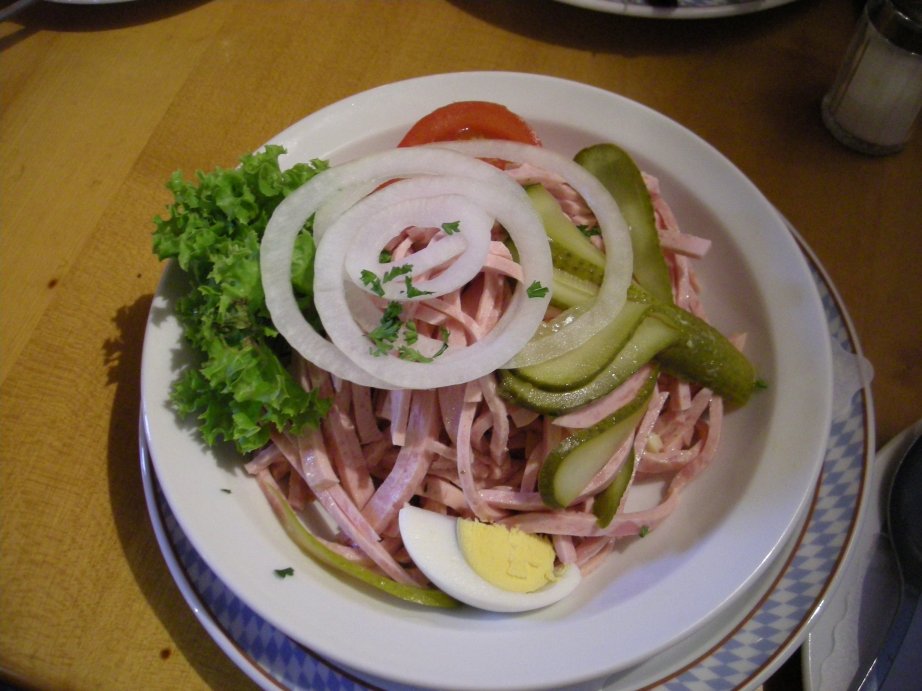 An order of radishes for the table, accompanied by dark bread with butter and chives: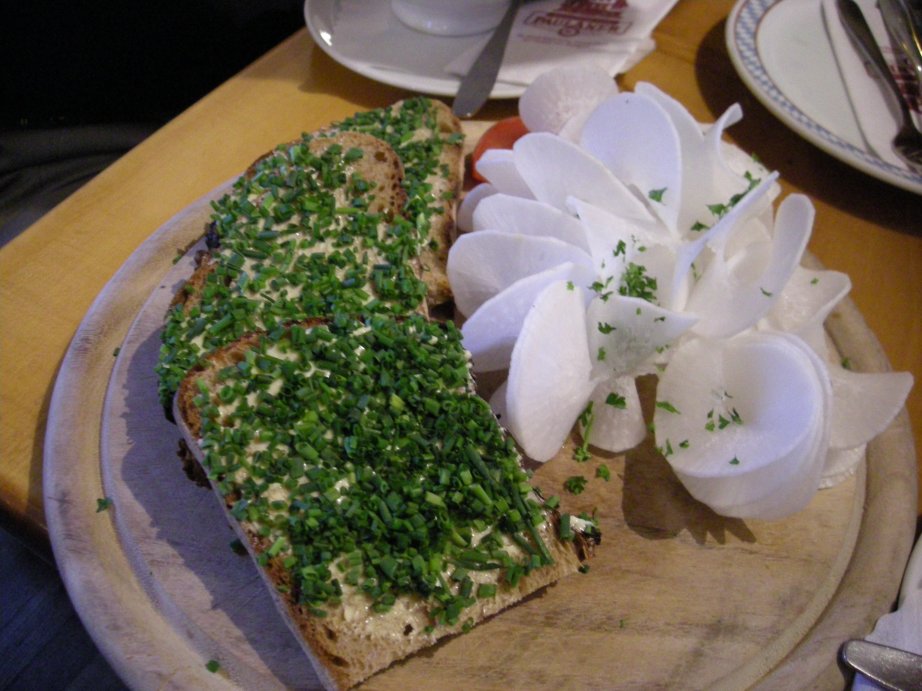 For tonight's main course(s), we have a choice of:
Schwienhaxe (spit roasted pork nuckle) with potato salad and red cabbage: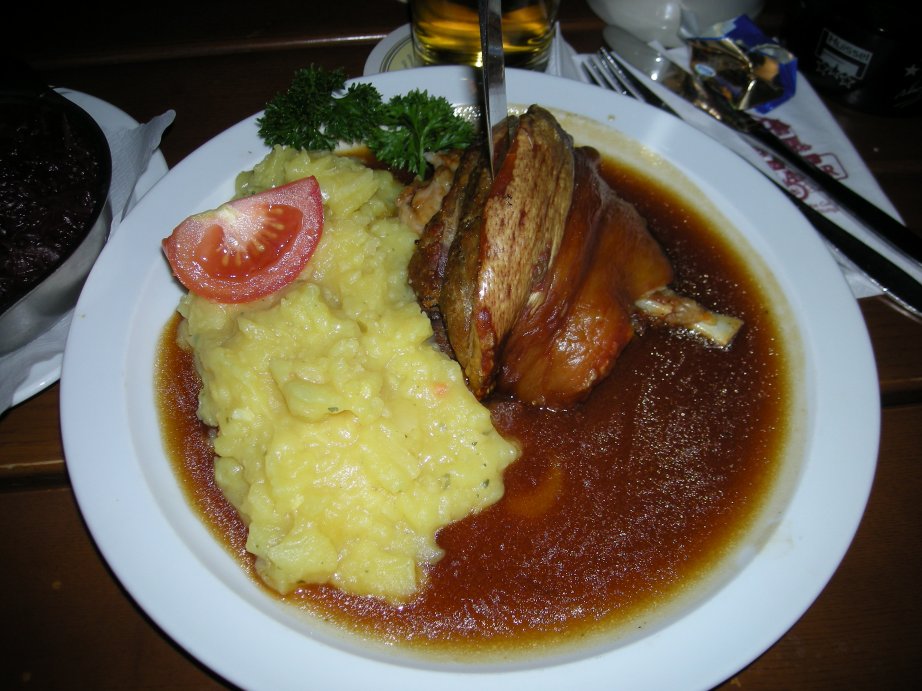 Or perhaps some schnitzel and fries: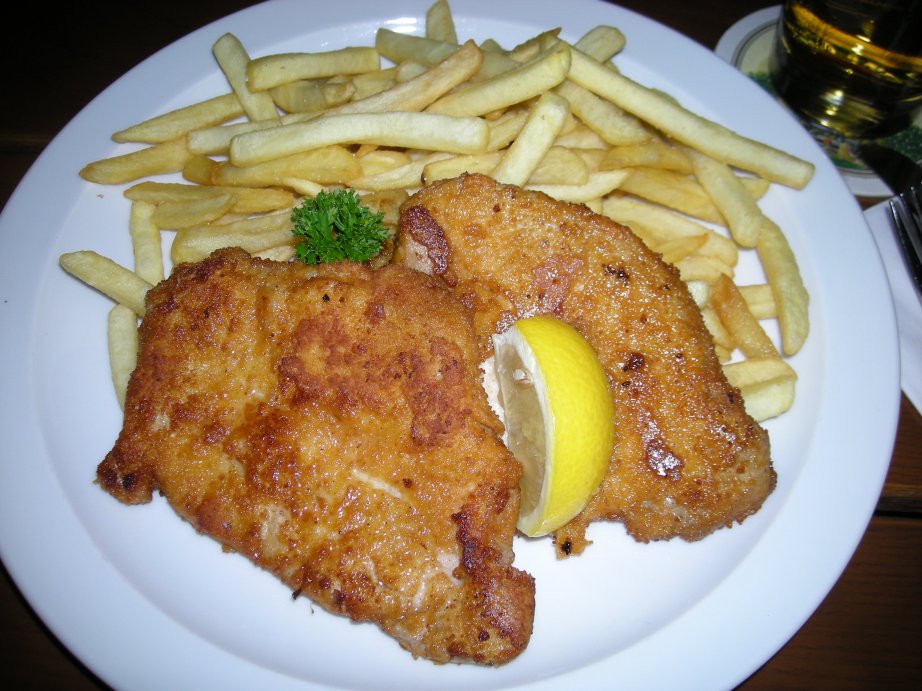 Or maybe veal medallions with creamy mustard sauce, topped with roasted pfifferlinge mushrooms!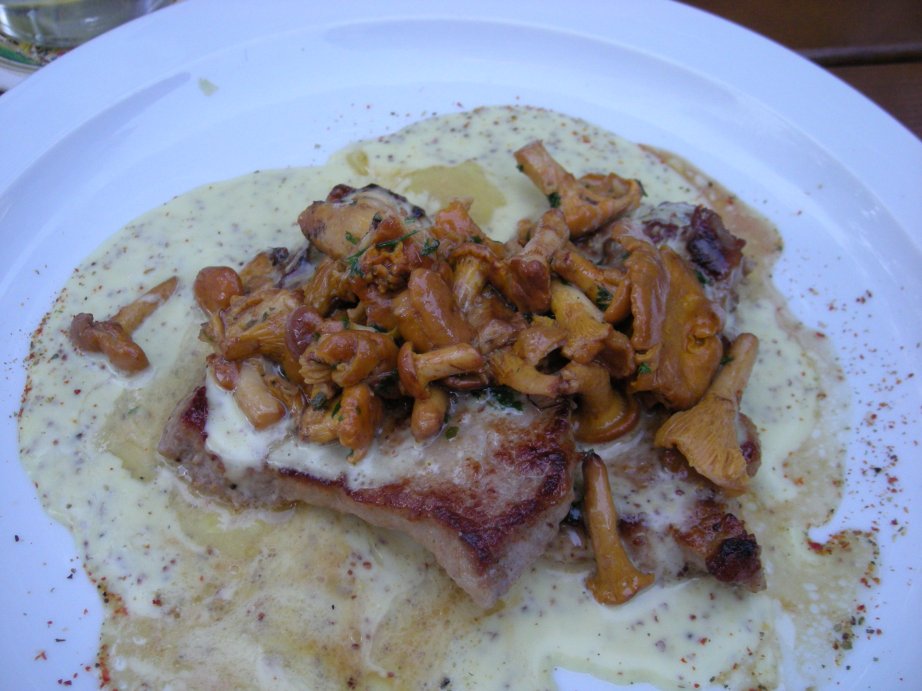 OK, enough food (but can you really get enough of this stuff)? We can debate that some other time.
Tomorrow we're taking a cruise down the Rhine...
---
|| Return to the Home Page ||