Photographs from Germany

---
The beautiful Köln Hauptbanof (main train station).
Note the ICE 3 (left) and the "Nett hier" class 101 engine (right).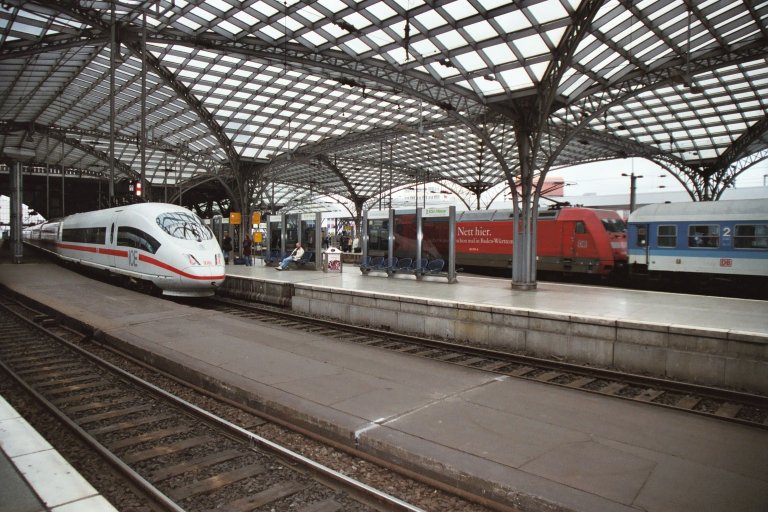 A class 101 pulls a train into the famous Köln bridge over the Rhine.
Note how the arched bridges are similar in style to those made by Marklin.
These long distance passenger cars are a limited production
new for 2002 from Marklin and can be ordered as item #43304.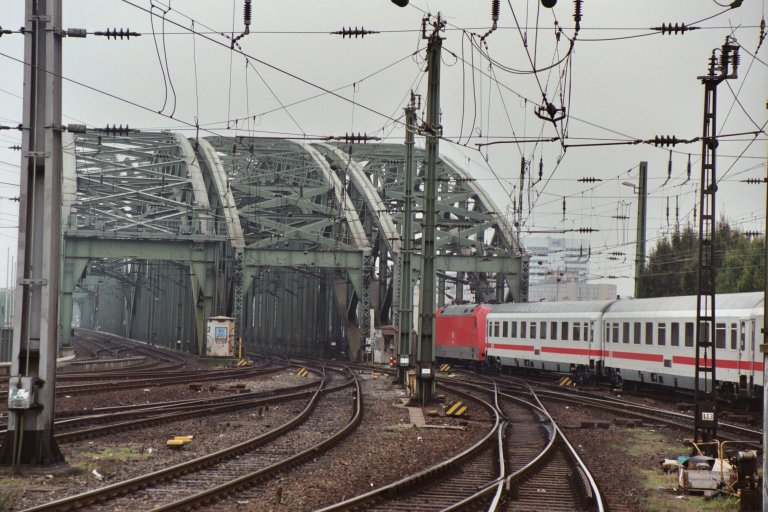 A class 110 emerges from the bridge (coming into Köln).
Note the older style ("silverfish") 1st/2nd class car in front.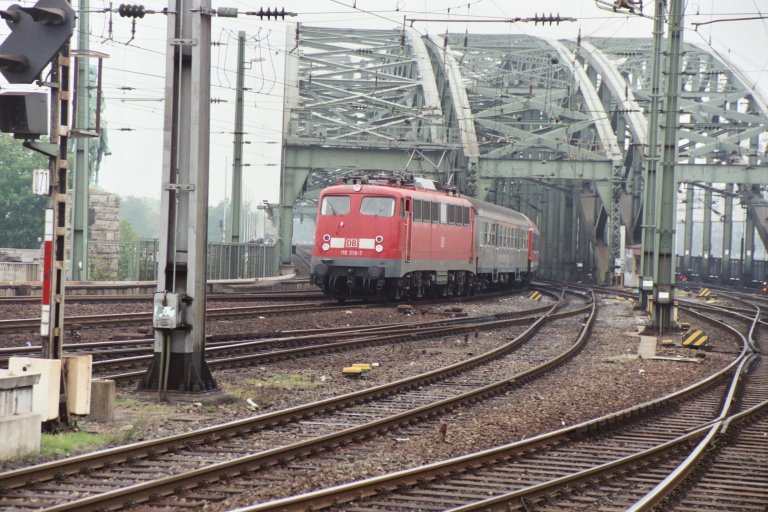 A view from "inside" the bridge structure: a class 110 pulling some double-decker commuter cars.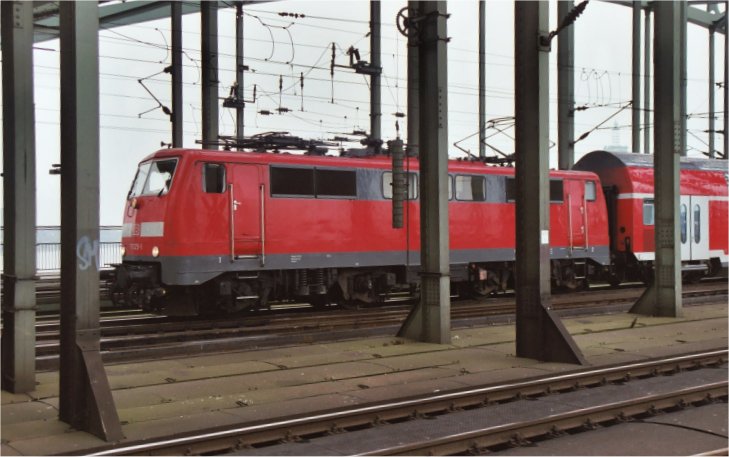 An older (paint scheme) class 110 emerges from the bridge.
Note the spire of the famous Köln cathedral in the distance.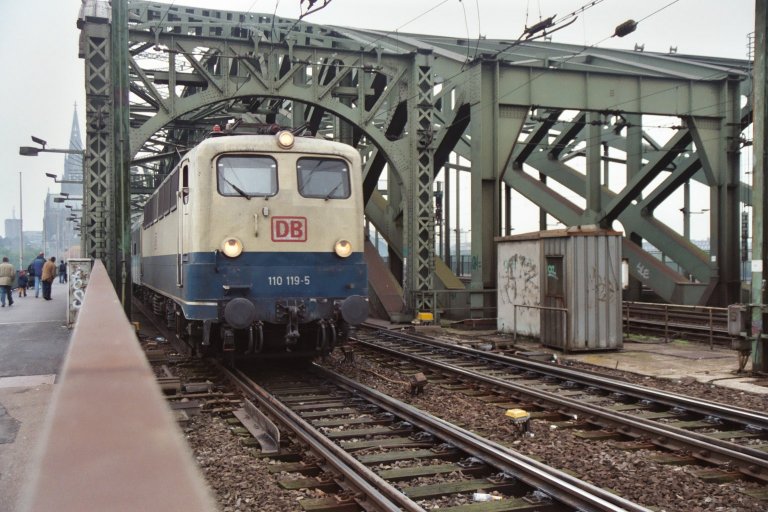 A class 143 headed for Köln with some Belgian passenger cars in tow.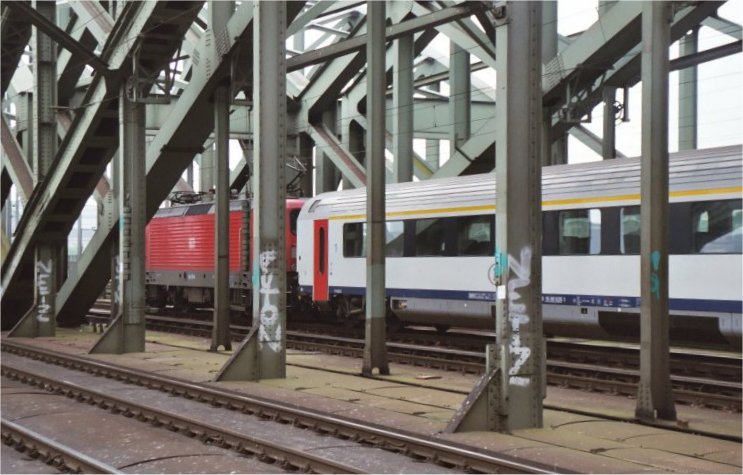 A lot of beautiful work went into constructing this massive structure.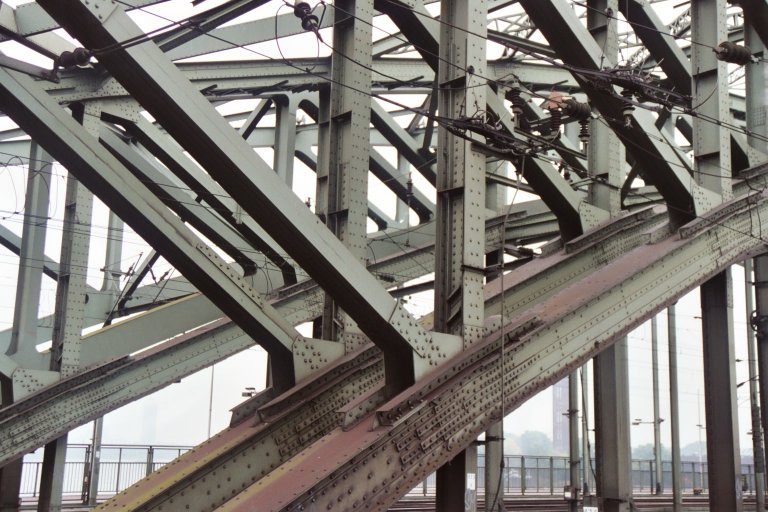 A high-speed Thalys leaves Köln headed (no doubt) for Brussels.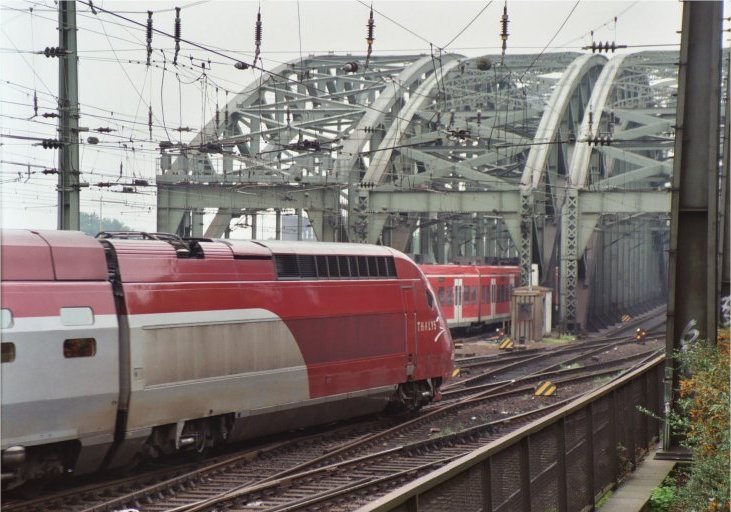 The beautiful Köln cathedral (OK not every picture here is of trains).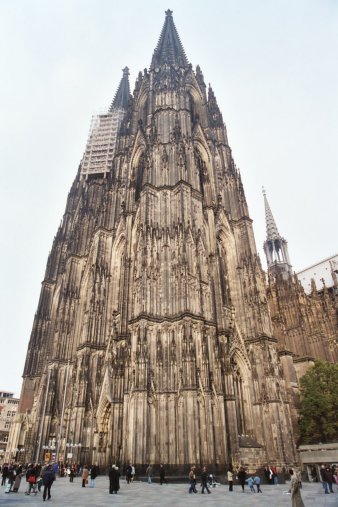 My favorite! A class 143 pulls inot the Bottrop Hauptbanhof.
Bottrop is the home of Uhlenbrock.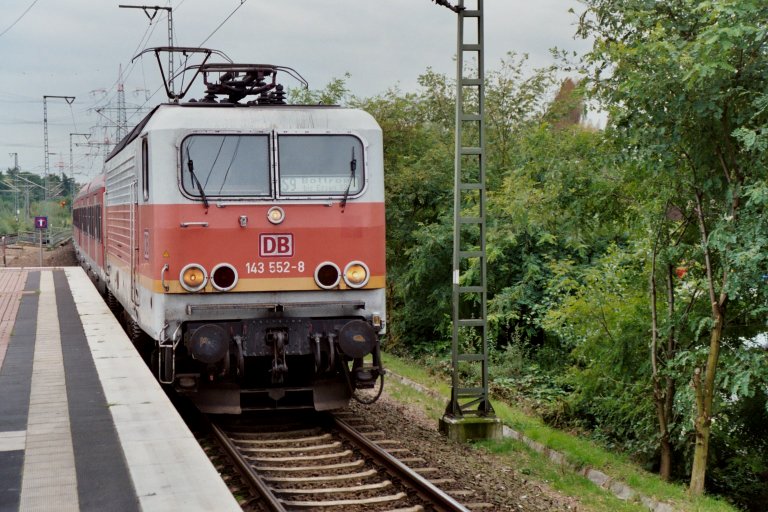 While waiting at the Essen Hauptbanhof, a frieght train pulls through.
Note the "Danzas" cars; Marklin has made several over the years.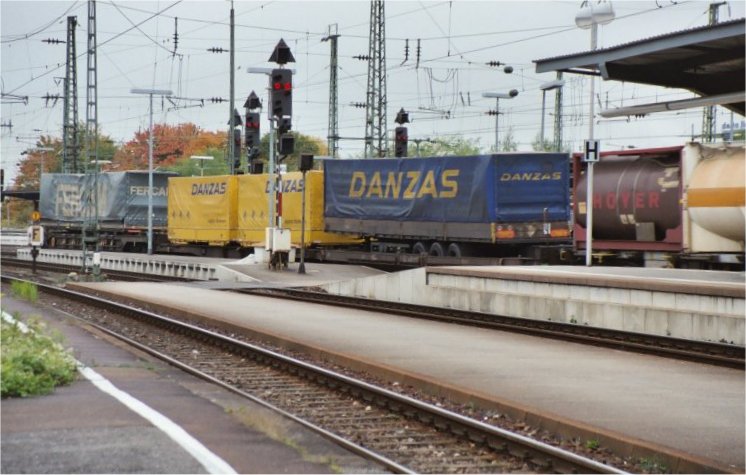 The famous Bayer "Markolon" engine makes a brief stop at the Essen Hauptbanhof.
This exact model is produced by Marklin (#37393).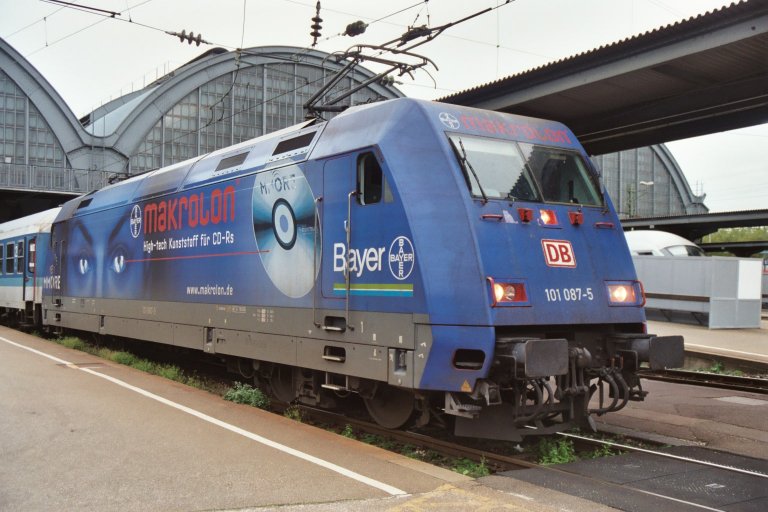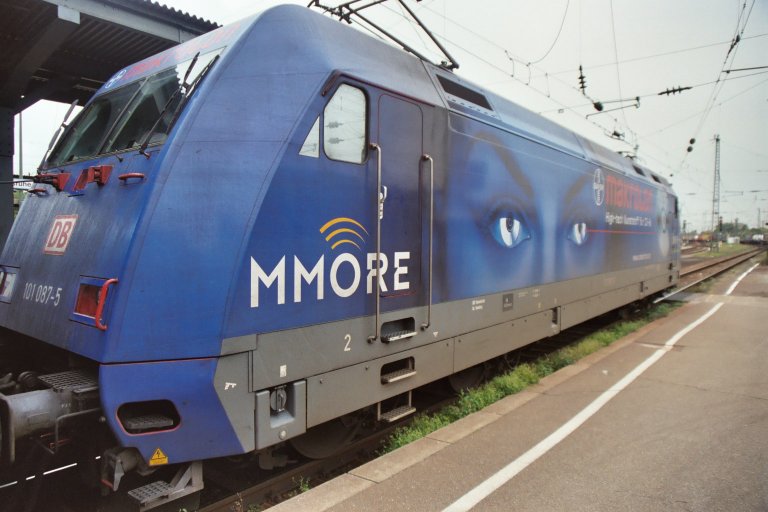 Essen is a busy station. A class 365 switcher moves some passenger cars into position.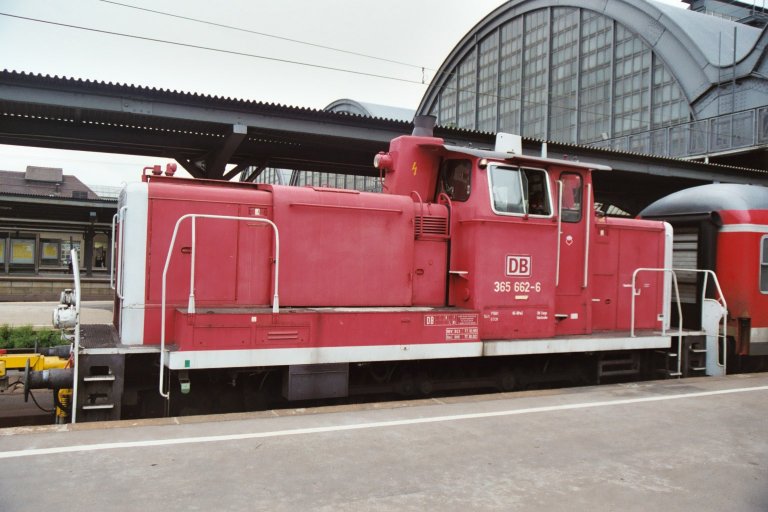 A more modern class 365 switcher in DB Cargo livery stands ready for action.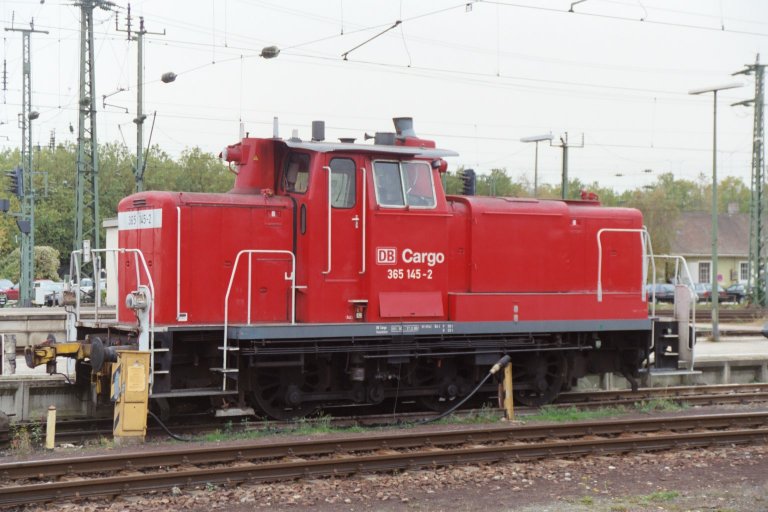 The beautiful Munich public bath house, photographed looking North along the Isar River.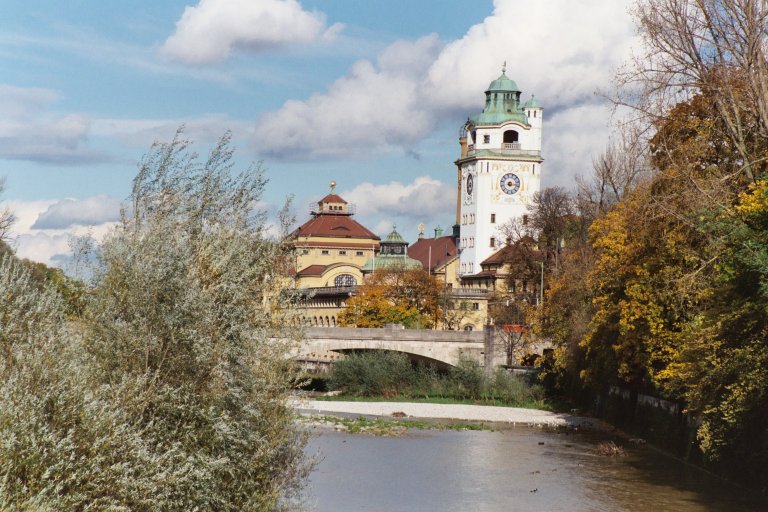 In the fabulous Deutsches Museum is a beautifully preserved model of a Bavarian S 3/6 steam engine.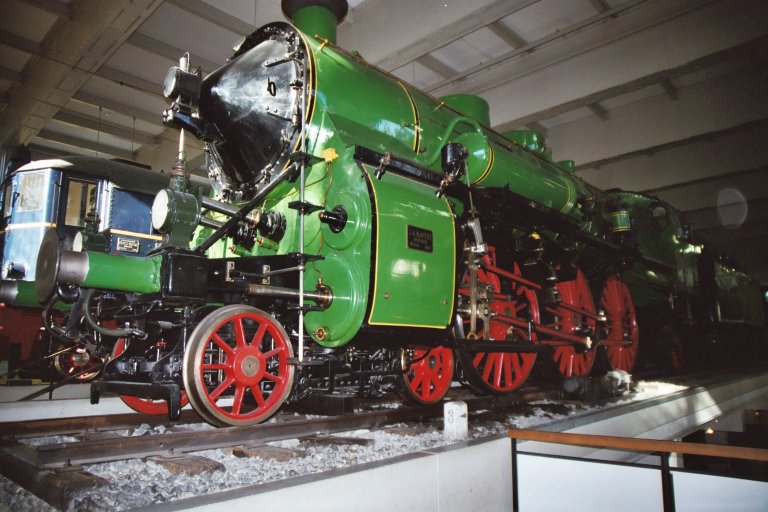 Here's a cut-away view of an old E16 (electric) engine -- see the huge generators?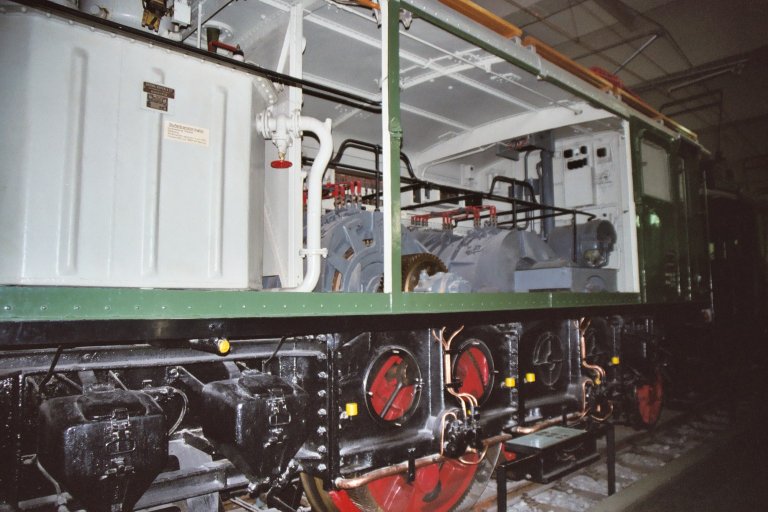 Just West of the Munich Hauptbanhof, a class 218 diesel and 110 electric locomotive stand by.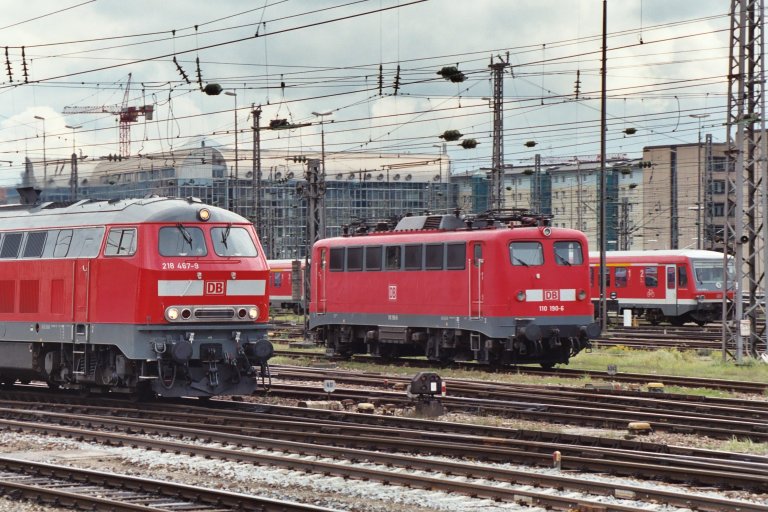 The class 101 "Nett hier" engine re-positions itself outside Munich.
This limited production item is available from Marklin as #37394.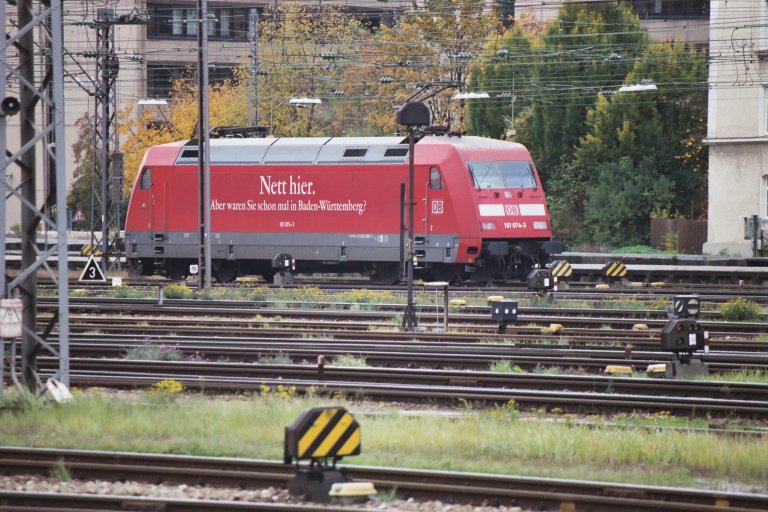 A close-up of the class 110 electric with a commuter train in the background.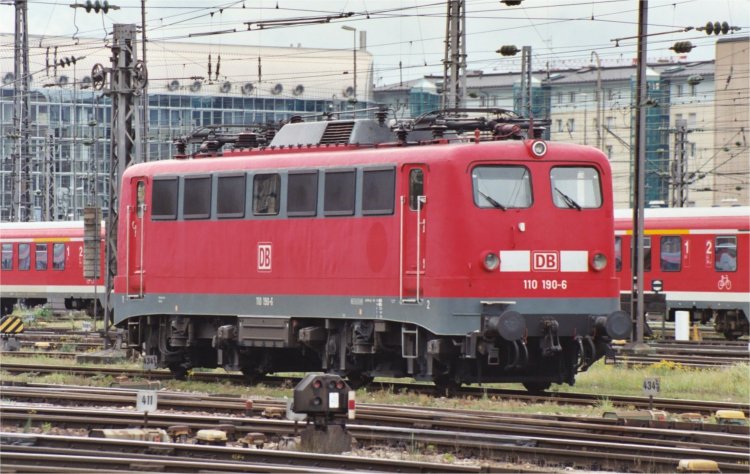 An Austrian class 1044 electric heads toward Munich, pulling a string of Italian passenger cars.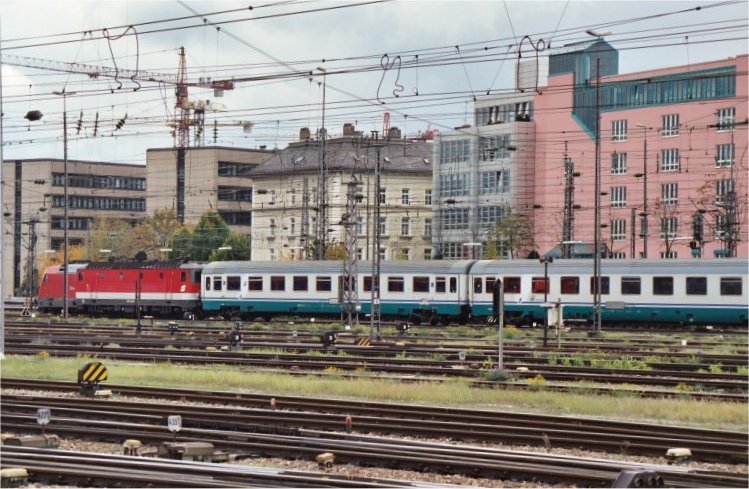 Here's Bob -- the Bayer Oberbahn VT 109.

.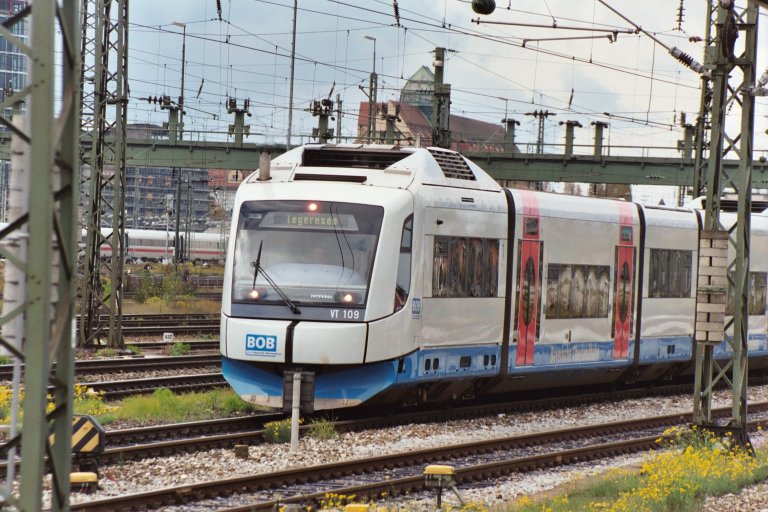 Close-up of a class 363 diesel switcher, with an ICE 1 headed toward the Munich Hauptbanhof.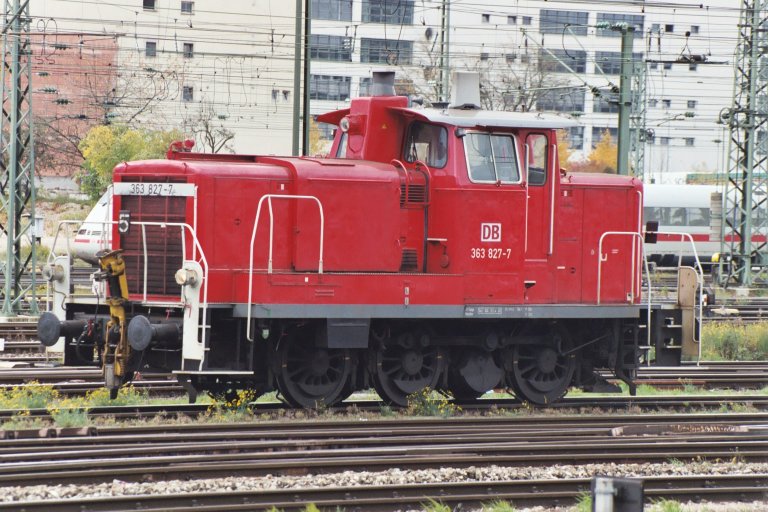 A pair of class 218 diesels makes its way toward Munich to hook-up with some passenger cars.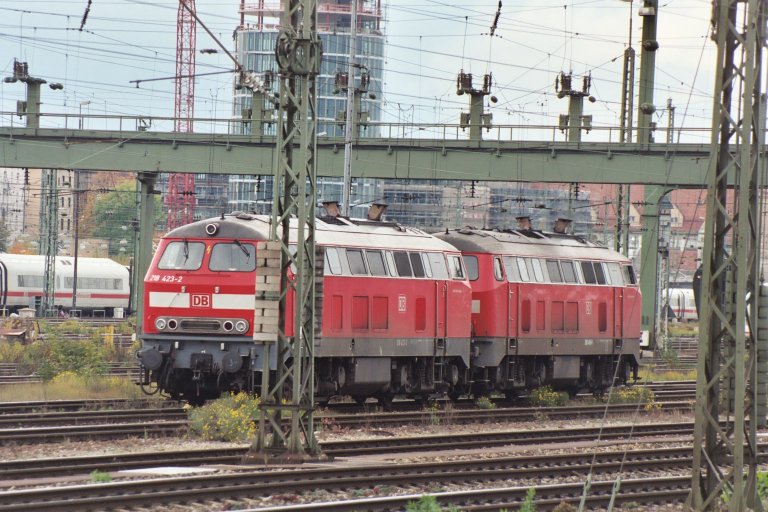 An ICE 1 speeds West from Munich, the Bord Restaurant
car passing beneath the Hackerbrücke bridge.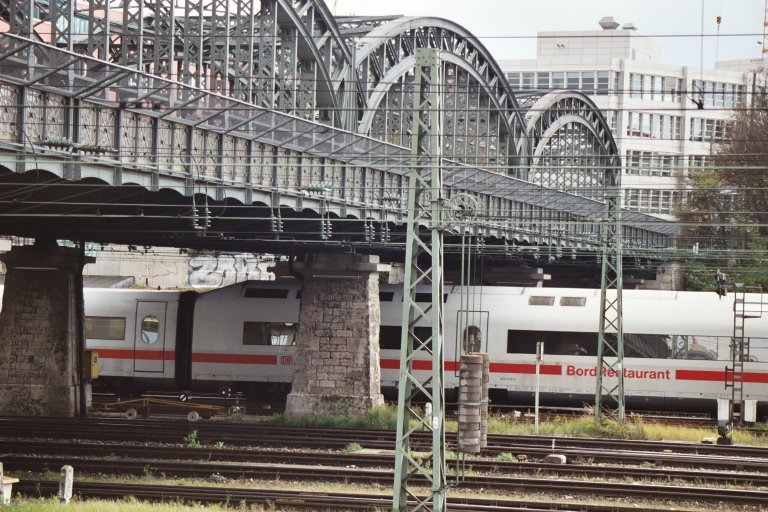 Another Austrian class 1044 electric; this one headed for
Munich with some long-distance passenger cars.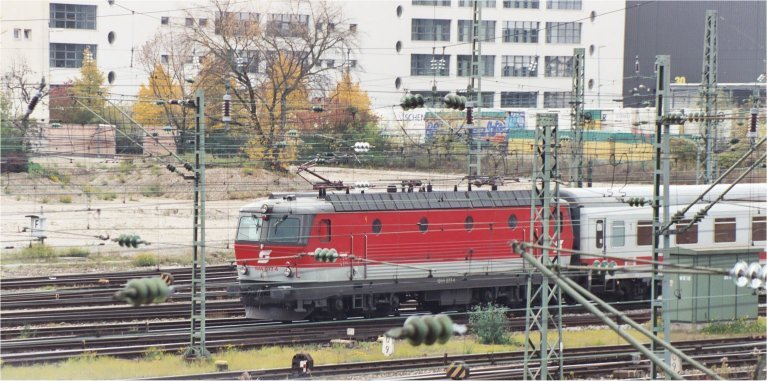 A look back (East) toward the North end of the Munich Hauptbanhof.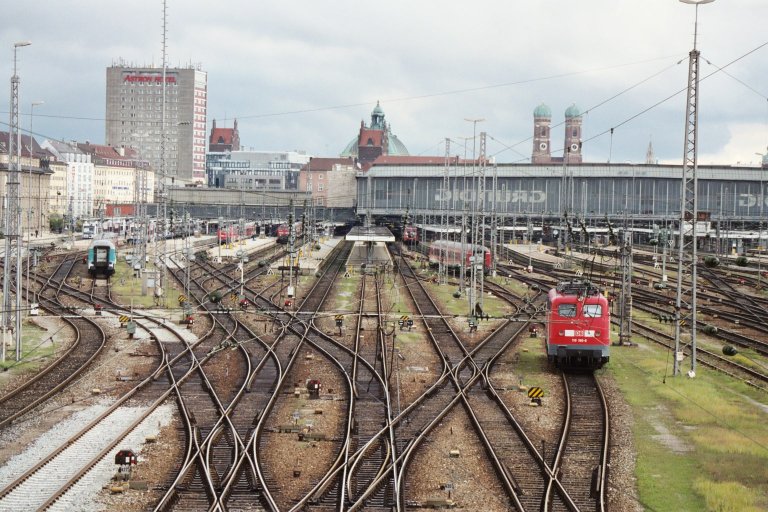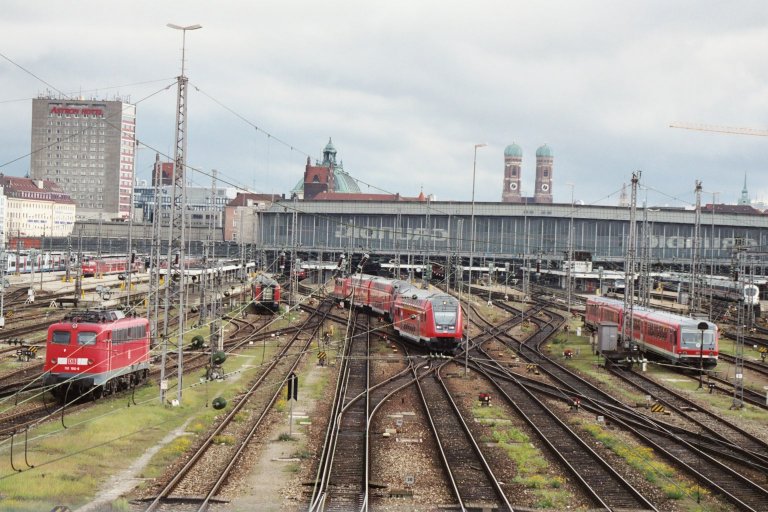 The South end of the Munich station. A lot of activity going on here:
An ICE 3 (left), an ICE 2, a class 101, and a switcher (foreground)
positioning an Italian passenger car.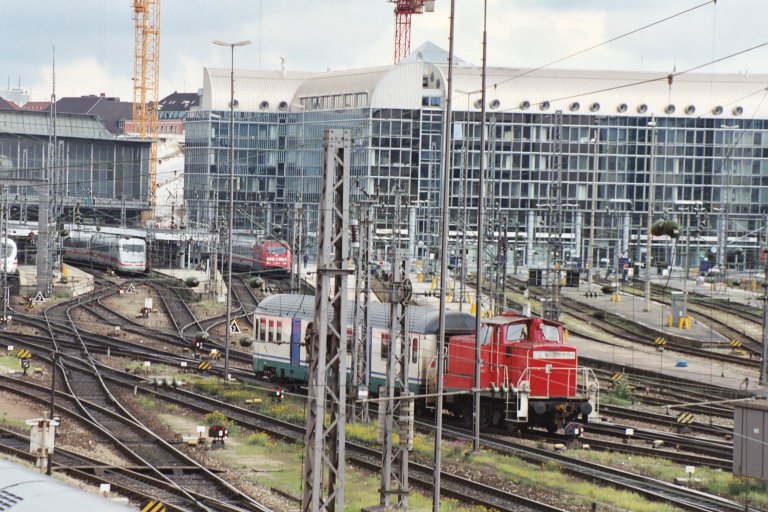 Looking toward the West (from Munich).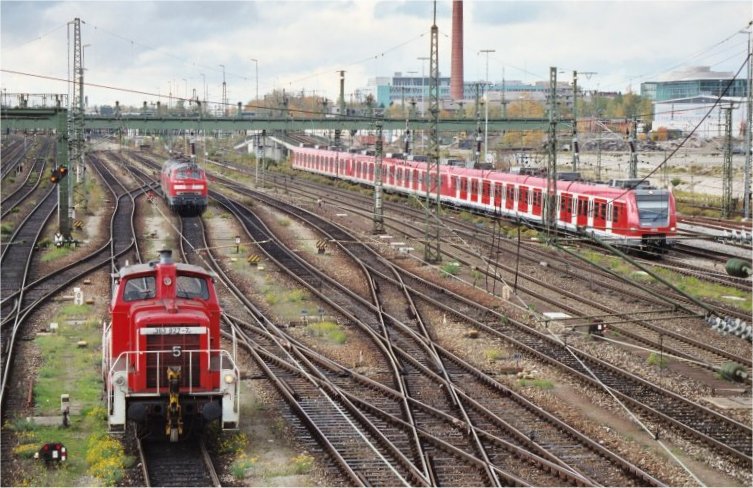 A nice view of the class 363 diesel.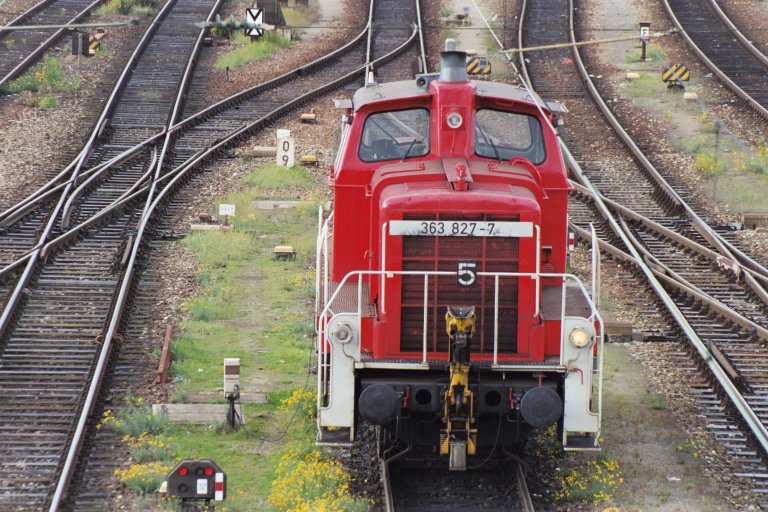 A wide-angle view of all the tracks headed out from Munich.
Note the ICE 3 (center) as well as other ICE trains (left).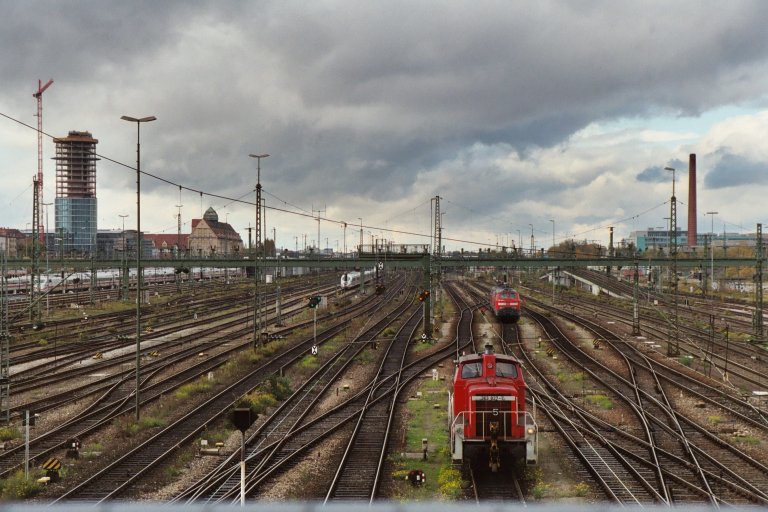 There goes BOB again. Note the Roncali Circus cars in the background!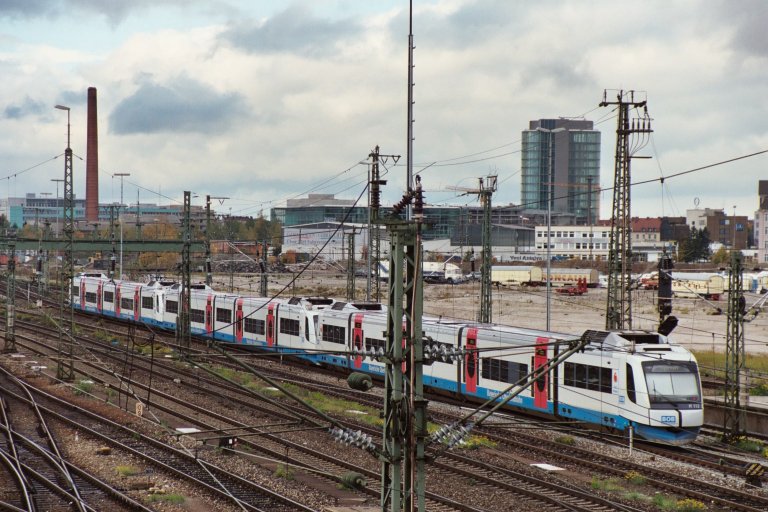 This engine's getting a workout today.
As already noted, the engine is available as Marklin item #37394, and the cars are #43304.
Both are limited production items for this year.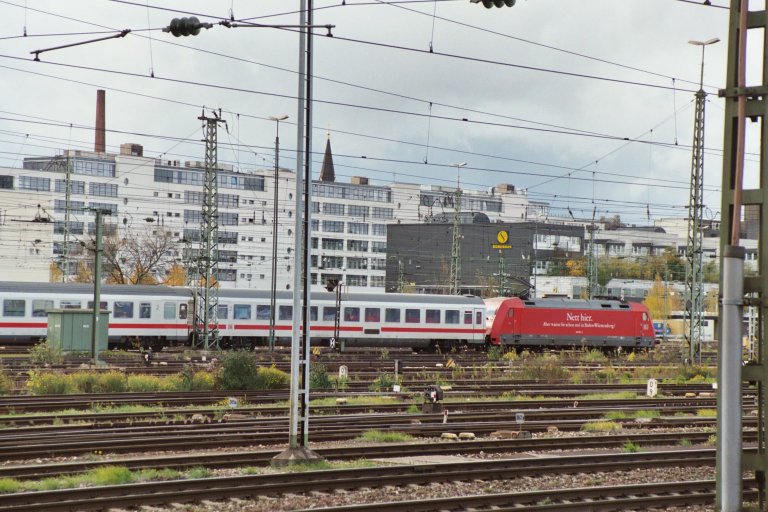 A class 218 diesel heads away from Munich.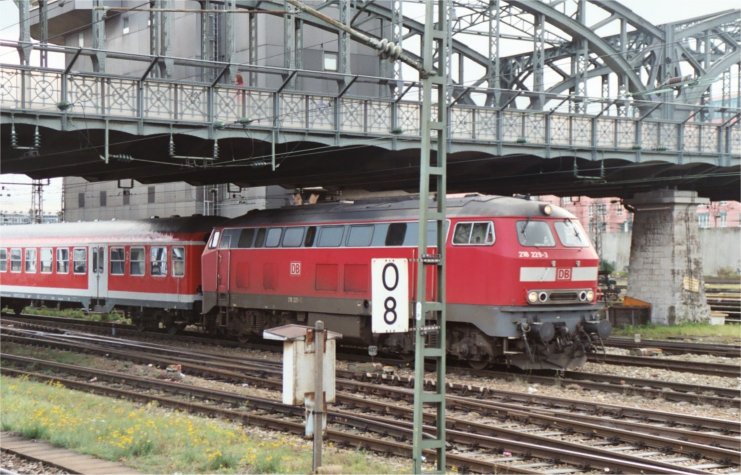 One of the Austrian 1044's -- headed back to Salzburg.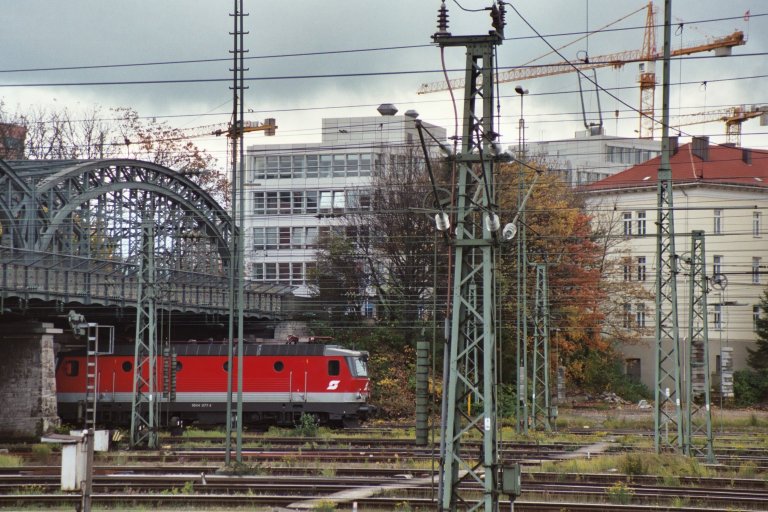 Here's an eerie sight. It's a sort of "graveyard" for old diesel switchers.
If you look closely, you'll notice that the road numbers have been painted over with a big "X".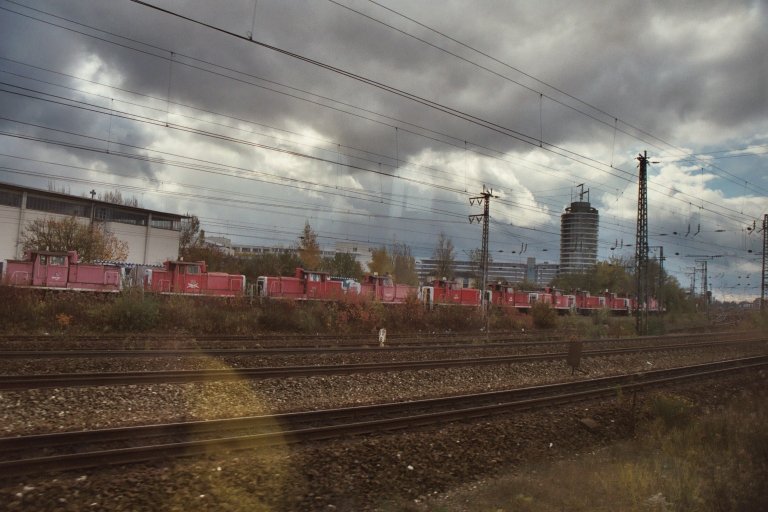 ---
|| Return to the Home Page ||