Decoders Pricing ESU Products Other info.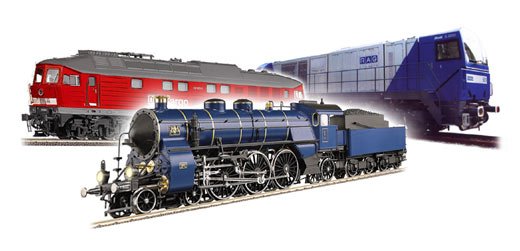 | | |
| --- | --- |
| This is your locomotive | This is your locomotive with LokSound! |
| | |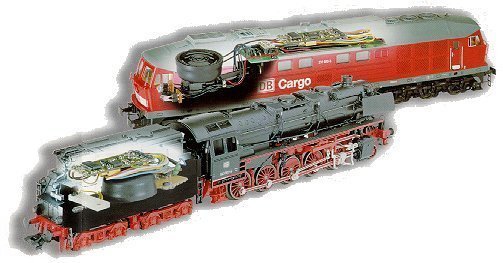 We offer discounted pricing on individual decoders and special
prices for multiple units and programmers purchased with decoders.
Custom sounds and installation available.

We always have all the Marklin parts necessary to convert
your locomotives from analog to DC (permanent magnet) motors.
(armatures, magnets, motor shields, screws, bulbs, bulb holders, solder tabs, etc.)

Please call or e-mail for details.
All new ESU decoders now in stock:
LokPilot2, LokPilot mfx, Loksound v3.5, Loksound v3.5 mfx, etc.
Description

Suggested
Price

Sale Price

Decoders with Sound

LokSound2 - Decoder
Includes NMRA plug, speaker and manual
$ 115.--
Call
for the
best
pricing
anywhere!
LokSound V3.5 - Decoder
Includes NMRA plug, speaker and manual
$ 139.--
LokSound mfx - Decoder
Includes NMRA plug, speaker and manual
$ 159.--
LokSoundXL- V3.5 Decoder Gauge O, I, G, IIm
Includes manual
$ 229.--

Decoders w/o Sound

LokPilot V2.0 - Decoder (Gauge HO, O)
Includes NMRA plug/manual
$ 35.--
Call
for
the best
pricing
anywhere!
LokPilot mfx - Decoder (Gauge HO, O)
Includes NMRA plug/manual
$ 70.--
LokPilot micro DCC - Decoder (Gauge N, HO,O)
Includes NMRA plug and manual
$ 30.--

Programmer

LokSound Programmer for programming all ESU decoders. Includes CD-Rom, serial cable, manual
$ 159.--
Call
for
special
pricing

Speakers

LokSound Speakers
$ 9.50
LokSoundXL Speakers
$ 12.50
What is V3.5 ???
Analog Sound (=DC sound)

The LokSound V3.5 can be used on conventional DC layouts. Here you will hear all the prime mover diesel sounds like diesel start, diesel idle, diesel moving, braking squeals etc. Of course, the sounds are synchronized to the operation condition (this means load dependent sound, accelerating sounds etc.)

Analog Back EMF (=DC back EMF)

The LokSound V3.5 controls the motor with back EMF function also in DC mode. Therefore the user will have full control over the motor also in DC mode. User can set the minimum speed, the maximum speed, the acceleration time, the deceleration time. Further, the slow running performance will be much better.

Doppler effect

LokSound V3.5 offers a Doppler function. This can be activated by the horn /whistle key.

User-adjustable Sound volumes

With LokSound V3.5 the user can individually control the volume for prime mover (=diesel/steam), horn/whistle, Bell and the auxiliary functions. This can be done by adjusting CVs. Further, a user can control the volume of the decoder by using a function key of the command stations throttle. No need for programming!

Helper-Function

LokSound V3.5 offers a easy to use helper mode. The user can select, whether the engine runs:

- stand alone
- head-of-consist
- mid-of-consist
- end-of-consist

By just adjusting a single CV value. The decoder that enables / disables certain functions: for example in a consist, the horn and bell is active on the first engine only, whereas the prime mover sound is on for all engines.

F13 to F20

According to latest editions of NMRA DCC, we have integrated function keys F13 to F20.

Consist mode CVs

For LokSound V3.5, the user can now influence the behavior of the function keys by CV 21, CV 22. These CVs are added.

Load-dependent-sound

The load-Dependent sound can be switched off.
The LokSound2 fits neatly in a Marklin Swiss 460 Electric engine!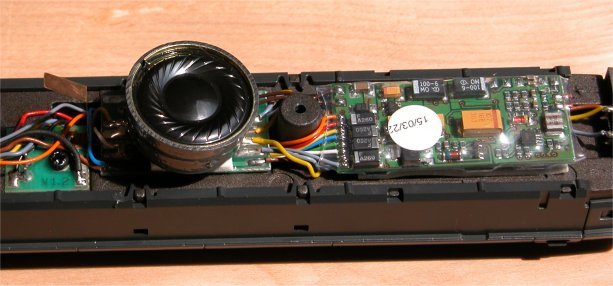 Original Loksound2
decoder

Loksound 2 decoder
(new smaller format)

Marklin 60902 (603617) decoder
Loksound2 Decoders

Item #
Description
Steam
52401
Universal 2 Cylinder (ex: BR 99)
52402
Universal 3 Cylinder (ex: BR 44)
52403
Universal 2/4 Cylinder (ex: BR 01)
52404
BR38, P8, BR 17
52405
S 3/6, BR 18.4
52407
BR 03
52408
BR 23
52410
BR 50
52411
Universal US (Big Boy, Mikado)
52412
Universal US (10-wheeler, Hudson)
NEW
52413
BR 80
52417
BR 06
NEW
52418
BR 05
NEW
52419
BR 18 201
NEW
52420
BR 55
NEW
52421
BR 64
NEW
52422
BR 78
NEW
52423
BR 93
NEW
52425
BR 41
Diesel
NEW
52430
V 36
52431
V 60
52432
V 100
52433
Universal Diesel (BR218)
52436
Universal US-Diesel (F7-Type)
52438
Diesel Nohab
52439
Diesel Triebwagen VT11
52440
Diesel Triebwagen SVT18, BR175
52441
Diesel Triebwagen VT628
NEW
52442
BR 232
NEW
52444
PA-1
NEW
52446
V 200
NEW
52448
V 320
NEW
52449
ICE VT
NEW
52450
VT 08
NEW
52451
VT 610
NEW
52452
VT 650
NEW
52454
VT 98
NEW
52455
V 80
Electric
52460
E 10 / 110
52461
E 40 / 141
52462
Universal E-Lok (BR 75)
52463
E 03 / 103
52464
E 94 / 194
52465
E 120
52466
E 150
52467
ICE
52468
Re 460
NEW
52469
E 143
NEW
52470
E 44
NEW
52472
Re 4/4 II
NEW
52473
Taurus
NEW
52474
Ae 6/6

LoksoundXL Decoders

Item #
Description
Steam
52501
Universal 2 Cylinder (ex: BR 99)
52502
Universal 3 Cylinder (ex: BR 44)
52503
Universal 2/4 Cylinder (ex: BR 01)
52504
BR38, P8, BR 17
52505
S 3/6, BR 18.4
NEW
52507
BR 03
52510
BR 50
52512
Universal US (Big Boy, etc.)
52513
BR 80
52514
BR 91
NEW
52520
BR 55
NEW
52522
BR 78
NEW
52526
Sachs. IV K
Diesel
52530
V 36
52531
V 60
52532
V 100
52533
Universal Diesel (BR218)
52534
Köf
52536
Universal US Diesel (F7, etc.)
NEW
52546
V 200
Electric
52560
E 10 / 110
52561
E 40 / 140
52563
E 03 / 103
NEW
52564
E 94 / 194
NEW
52566
E 150
52569
Crocodile
NEW
52570
E 44
NEW
52571
GE 4/4
| | |
| --- | --- |
| | LokSound2 decoder available since 2001 succeeds the LokSound "Classic" decoder and can be used for H0 and 0 gauge as well as small gauge 1 engines. The decoder recognizes the DCC- and Motorola protocol, can be operated in analog AC or DC mode and controls AC (universal) / DC.- and coreless motors. It's biggest strength is the second generation load control as well as numerous programming possibilities with DCC and Marklin systems. |
| | LokPilotDCC is the second generation of LokPilot for the discerning DCC user. |
| | LokSoundXL is the consequent development of the revolutionary LokSound concept and our answer to the demands of modelers of larger gauges. The LokSoundXL decoder has been equipped with all features necessary for optimal operation of G and 1 gauge models. |
| | There is a speaker for every decoder. As the speaker is crucial for excellent sound reproduction, we have developed a large range of specially matched speakers for each decoder type. |
| | The LokProgrammer perfectly complements our decoders. LokProgrammer is ideal for setting all CVs as well as sound effects easily and comfortably. |

"Digital command control with original sound"


This motto best describes the LokSound-decoder family. All LokSound decoders combine a high quality digital decoder and a digital sound module. You can drive your locomotives digitally and at the same time replay the original sound of your locomotive as well as special sound effects such as horn or whistle. The combination of the digital multiple train mechanism with the original sound offers a range of possibilities which convince everybody. The sound is adjusted to the particular driving mode at any point in time: when the loco starts moving, you hear the appropriate sounds (diesel engine revving up, steam chuffs with increasing frequency) and when it stops, you hear the engine slow down and also braking sounds. You won't have any problems with space within the model as one circuit board combines decoder and sound module.


It offers all features and functions, which you could expect in a decoder today, and many more.
All LokSound decoders

are suitable for DC and AC operation regardless of the motor type (even core less motors)
provide smooth and noiseless motor control due to it's HF output
can be used with almost any digital system: Maerklin 6021, Lenz digital plus, Roco digital is cool, LGB MZS, Uhlenbrock IntelliBox, Zimo (DCC), Wangrow System One, NCE, Arnold Digital (DCC)
recognize the protocol of the digital system automatically
assure constant speed due to it's load control on any gradient - up- or down
support almost all DCC-features such as acceleration, deceleration, maximum speed, minimum speed, and locomotive address
protect the motor output through overload protection
operate the headlights (including dimmable output)
have 1, 2 or 6 additional function outputs e.g. for smoke generators, interior lighting, telex coupling, raising or lowering the pantograph ditch lights
are easy to operate. Free function mapping allows assigning most outputs to any function key.
offer a programmable speed curve

Realistic sounds – as in the real world – can easily be reproduced with the sound module, because the original sounds are memorized digitally on a chip. The sound module offers a new and fascinating model world full of sound.
Two separate channels (e.g. channel 1: steam engine sound + channel 2: whistle) replay the original sounds
The sound module is available in a large number of pre-recorded generic sounds, e.g. 2- or 3-cylinder steam engine, diesel engine, electric locomotive
Synchronized chuffs matching the speed of the locomotive vary in pitch, volume and frequency.
Sound speed can be synchronized with the drivers by means of external sensors or by speed step control.
The large capacity of the memory chip allows complex sound effects (e.g. typical noise of a stationary steam engine: coal shoveling, water pump, steam release, dynamo - at random) makes your model train more authentic than ever.
The reproduced sounds is adapted to the particular driving mode. Up to 6 individual sound effects can be triggered with the function keys.
Any memorized sound fragment can be changed any time.
The LokProgrammer allows the recording of individual sound fragments and thus allows you to create your on personal sound files and effects.

To suit the variety of models in different gauges LokSound-decoders are available in various sizes.

|| Return to the Home Page ||