2017 Nürnberg Toy Fair
17 Years in a row -- wow -- it seems like it was just yesterday that I went to my first Toy Fair.

A lot of new and interesting Marklin, Trix and LGB items, some very nice "real" trains and...
apparently they haven't run out of food in Germany (at least, not yet)!
I hope you'll enjoy this year's photos once again!
Once again, a huge "thank you" to my son Todd for providing many of the photos you're about to enjoy.
---
OK, you've been very patient, and you're about to be rewarded.
An entire year has gone by and, I know, you're hungry (still or again).
First stop this trip was Munich, in the heart of Bavaria.
So, what's more appropriate than a pair of authentic Münchner bratwurst with home made potato salad?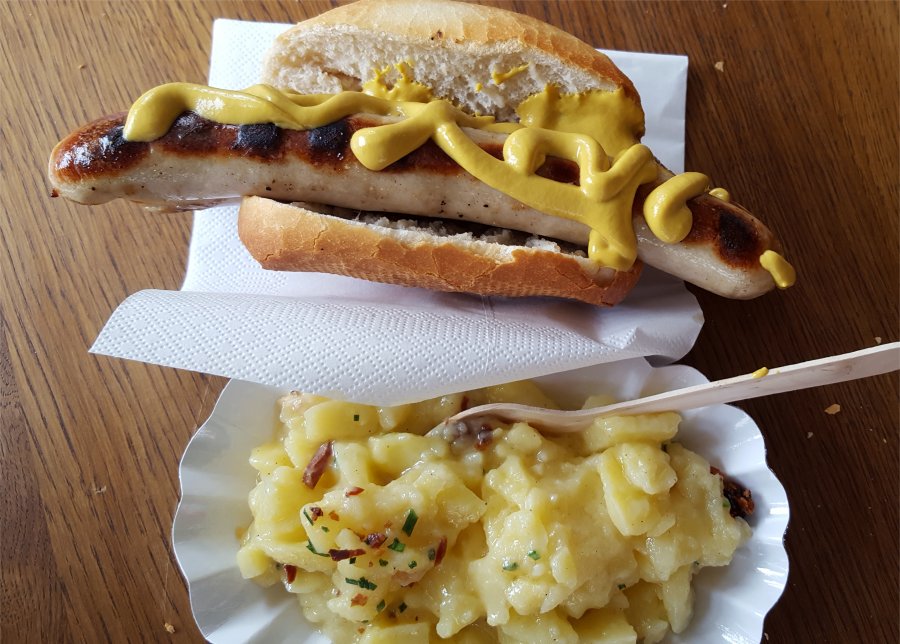 OK, that was lunch. So, how about dinner?
Well, this year we decided to branch out a little and try something a little different.
For an appetizer, we ordered a very special delicacy: Bavarian Würstsalat (or Fleischsalat).
It's an incredible mixture of strips of meat with onions, pickles and a sweet/sour vinagrette.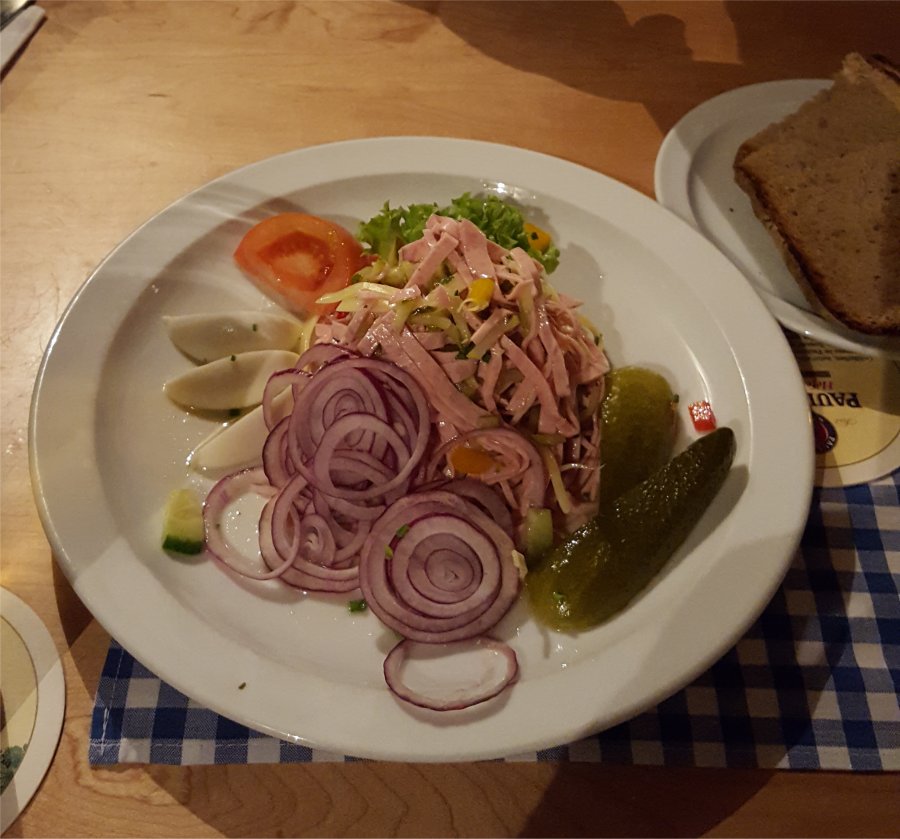 OK, here you go. My all-time favorite:
Spanfärkel (roast suckling pig), potato dumplings and red cabbage.
The picture speaks for itself:!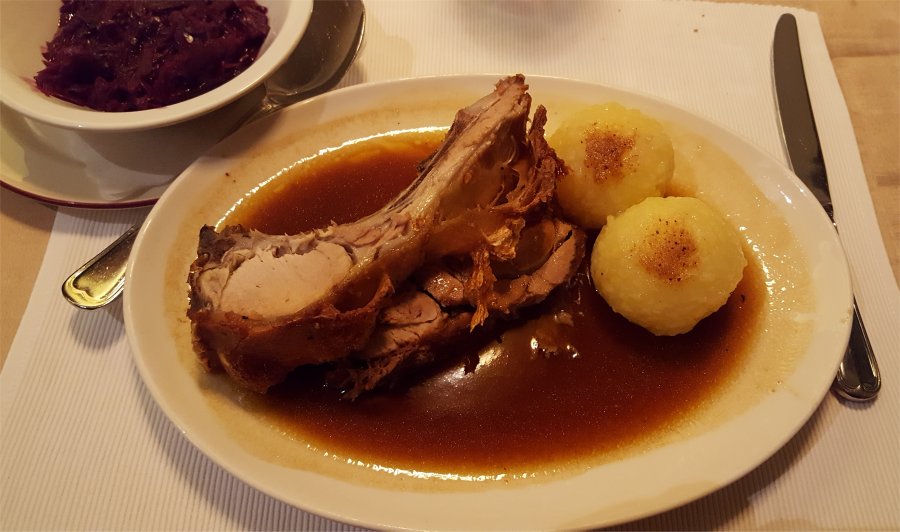 OK, after a good night's sleep, it's time to vist Göppingen.
First stop is the Marklin Museum.
I thought last year's display of the Museum car couldn't be topped, but this year's is absolutely gorgeous.
Check out how nicely they've displayed this years new car. The car itself (available in H0, Z and 1-Scale) is very, very cool.
If you haven't ordered yours yet, there still might be time to get one, but you have to hurry.
By this time last year they were all sold out!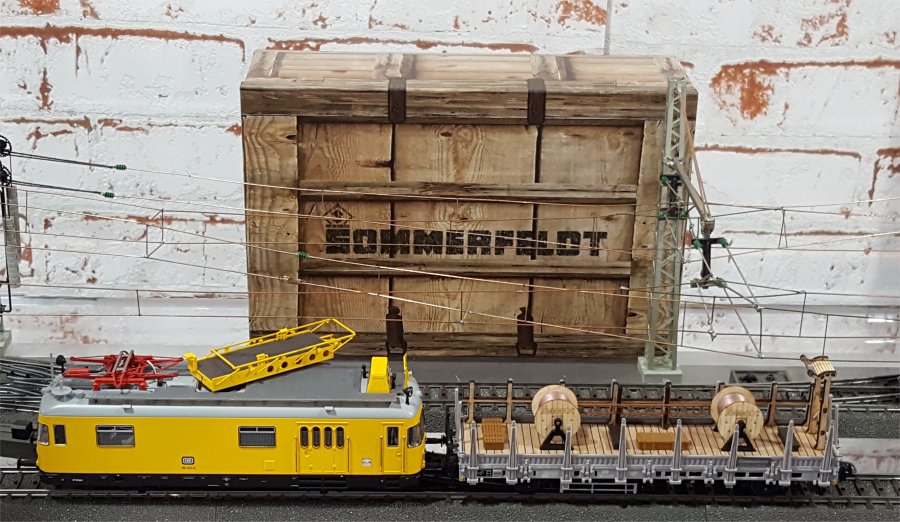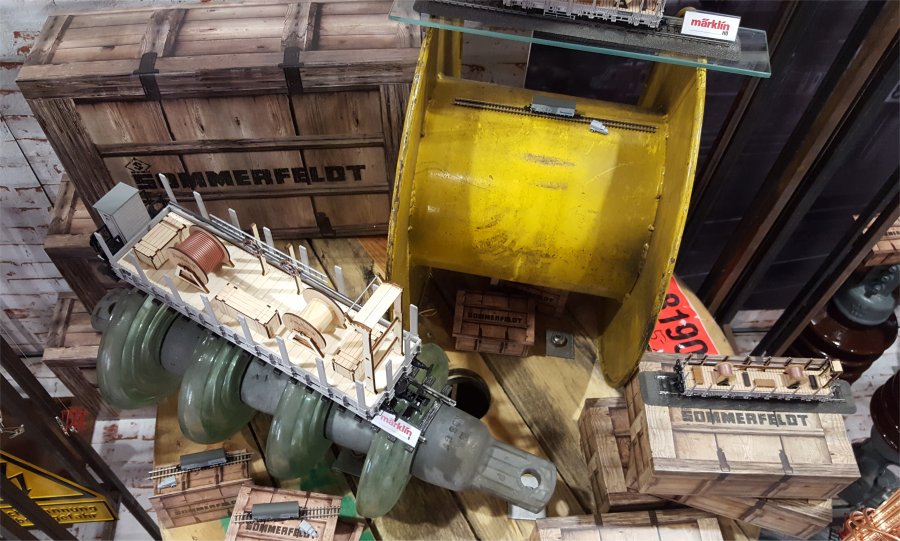 This year's 39974, the Era III Catenary Maintenance Car is, of course, the perfect complement to the Museum Car.
This is a very special model with 32 different functions, including dozens of sounds:
Here's a cool shot, looking East from the Goppingen station. We're on our way to Stuttgart!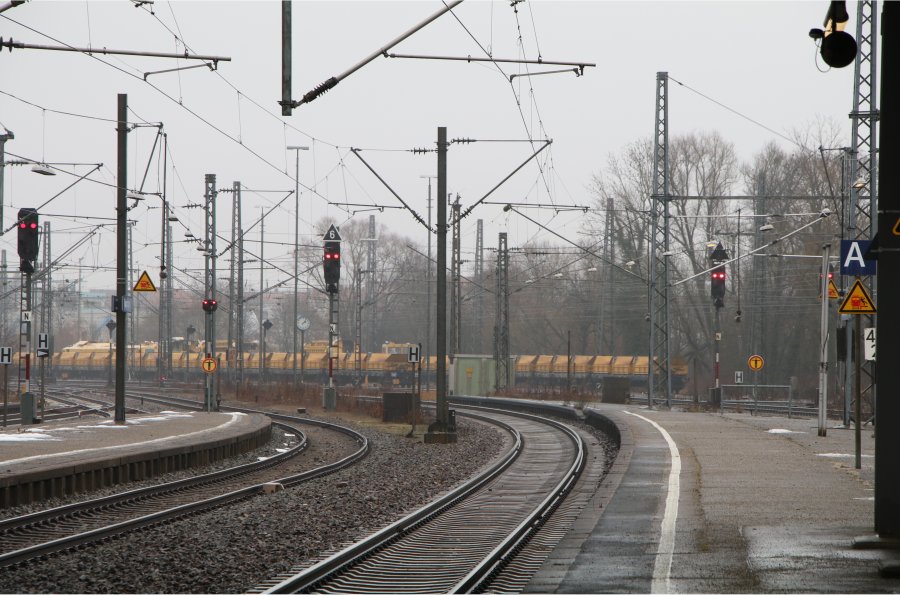 It was a dreary day, but after visiting the Marklin Museum and with the anticipation of dinner in Stuttgart, we were still all smiles!

Did someone say dinner?
My favorite all-time meal in Stuttgart in my favorite (all right, my only) restaurant.
It's roast duck with (naturally) potato dumplings; just couldn't squeeze the read cabbage in the photo, but it's there: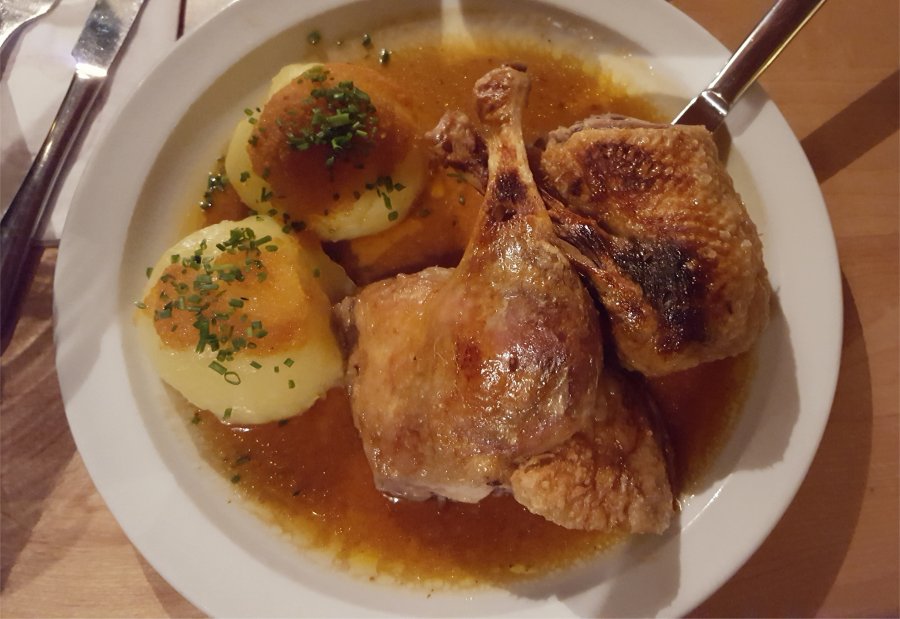 Back in Munich, ready to turn in after a fun day in Göppingen and Stuttgart.
Here's a photo of an ÖBB (Austrian) class 1116 "Taurus" electric locomotive: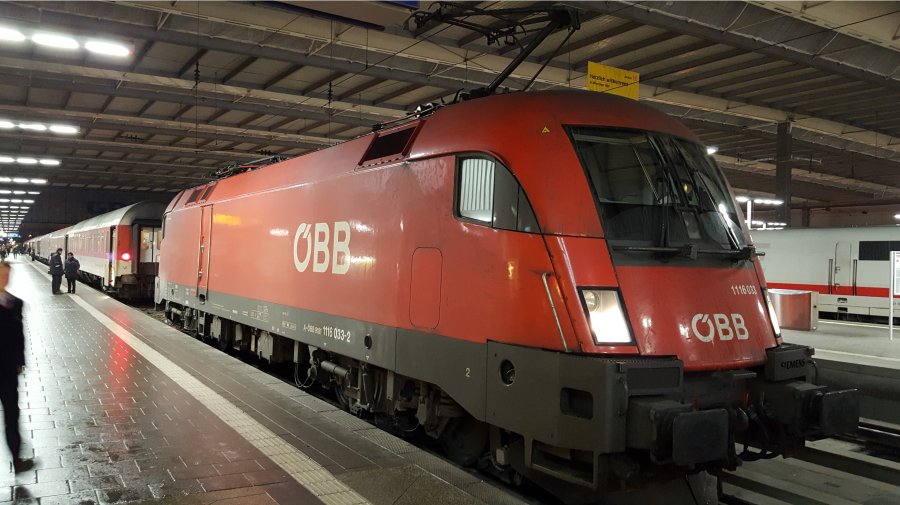 How cool is this? They're actually "cleaning" the rails on track 12 here.
The machine you see is grinding a very thin layer of track off the top, presumably
to provide better electrical conductivity for power supplied by the catenary: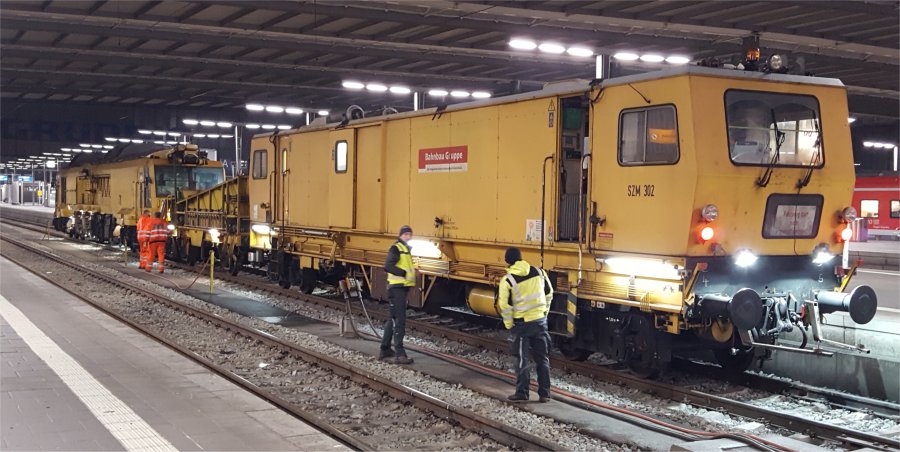 OK, it's off to Nürnberg for the Toy Fair!
I can't believe it's my 17th consecutive trip -- and it never gets old.
Let's check out some of the new Marklin models for this year...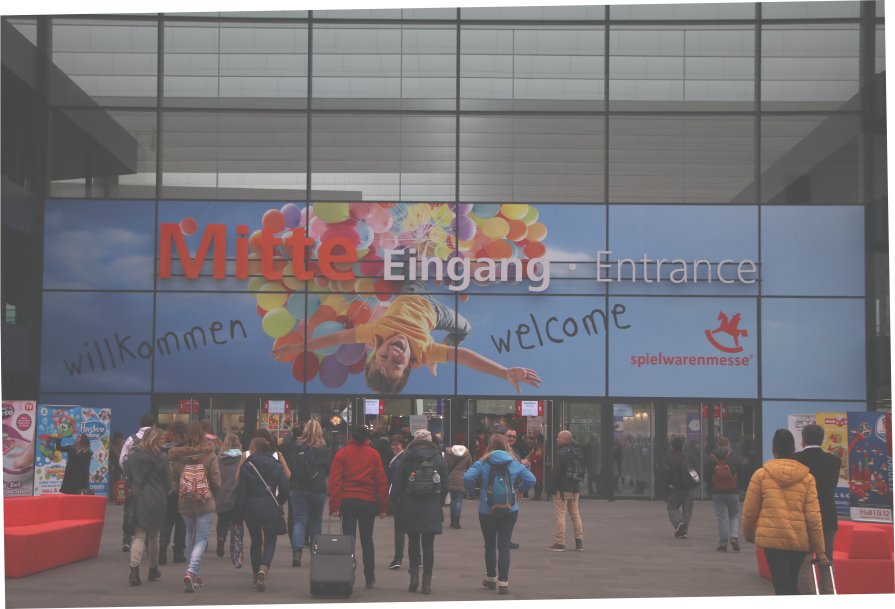 One of the most impressive displays is the new 37603, the 24k gold-plated, 7-unit
TEE train, produced in extremely limited quantity for the 60th anniversary of TEE service.
This will be an incredible (albeit somewhat pricey) model for all true Marklin collectors,
and comes with an incredibly attractive wooden carrying / display case.
Each dealer has been allotted a very few (less than 5) pieces -- reserve your now if you don't want to miss out!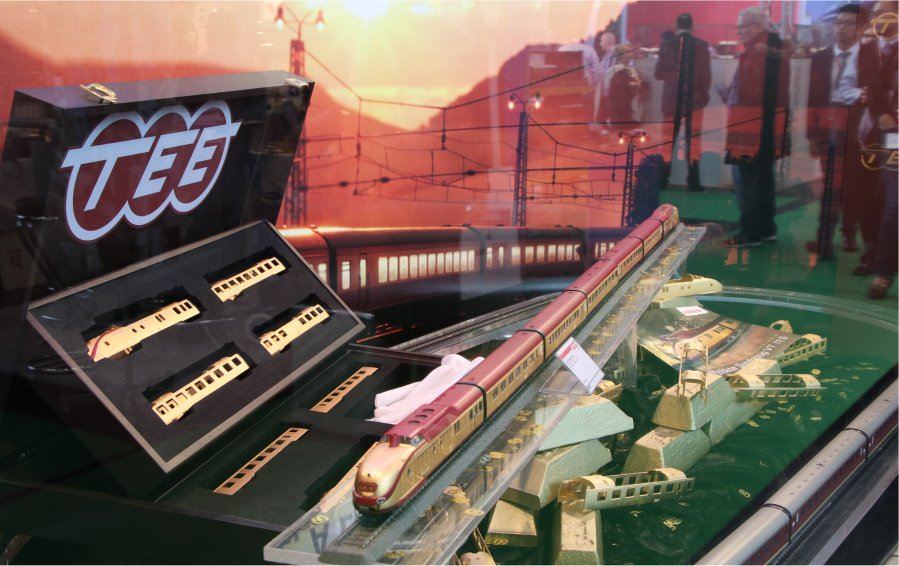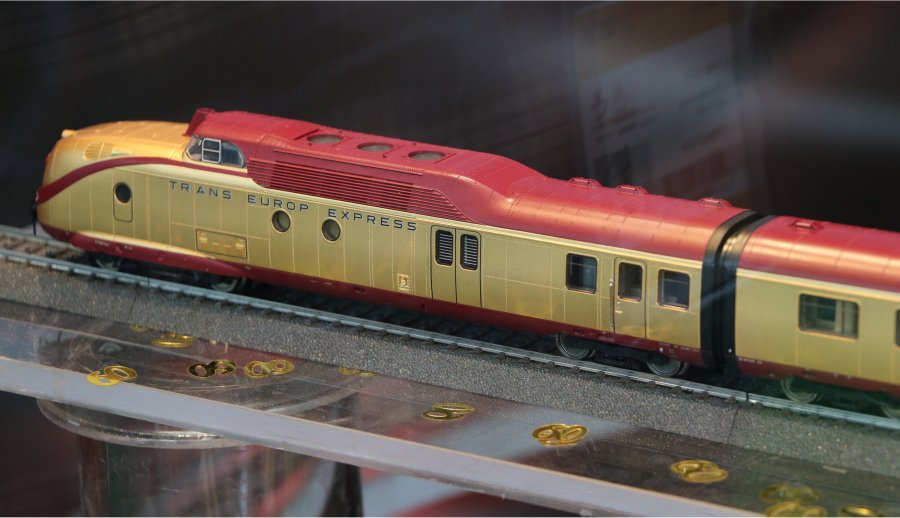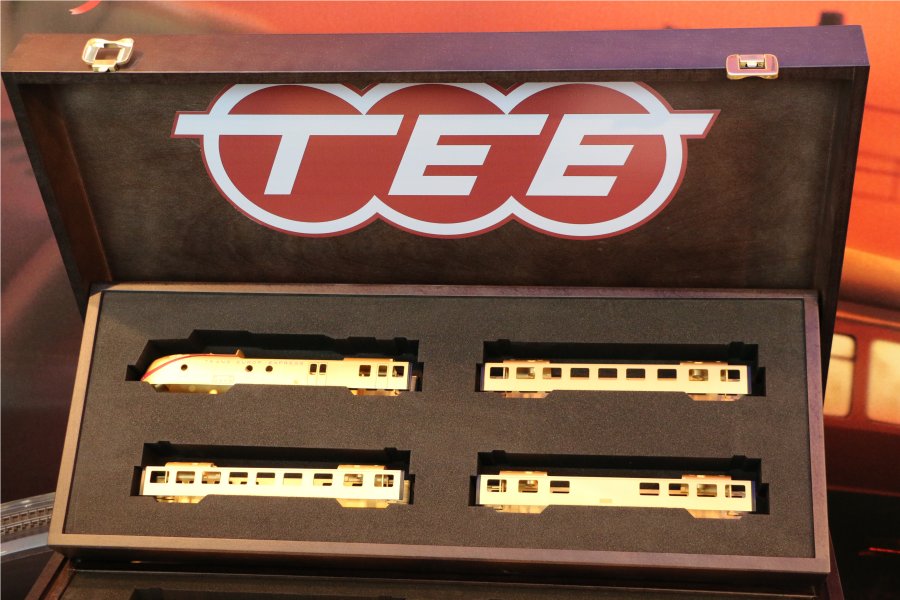 For something more in line with everyone's budget, here is
the 45083 flat car, loaded with 2 VW buses sporting the Marklin logo: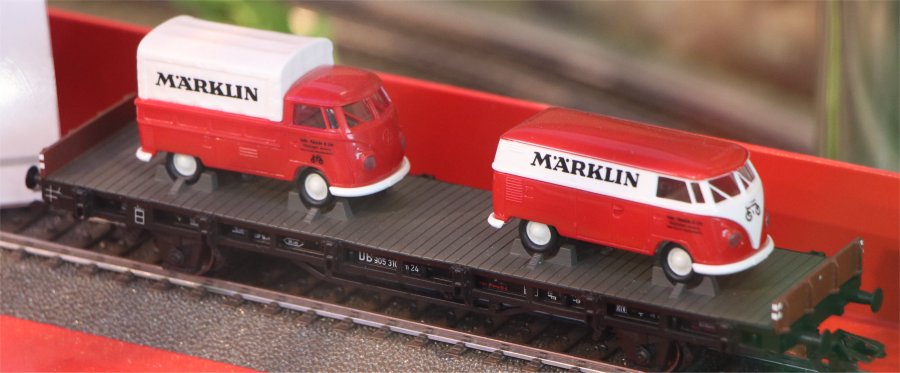 The 49966 Henschel Design Steam Powered Rotary Snowplow looks very nice,
complete with functions for smoke, sounds and two different lights: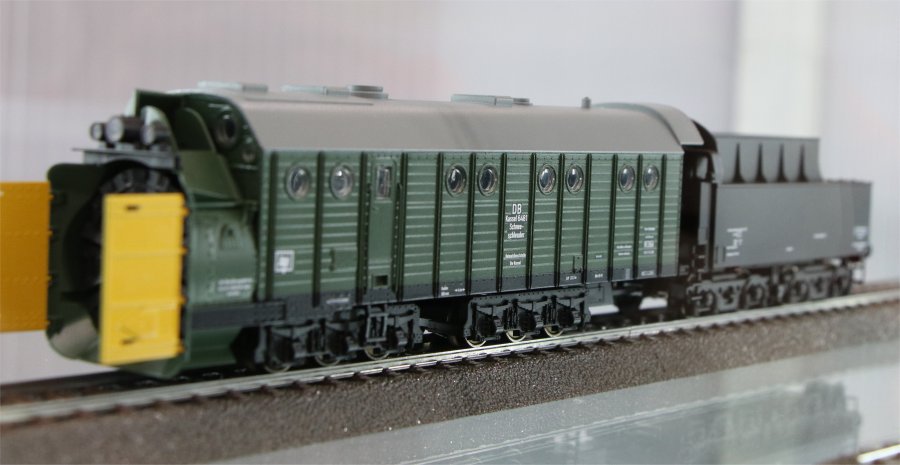 The 37484 Bavarian State Railways EG 2x2/2 electric locomotive now
has full sound functions (nearly 20 of them) and multiple light functions as well: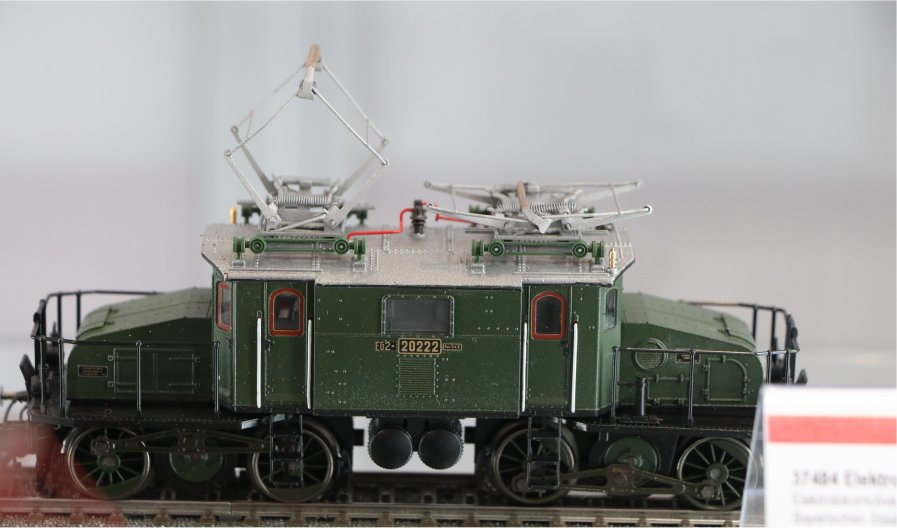 The model that probably generated as much attention as anything else was the new 77502 Hunt'sche Large Coaling Station Kit.
To be honest, the photo here doesn't do it justice. The detail on this is incredible.
Below I show it with the new BR 24 Steam Locomotive, item 36244.: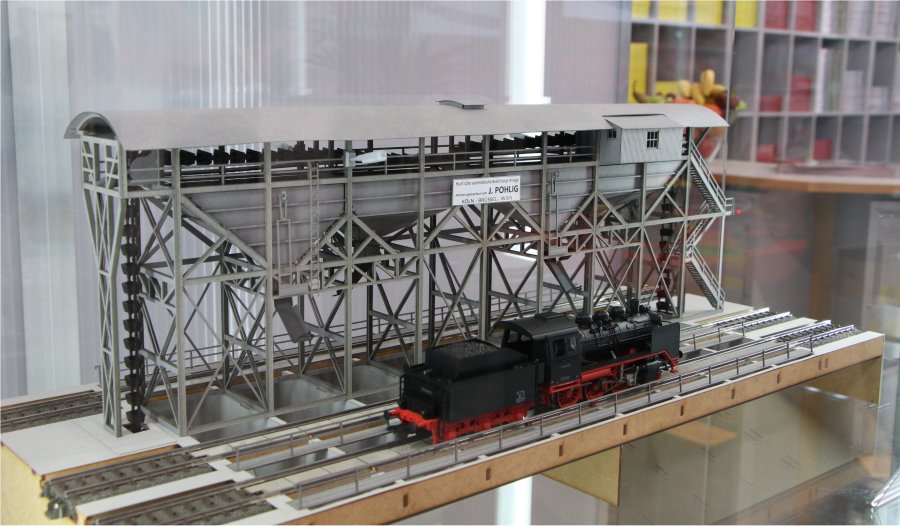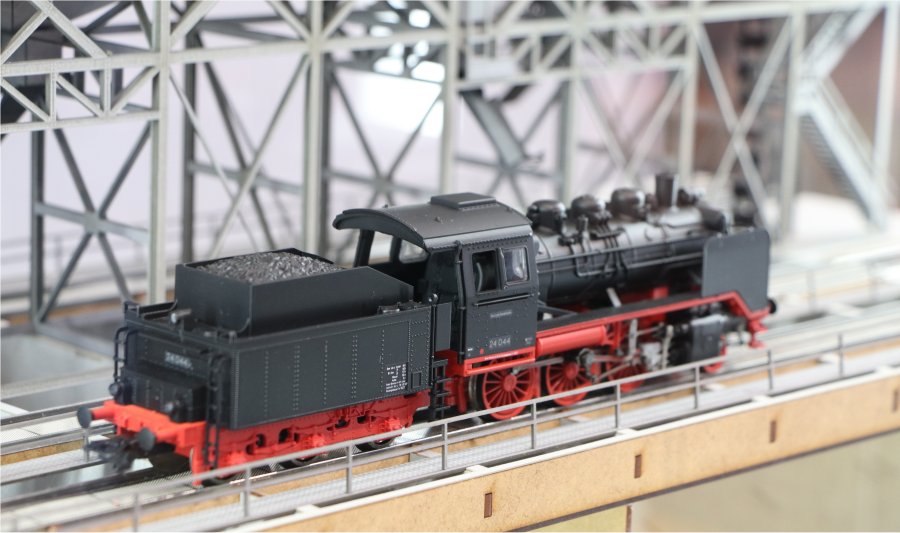 This year's Toy Fair locomtive, 37181, and its accompanying car set 46356 generated a lot of excitement.
There's something about these all-black models that captures everyone's attention.
These are only available to dealers who attend the Toy Fair!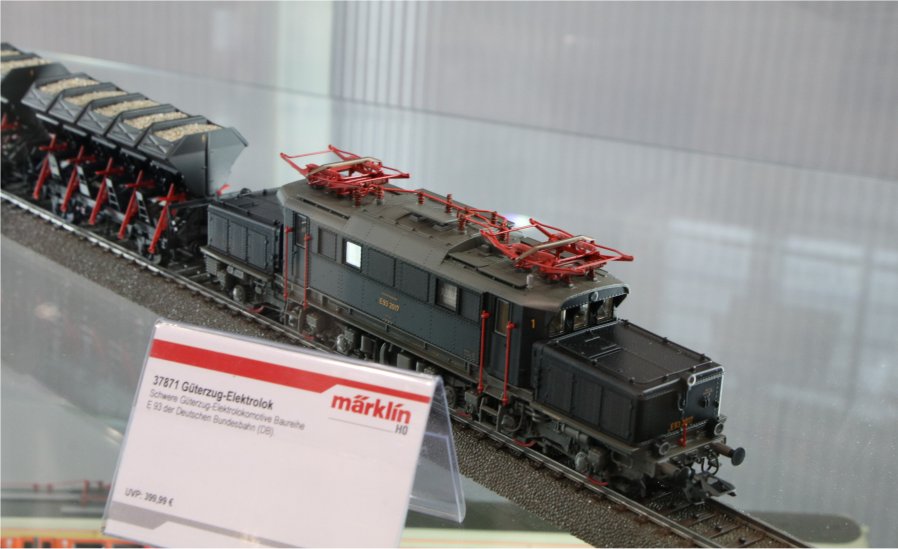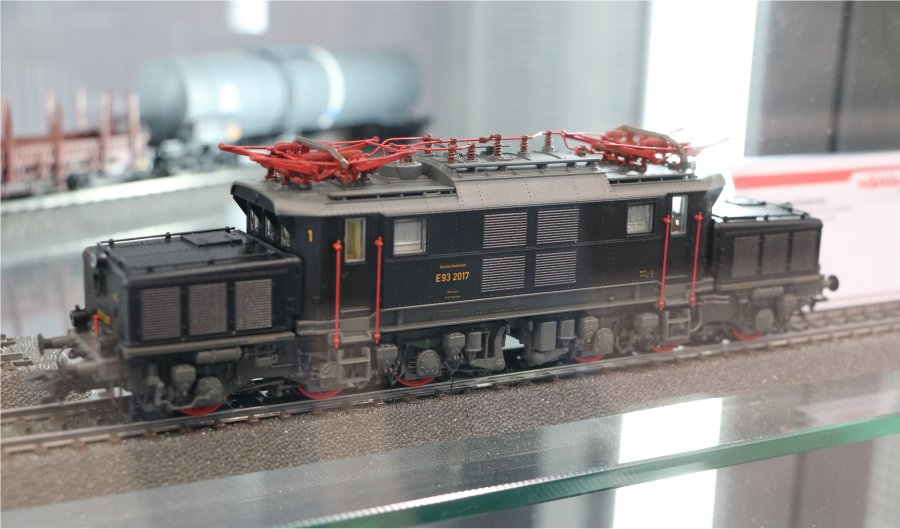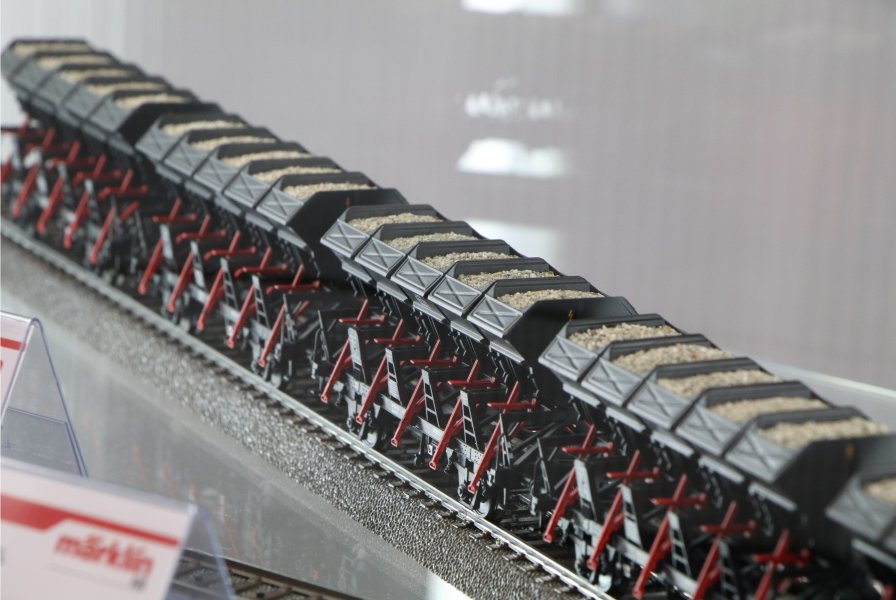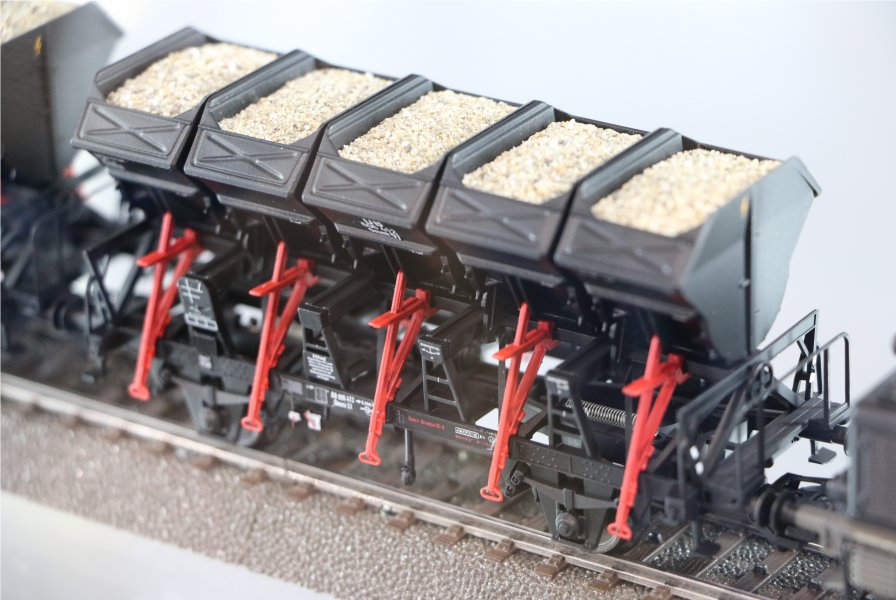 But the coolest of the new items, hands down, has to be the new Robel powered track cars.
Offered (as pictured below, left to right) for Swiss (39549), Austrian (39547) and German (39548)
modelers, these fully functional models come loaded with an mfx+ decoder and more than
20 different sound and light functions and, of course, the crane arm operates as well!

Here's a nice photo (thanks to Todd) of the new BR 42 Steam Locomotive (39042).
This is a brand new model and it too has an mfx+ decoder and supports more than 20
different light, sound (and of course) smoke functions. Paired with the 00722: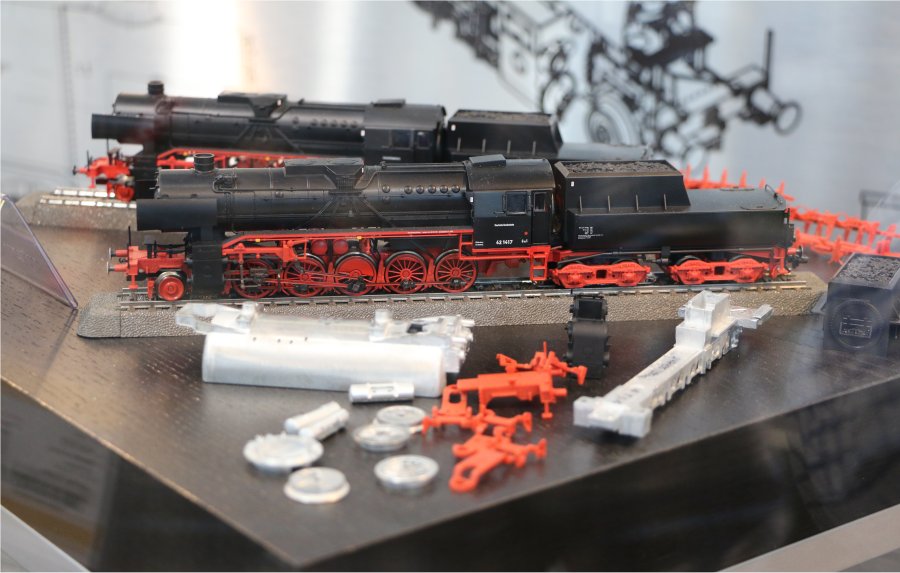 The 39225, class 194 Electric Locomotive now has Telex couplers, an mfx+ decoder and, get this --
a full array of 32 different sound and light functions. This MHI item, along with its 47689 container
car set will sell out very quickly -- it makes a great looking train on any layout: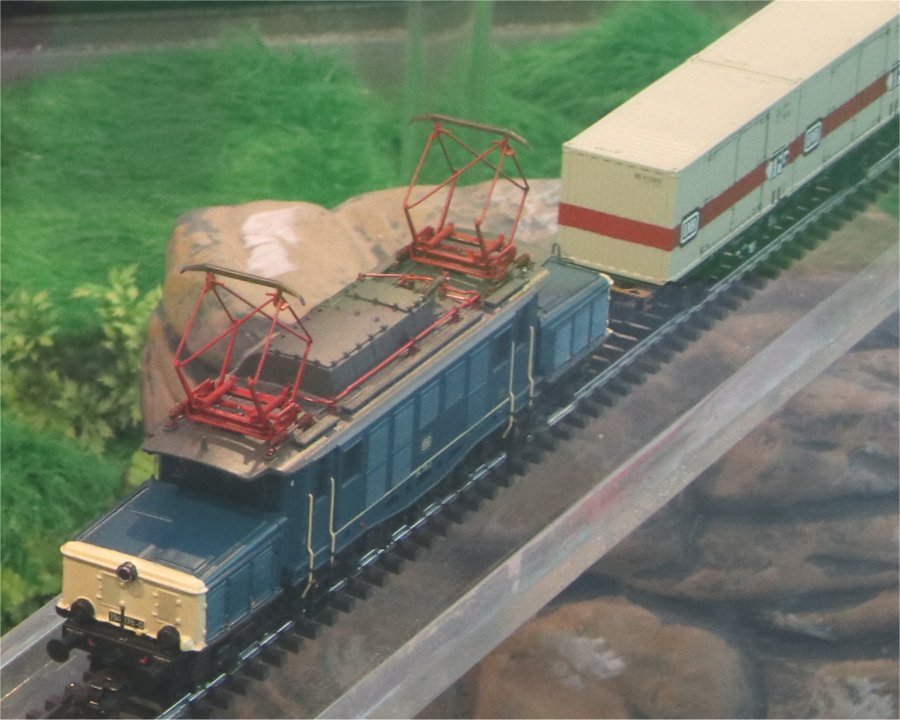 For the Swiss and BLS modelers (and I know there are a lot of you out there), the 36631, class 187 is labeled
as a "beginner's model", but make no mistake about it, it has an mfx decoder and a full array of 16 light and
sound functions and comes at a very attractive price that anyone can easily afford: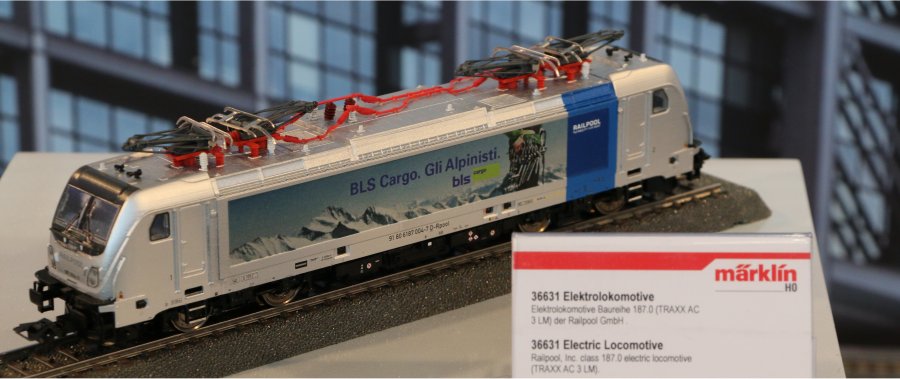 There is an incredible array of new US models, including a new GG1 (item 37494).
Pair it with the new 43616, 4-car set of extruded aluminum passenger cars and you have great looking train: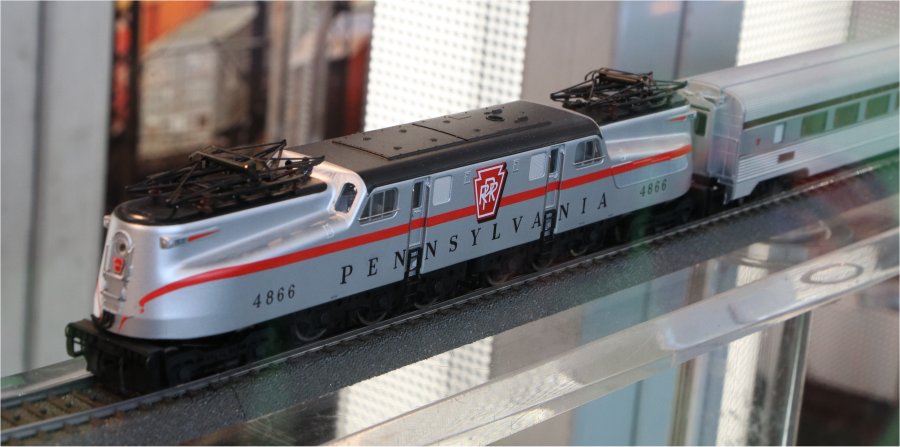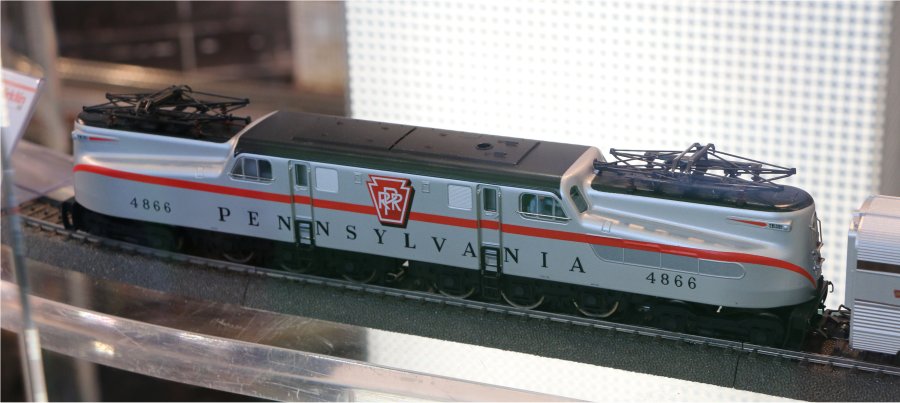 The new UP "Challenger" (item 39911) announced last Fall is still available for ordering. Marklin had several of these
very impressive models running on display. The details on this are amazing. Everyone is excited about this new model:

Two new cabooses, including the 45701 Cabin Car were on display: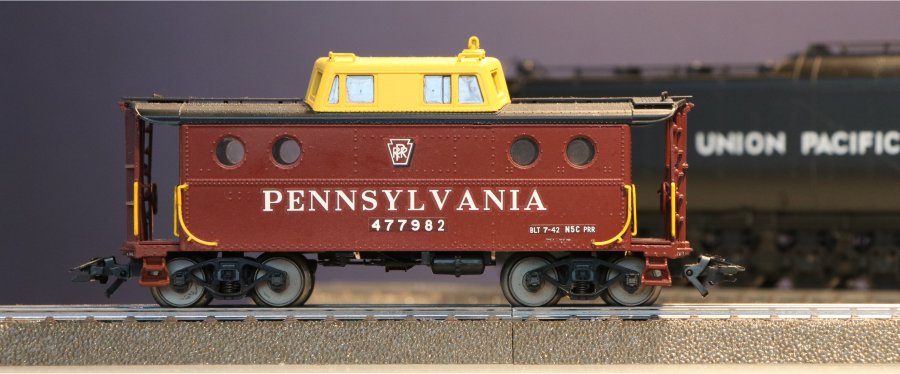 OK, a tough day of taking photos deserves a good meal, wouldn't you agree?
Our favorite bratwurst house is still dishing out great sausages, sauerkraut, potato salad and beer: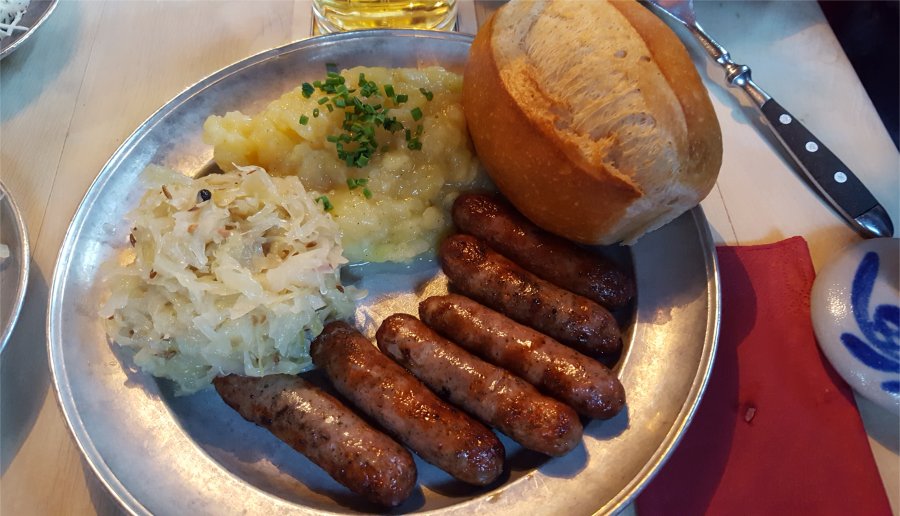 So much for lunch, how about dinner?
Ah, yes, my favorite Franconian meal: roast pork and fried potatoes: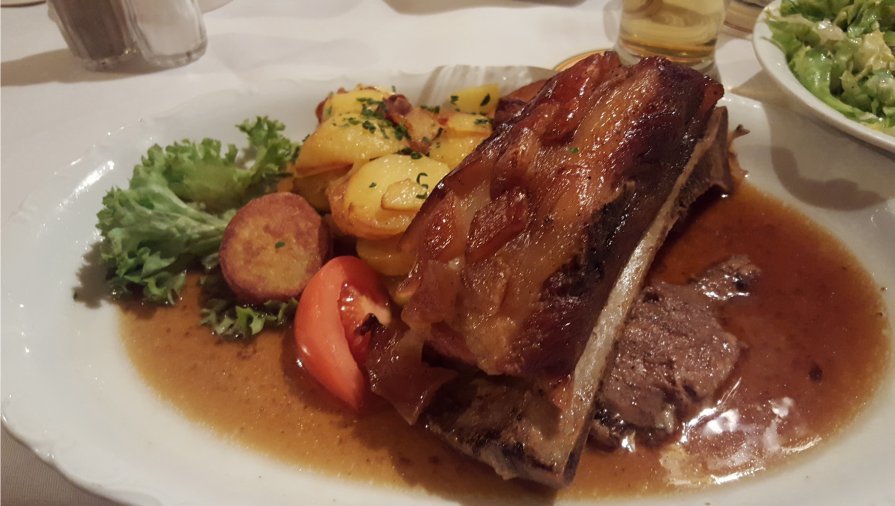 But Wiener Schnitzel and potato salad is always a great alternative, no?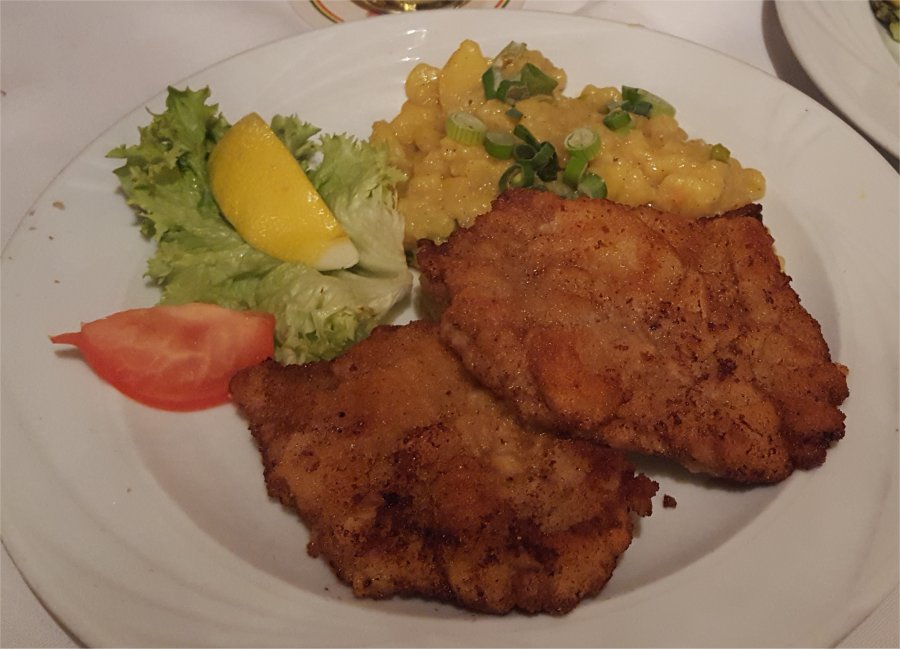 OK, back to Munich to find some "real" trains to enjoy...
At the Östbahnhof (East main station) there's always a lot of "action", especially freight, both diesel and electric: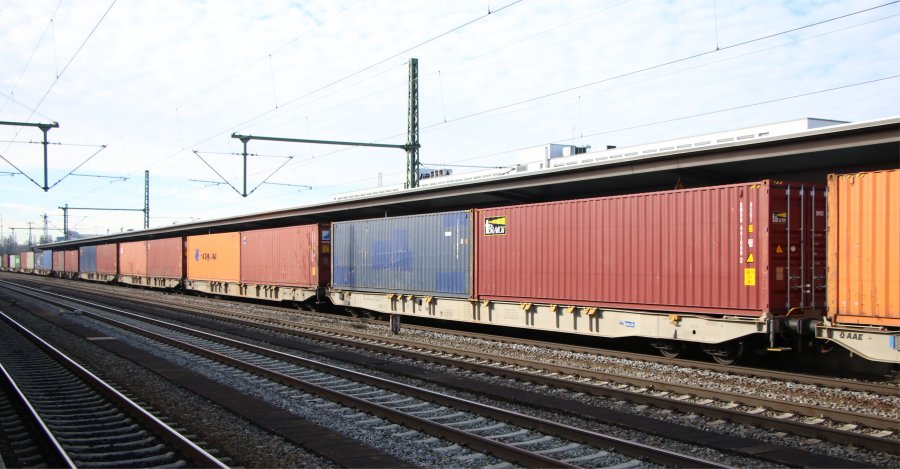 Some of these trains seem to go on forever!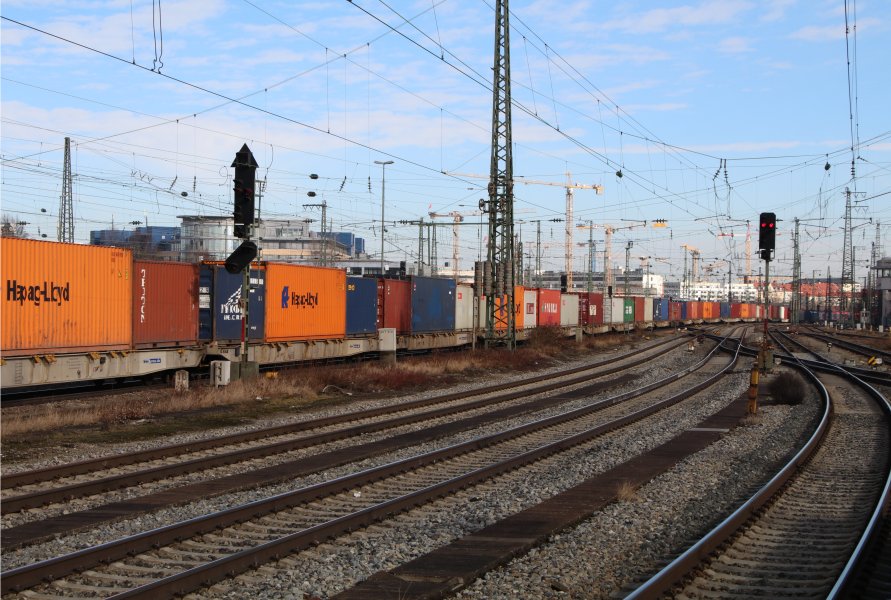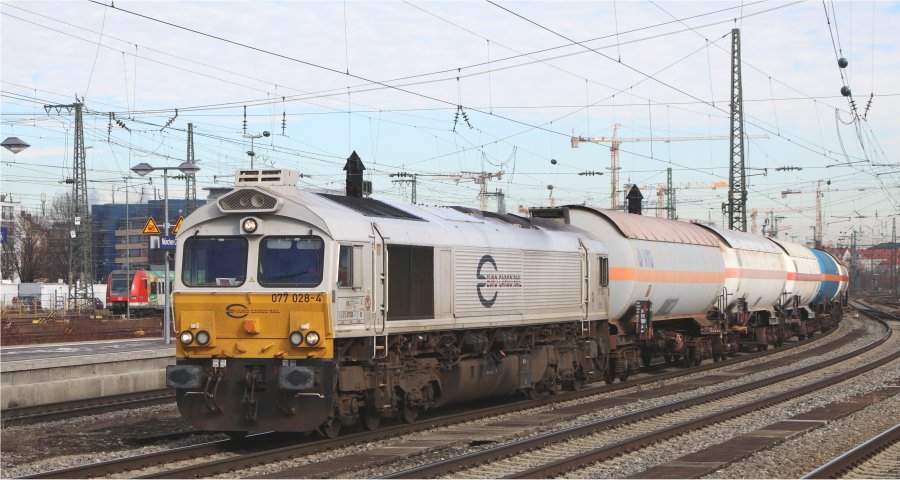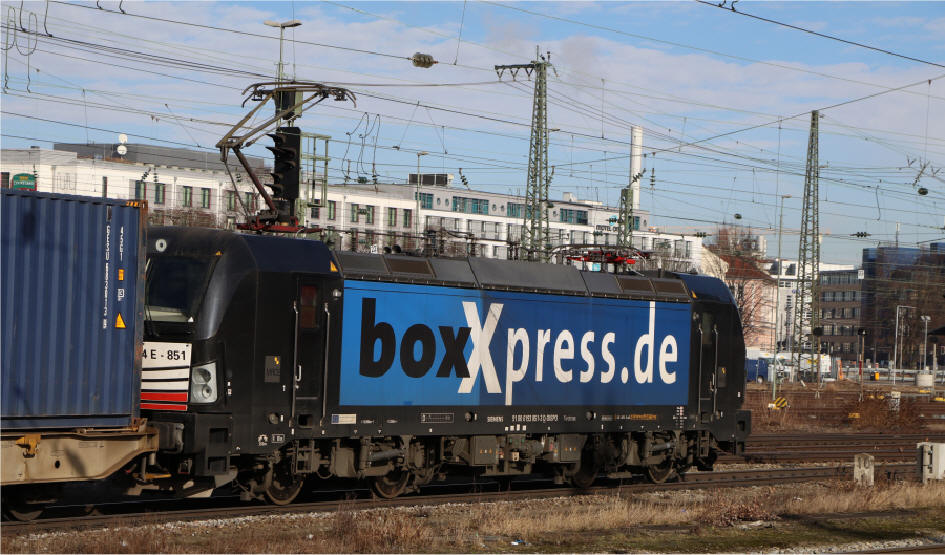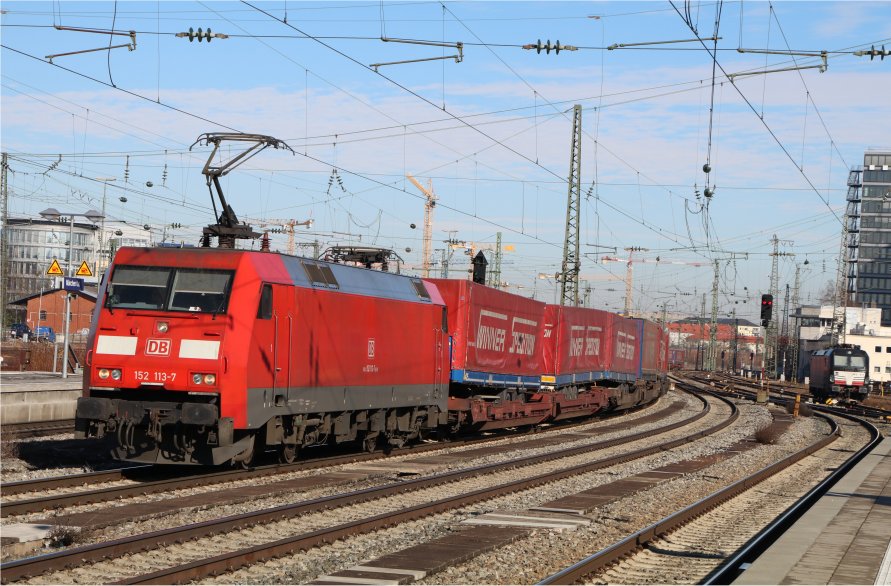 Just so much action going on here in both directions!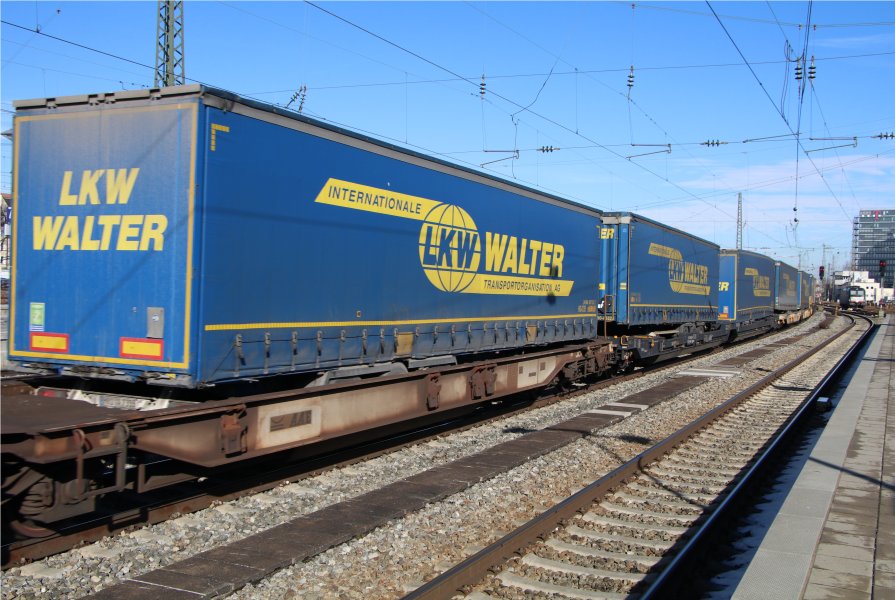 "Tanks" for the memories!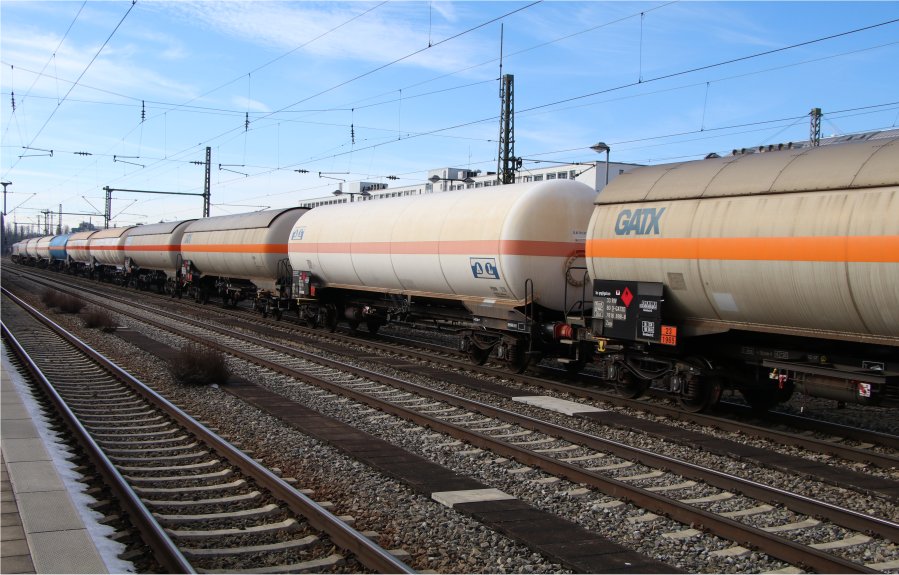 Of course, there are plenty of passenger trains passing through as well: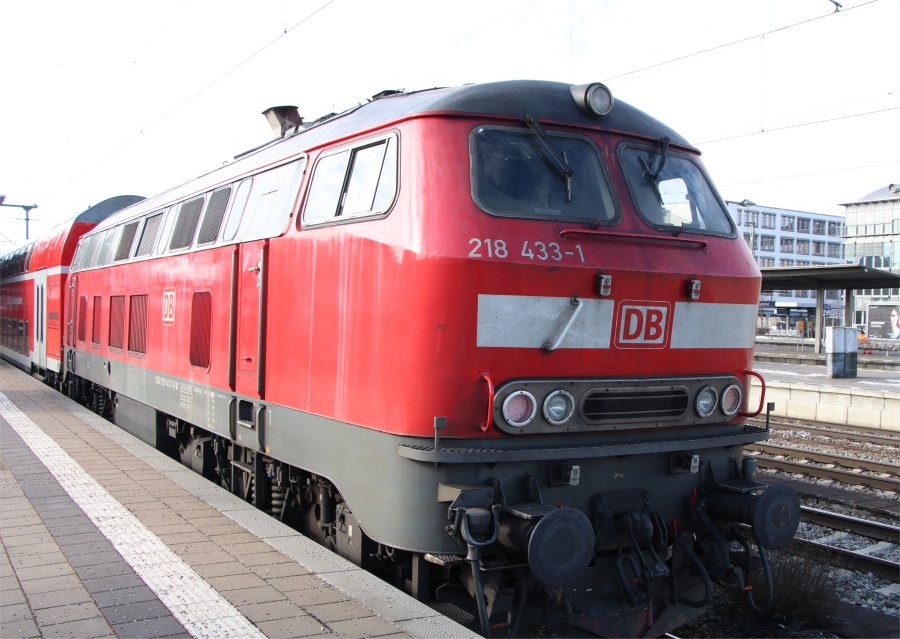 There's some serious international action going on here. A class 1216 "Taurus" locomotive, complete with Austrian
passenger cars and an Italian flag (and web address) is picking up passengers here. I love the harmonic sounds
the electronic circuits make when it starts to accelerate (ask me for the movie -- it's very, very cool).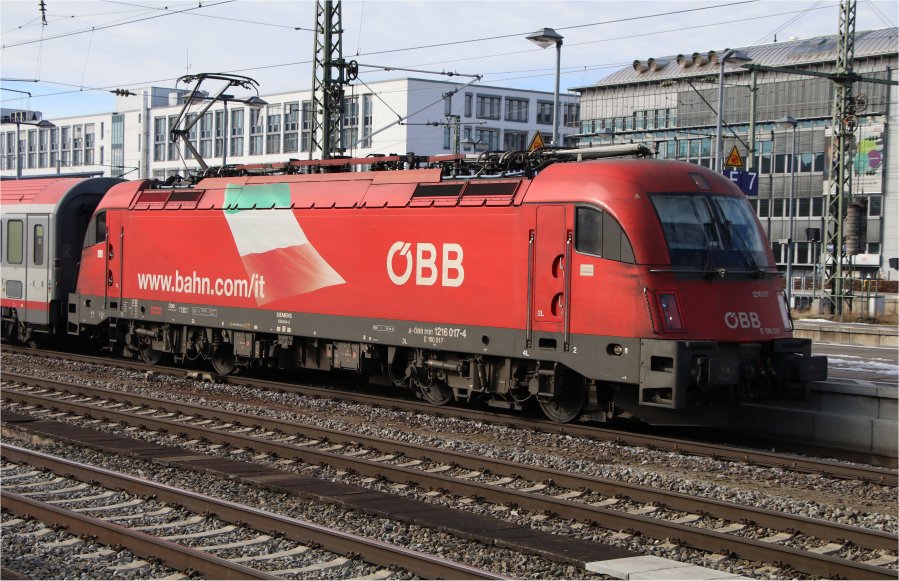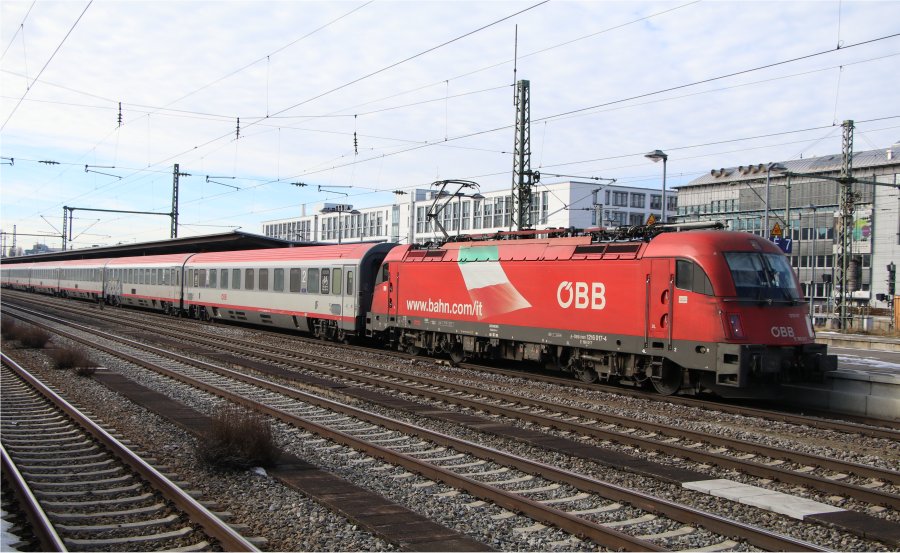 The ubiquitous "RailJet" headed to Austria: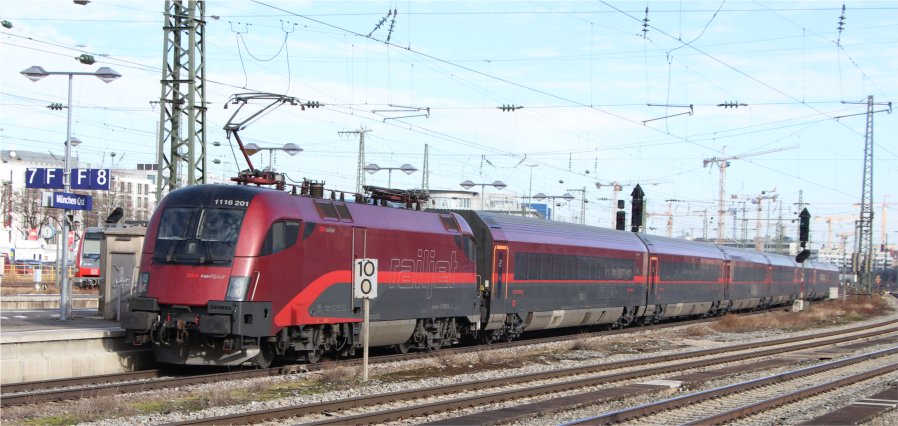 And an Austrian passenger train, pulled by a class 1116 "Taurus" is headed back to Salzburg: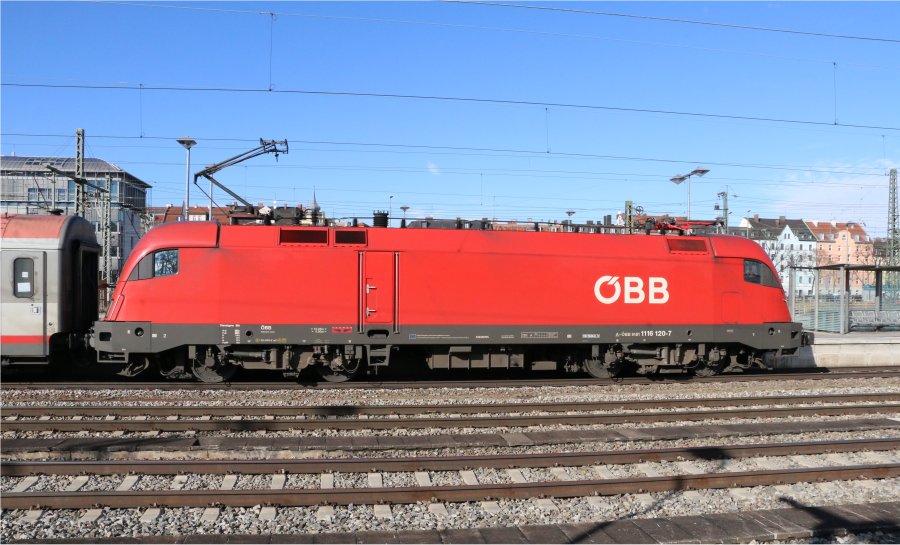 And some commuter action too!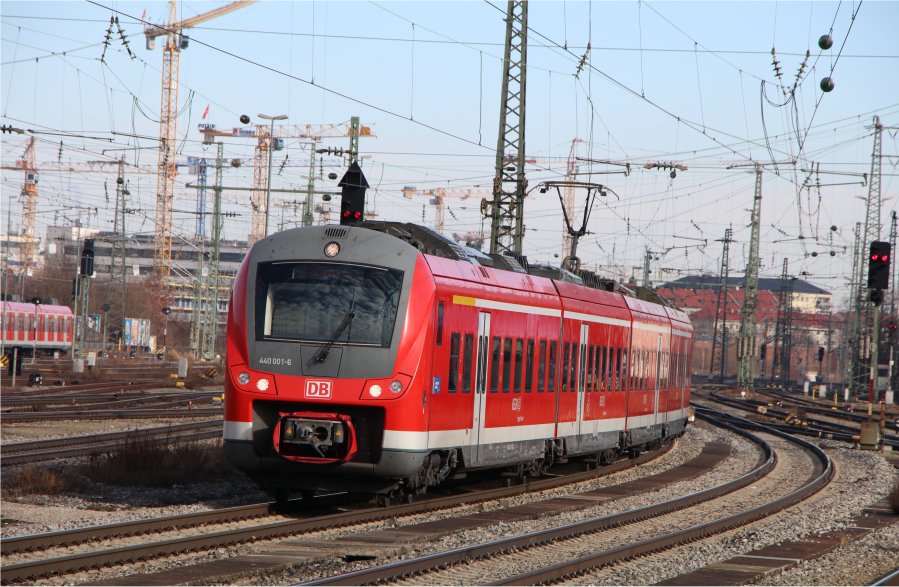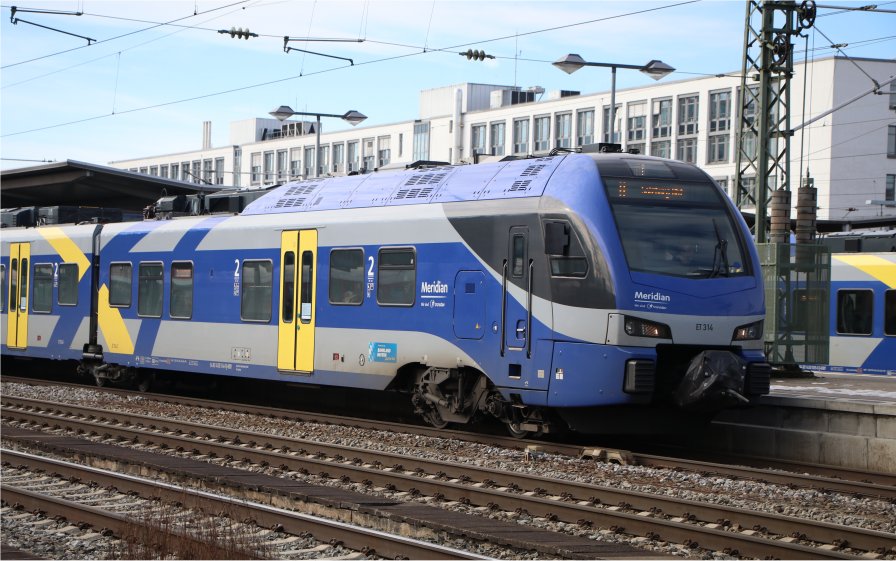 A class 294 "Railion" switcher is busy doing its thing: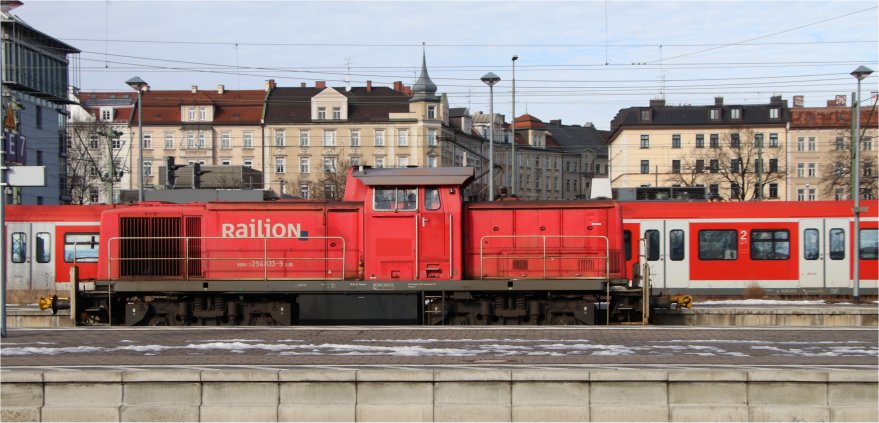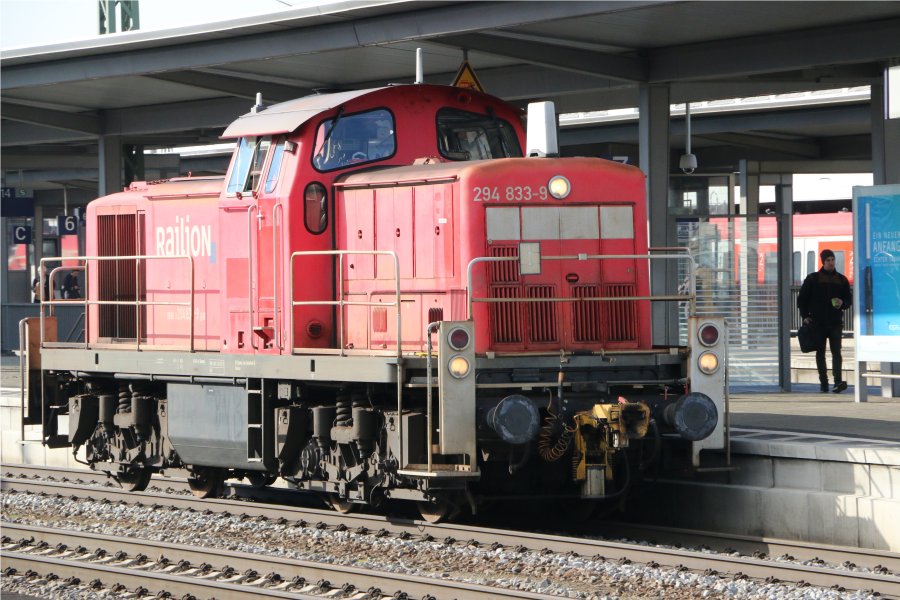 And, just to show you we're not all about sausages for lunch, here's a great sandwich of roast ham
with the obligatory serving of potato salad. One needs energy to take all these neat photos!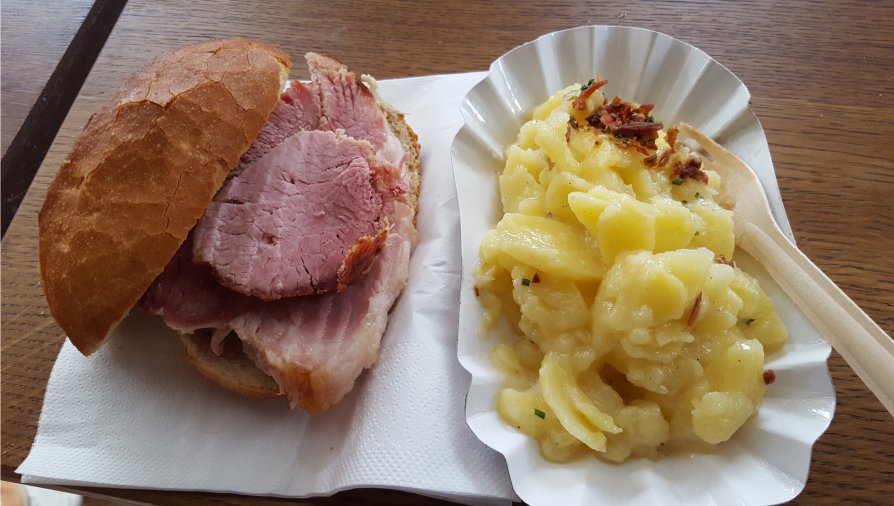 Just one more dinner before we leave Germany, so here are some parting shots...
Schweinebraten at Augustiner in Munich: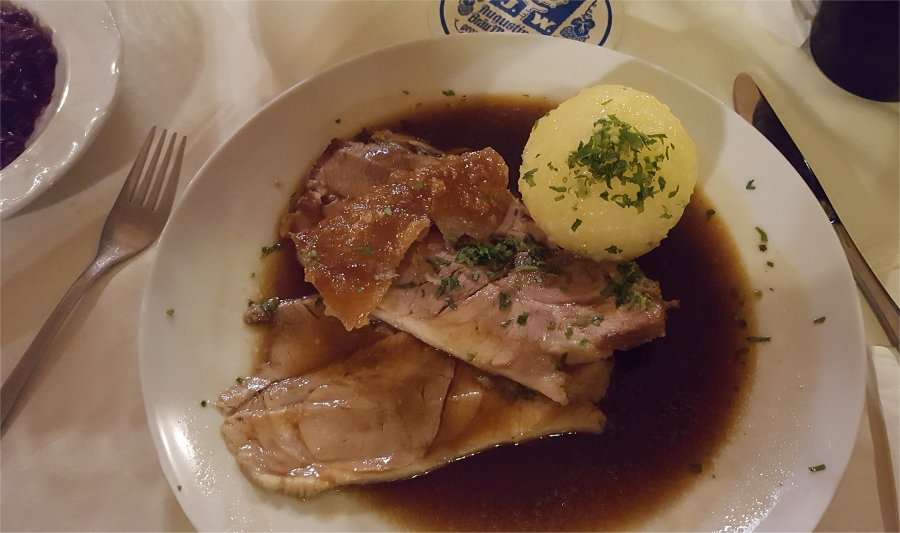 One more serving of fleischsalat -- this stuff is amazing: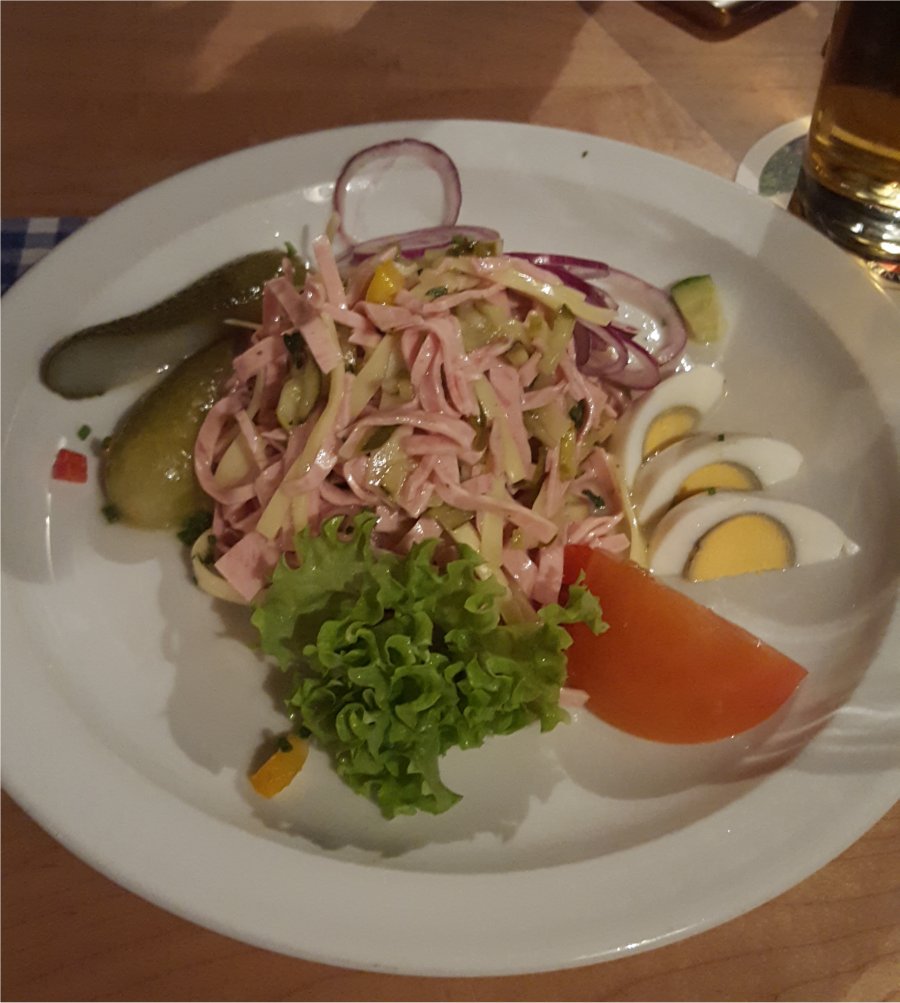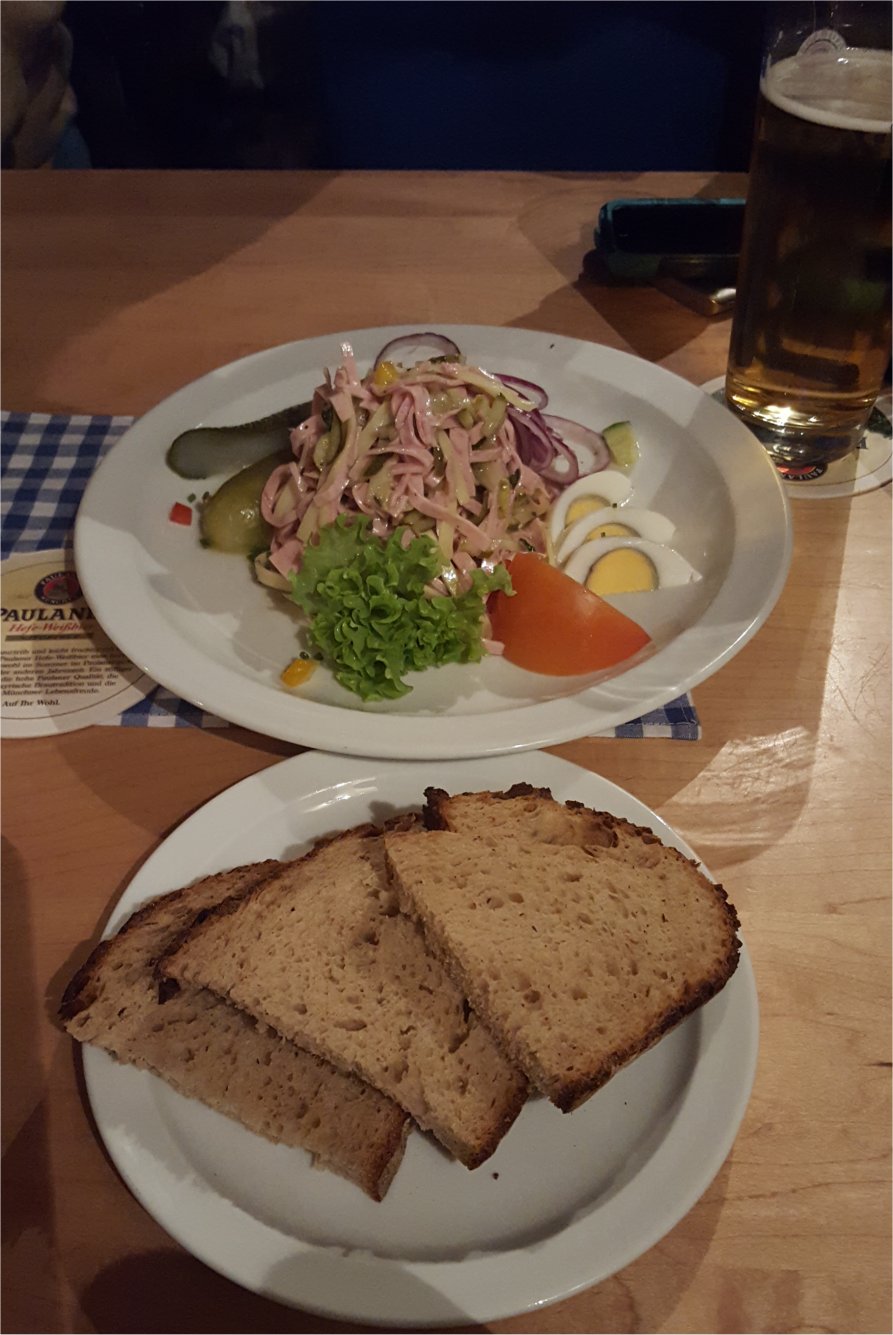 One more plate full of Spanfärkel at the Spatenhaus.
If you think it looks good, trust me, it is: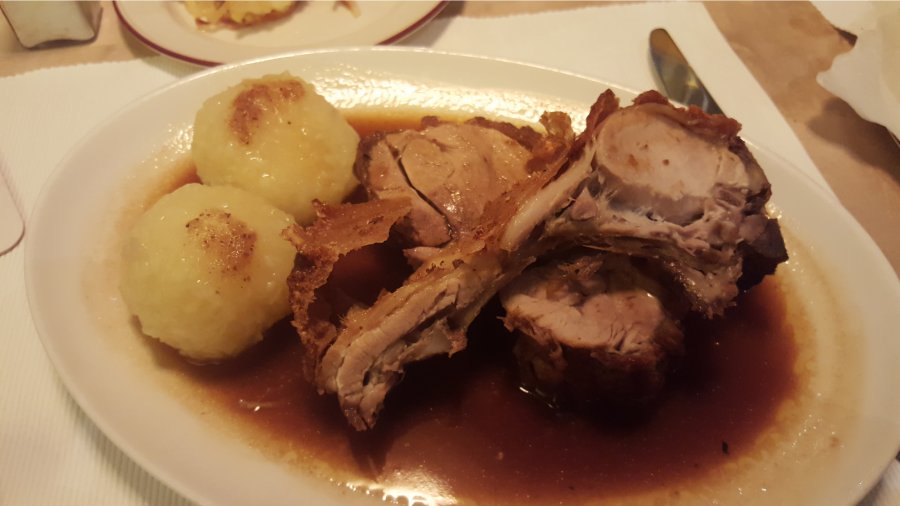 OK, that's the end of the German food pictures. But if you're still hungry, and following my policy of full disclosure...
We went to Paris for a few days, and here (just in case you want them)
are some photos of just some of the great food we enjoyed:
First stop is a Moroccan restaurant -- that's right. This is a really interesting and fun experience.
Below is a plate of the lamb skewers, chicken and "merguez", a spicy sausage mad of mutton and/or beef".
It gets served over a big plate of couscous and a soupy mixture of cooked fresh vegetables: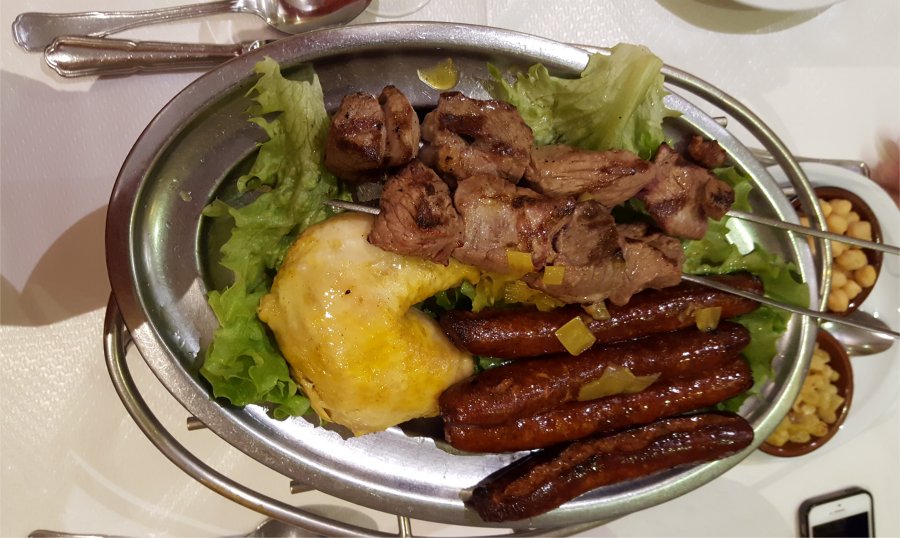 At a little bistro in downtown Paris, I enjoy this wonderful salad which includes smoked salmon, shrimp,
avocado, hearts of palm, asparagus, tomatoes. Hey, what's not to like here?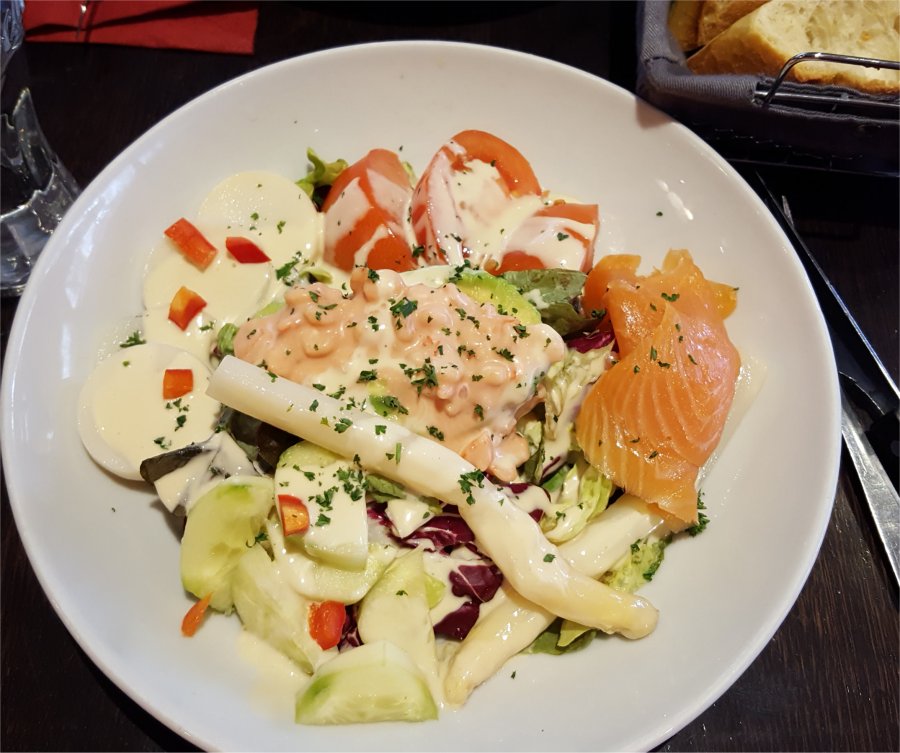 Oh yeah, French bread to go with it -- don't be bashful, just ask for more and they'll bring it immediately: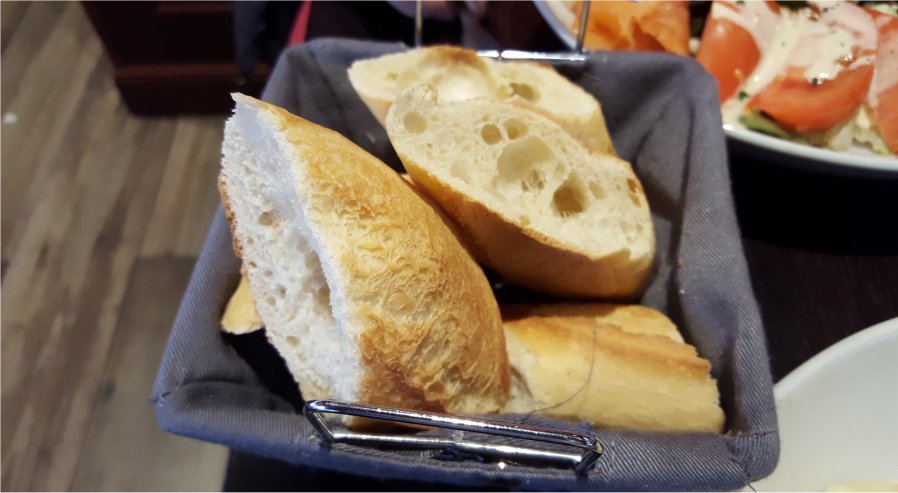 French onion soup in Paris? Why not? Truly, the best I've ever had!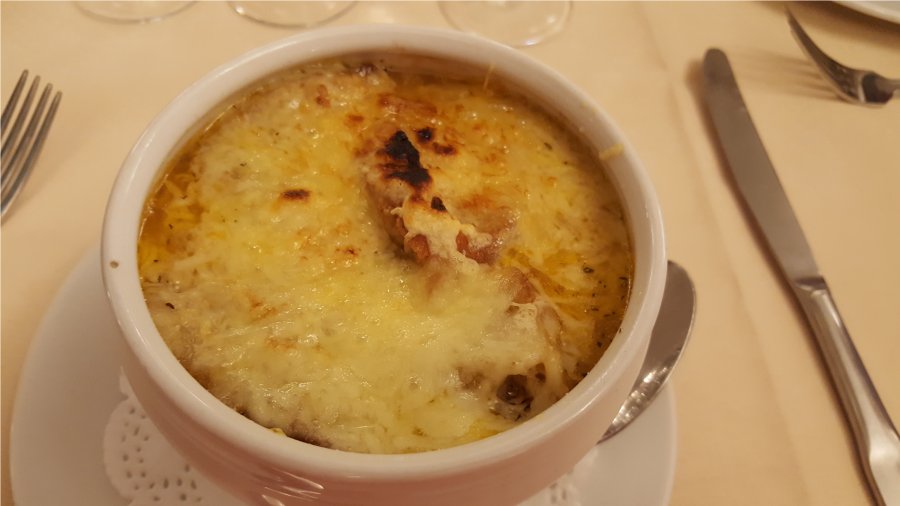 And, yes, steak tartare -- I do it all!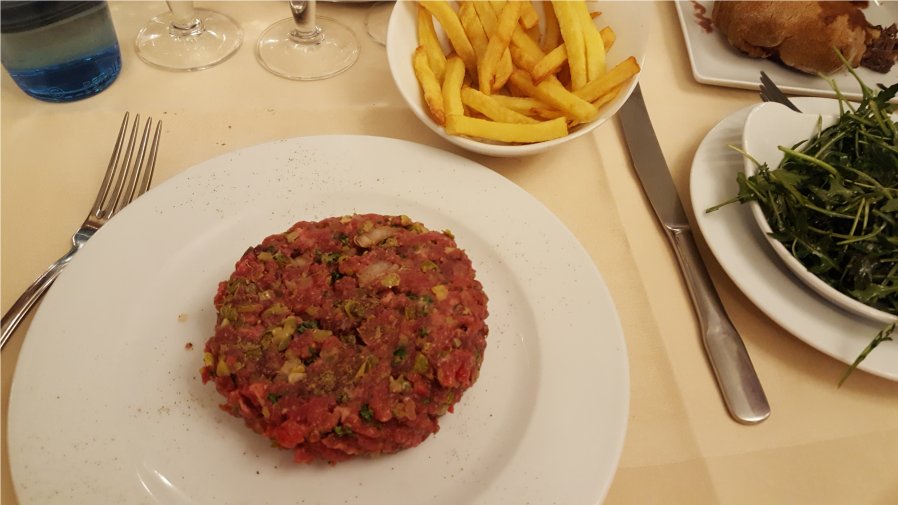 OK, so you want your meat cooked a little more and in one piece?
Here you go, the classic "steak frites":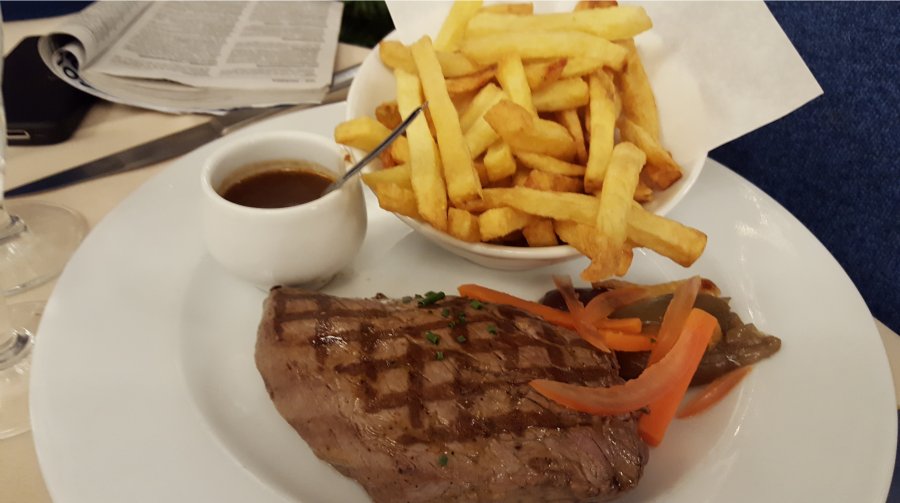 And for dessert, nothing but profiteroles will do: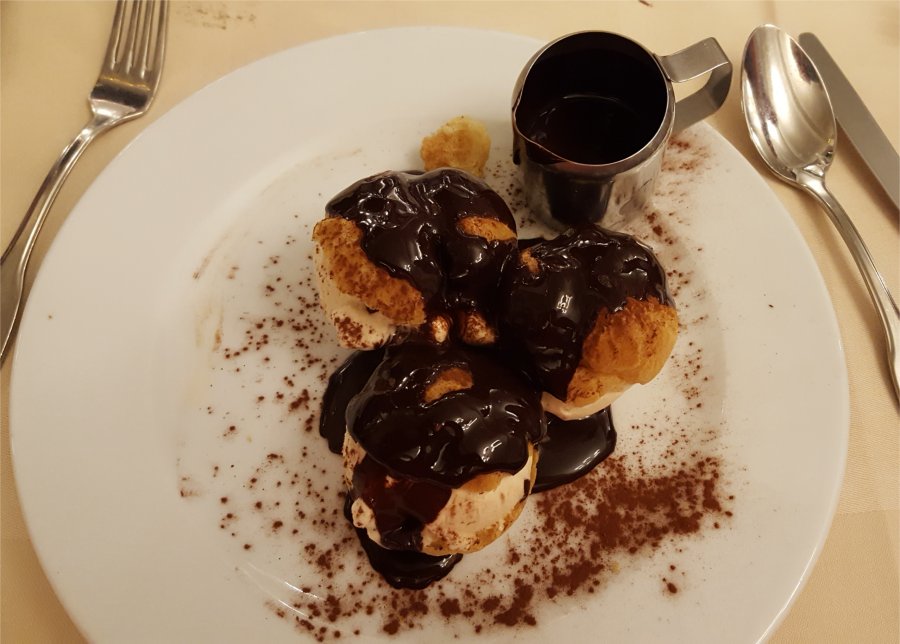 I guess you can tell this ain't Kansas any more Dorothy. No, this is Paris, where the food is great
and even the most upscale of restaurants -- and this place in the Gare de Lyon is very chic --
if you're lucky you can get your very own 4-legged dining companion.
Here's yours truly with my new-found buddy hanging out at the bar: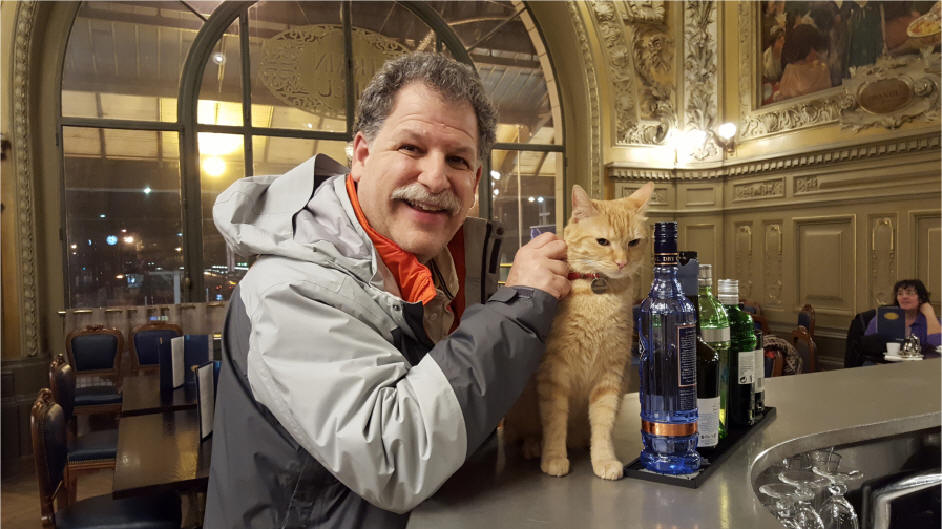 Until next year ...